After spending over a year working out of a private kitchen with her crew and doing pop-up kitchens in breweries like White Elm Brewing Company and Cosmic Eye Brewing, Sara Brown has brought the capitol city's first all-vegan restaurant to fruition as of Sept. 15.
Specializing in vegan comfort food, Rutabagas sits on 12th and Q streets, catty corner to the Lied Center for Performing Arts, a location Brown hopes will appeal to hungry students.
The interior of the restaurant consists of dark brown dining chairs around wood and metal tables. Mason jars are used both for flower vases and water glasses. The paintings on the wall are lit by uncovered, free-hanging light bulbs, creating a homey atmosphere in the restaurant that is ready to welcome its next customer.
Brown transitioned from a typical omnivorous diet to a vegetarian diet three years ago, after looking for healthier lifestyle options. From there, she went from vegetarian to vegan for six months. She is now eating vegetarian again, but after spending years doing research, she decided that a health-conscious vegan restaurant is what Lincoln needed, both for community members' well-being and to expand local options for plant-based menus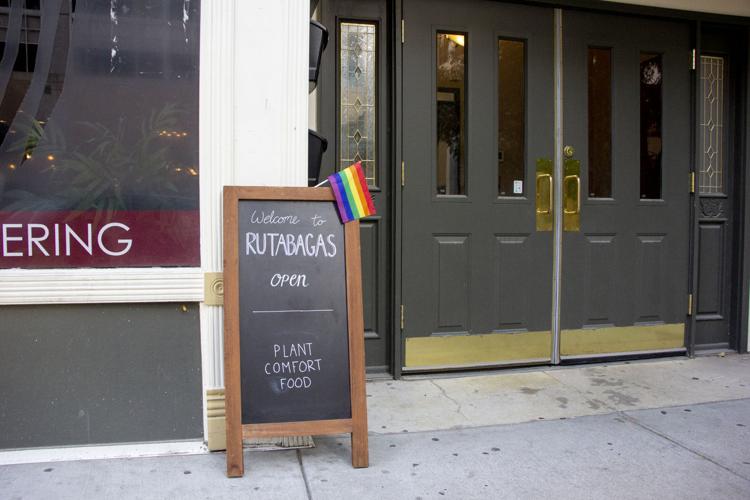 "It is exciting to see existing restaurants expanding their menus to include some vegan options, but it's nice being the first all-vegan menu," Brown said. "I definitely think that's the direction where the food industry is heading."
After spending years working in kitchens from when she was 14 to 23, Brown said she felt familiar enough with the restaurant business to operate at management-level for her own endeavor. While she isn't intimidated by her position, Brown said she knows there will be  a new challenge to tackle everyday.
"I've been in the restaurant industry most of my life, however, this is my first that I've owned … but working in tons of pop-up kitchens has really strengthened our crew," Brown said. 
One of those crew members is Jeremy Buethe, a cook on staff. Buethe said he feels vegan restaurants often have it tougher when it comes to crafting menu items.
"There's so many restrictions," Buethe said. "Say if you want a cheese flavor, you obviously can't just use cheese. You have to find the proper ingredients that go together, then balance them all out."
Buethe approaches it almost scientifically, aware of the fact that a certain harmony is required when mixing flavorful ingredients. To him, it is very important that he reaches that balance point, like when he makes vegan nachos, his favorite on the menu.
"For example, the vegan nacho cheese," Buethe said. "I can't detail what's in it, but having too much of one thing can change the flavor completely, but finding the sweet spot between all the ingredients is an amazing feeling."
A vegan menu isn't just peace of mind for the customers trying to watch what they eat, either. It also removes some mental strain from the kitchen staff.
"Cooking in a restaurant that works with dead meat is just a dark place," Buethe said. "It's hard for me to work with dead bodies and blood. I prefer plants. They're the silent screamers."
Veganism isn't the only diet Rutabagas is trying to appeal to. They offer even greater food inclusivity by offering menu choices without nuts or gluten.
"We try to be gluten free as well," Buethe said. "It can even be in simple things like soy sauce so you really have to watch out. We have to find alternatives, otherwise we are limiting ourselves to who we can [serve] to."
Brown said she is glad to finally have the restaurant up on its feet and have the opportunity to figure out how to operate in a place downtown. But she already has her sights set on what's next.
"We're already wondering how we're gonna feed folks in north, south and east Lincoln as well. I don't know if another location is in the works, but we're dreaming big," Brown said.
Proud of accomplishing a first for downtown Lincoln, Brown said she feels moved by seeing a dream of hers come to life. 
"While yes, we do want people to come eat our plant-based food," Brown said. "But more than anything else, what we've learned is that anything is possible with the right team and a whole lot of grit."