John Reel - Assistant Culture Editor
When I told my friends that I went to Idaho for my summer vacation, not one reaction gave me the impression that anyone I talked to knew very much about the state. Most people gave me a blank stare, indicating that their knowledge was limited to their elementary state geography quizzes and that Idaho is no more than a fly-over with a deep association to potato agriculture.
I had to take a deep breath before going off on them. Nobody would suspect it, but Idaho, specifically the northern panhandle where I explored, is way more interesting than anyone outside the Pacific Northwest would guess. In truth, it might be my favorite Rocky Mountain state, being even more picturesque than my journeys to Colorado. The forests are as lush and green as those you would find in Washington, the skies are crystal-blue contrasted by paper-white clouds and the mountains, while not as tall as those in Colorado, are gorgeous and towering.
Next time you're choosing a destination for a vacation, consider Idaho. You'll be surprised by all the state has to offer.
Sam Crisler - Senior Culture Editor
When one thinks of a rock band going on tour, they imagine the luxuries of a tour bus, backstage hospitality riders and sold-out clubs and arenas. The reality is that most bands hitting the road experience nothing of the sort. Instead, tour buses are traded for cramped vans, complimentary food from Taco Bell multiple times per day and cavernous coliseums for dingy basements.
In June, my band Death Cow left Nebraska for the first time to traverse the Heartland, hitting Iowa, Missouri, Arkansas, Texas and Kansas with our sister band The Way Out. No, DIY tour life is not at all glamorous, but the people we met on the road often welcomed us into their cities and homes like family. For many of them, they've been there, done that. They realize the struggles we faced — trying to pay for gas to get from city to city and living on fast food — so, we were often greeted with lentil curries or burgers and hot dogs. One host screened the 2007 comedy "Hot Rod" on the wall of the same room we performed in, and another chatted with us until 2 a.m. and let us hang out with his cat.
Though we often slept on floors and showered in unfamiliar bathrooms, it's part of life on the road. But, the people out there made it all worth it. I can't wait to climb in the van again.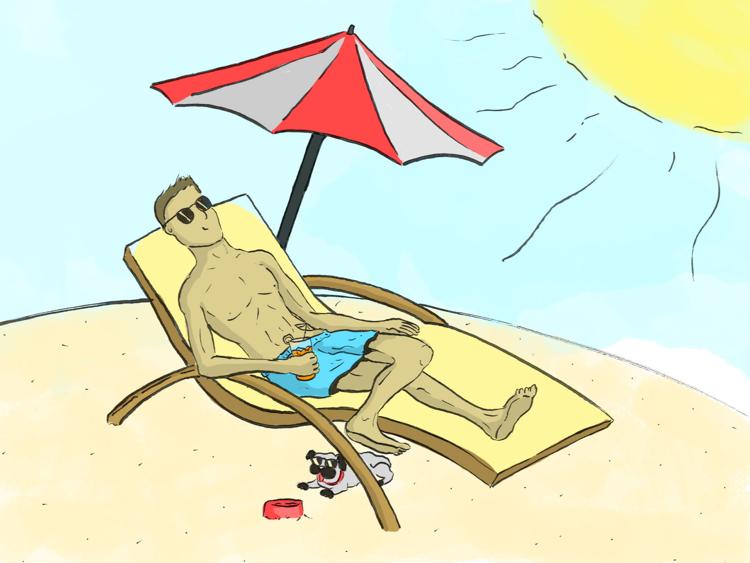 Ally Sargus - Assistant Culture Editor
For the past year, I have seen some of my closest friends become engaged, married and even pregnant. As a junior in college, I simply cannot fathom making such life-changing commitments.
So, what does a couple do when they want to take the next step in their relationship without actually binding themselves together? Get a puppy, of course.
This summer, my boyfriend and I decided to take on the challenge of being dog parents to a little German Shepherd pup. We talked about getting a dog for quite some time, and when the opportunity presented itself in July, we took a leap of faith. After a 6-hour-long drive to Galena, Kansas, we brought home our sable-coat, ball of fur, Abel.
He may leave scars on our skin from his claws, eat the furniture and require constant attention, but we love him more than anything. My summer was spent potty-training, walking and cuddling the cutest pup on the planet, and I wouldn't have wanted it any other way.
Kyle Kruse
To be honest, I didn't do a whole lot this summer. I worked at my local movie theater, hung out with some friends and just generally enjoyed my free time. The amount of free time I did have let me do something that I've meant to do for a while now: play "Skyrim" for the first time.
To put this in perspective, I don't play a lot of video games. In fact, I don't own a next-gen console. I just make do with the old PS3 that I got in early high school. Occasionally, I'd play something like "Batman: Arkham City" or "Assassin's Creed," but never for extended periods of time.
However, I had a lot of people telling me to play "Skyrim" since I have a huge love for both "Lord of the Rings" and "Game of Thrones." One of my coworkers even bought the game for me as a Secret Santa gift back in 2016.
Well, a year and a half later, there I was, and I decided to give it a shot. A few months later, I think I can say I'm obsessed with "Skyrim." I spent a large portion of my free time playing the game, and I found myself actively looking forward to the next time I wasn't working just so I could play it. It was an odd feeling because, again, I'm not that into video games.
I know that I am far from being finished with the game, and even further from being good at it, but the story and extensive experience of the game have become something that I can't get enough of. Fingers crossed I'll have time between work, classes and having some remnant of a social life this semester to spend some of it in Tamriel.