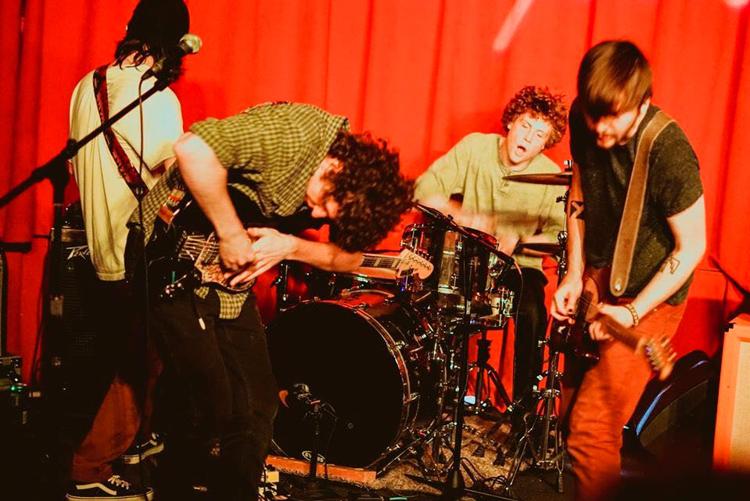 Hailing from Kansas, the noise-rock collective Sutphin is characterized by raucous instrumentation and guttural vocals. Steadily gaining a devoted fan base while touring the United States, Sutphin recently released "Talk With Me" on Feb. 18. The single, like most of the group's discography, is a high-octane gut punch of visceral, raw passion — ripe for the carnage of a rowdy mosh pit.
On Feb. 29, Lincolnites can catch Sutphin  at The Mez along with The Credentials, The Dancing Dead and Body Garden. The Daily Nebraskan spoke with the group's members — Wakinyan Shrubshall, Tristan Stateler, Matt Targos and Jason Holman — about their origins, aspirations and crazy concert experiences.
The Daily Nebraskan: What is Sutphin?
Shrubshall: It is a congregation of four people that like to make loud music.
DN: How did this group end up coming together?
Shrubshall: We just all went to high school together and that's where I knew Matt. Tristan was in jazz band with me and we tagged along in a way. I asked, "Do you want to be in a band?" and he was like, "I guess." 
DN: Describe the typical song curation process.
Stateler: I would say that it changes from song to song. Sometimes the song is just an idea formed, and other times it's a riff that we think is cool. Usually vocals never come first — they are kind of an afterthought, but sometimes the ideas for the vocals are kicking around and it ends up working out in the song.
Targos: I think one of the more important things that come up in terms of a scheme when creating songs is to try to figure out the dynamic at which it plays best. The riff could be cool, but it's not necessarily figured out until we play everything and everything has its place. Often times we end up writing bass parts or guitar strum parts surrounding the vocals. Like Tristan said, the vocals can be an afterthought. So a lot of the songwriting comes after the fact when everything is haphazardly put together.
DN: So does the songwriting happen together or individually?
Shrubshall: I'd say the songwriting is very democratic. We all get in a room and write songs together. We all pass around input, throw suggestions at one another or tell each other we suck. It's very very collaborative. It can be difficult at times, but it's definitely more worthwhile in the long run — in terms of everyone being satisfied about the end product of the song, which is always changing, no matter if we're recording or not.
Stateler: Even old songs that are recorded and set in stone we change on a daily basis so it's ever-evolving.
DN: Does your hometown influence your sound?
Targos: Playing in the country alone is to play loud, that's what influenced us the most. I think being from a small town has allowed us to be given the time to do what we want ... It's a really tight music city and everybody kind of knows everybody. We were all kind of overwhelmed, which is nothing that anyone can't relate to. Being in the country makes us loud.
DN: For someone that has never been to a Sutphin performance, what should they anticipate?
Holman: Wear earplugs, I guess.
Stateler: They should anticipate volume. I would honestly go into the performance blind. Don't anticipate anything. Don't have any expectations because then you set yourself up for failure. One thing is that every show is different and we have a different setlist everytime. It's willy-nilly impromptu s***, but it's not avant-garde.
DN: Has there been any unique concert stories you want to tell?
Targos: The most recent one that I can say is that I took my cymbal off and threw it against my other cymbal to make it really loud and abrasive. I did it at the show and it sliced Jason's bass chord. [Jason was] looking around for a minute and a half, wondering why his bass didn't work — only to figure out that I cut his amp chord. Also at this place in St. Louis, some dude got way too hype to our music and he threw a chair against the ground until it broke into splinters.
Holman: There were 12 people there.
Targos: Yeah he was just chilling, well not chilling. He was breaking a f***ing chair, but he just destroyed it.
Stateler: He talked to me after the show about all the ways you could smoke crack.
Shrubshall: Yeah, that makes sense. This guy was not chilling.
DN: Do you love the fact that your audience is so passionate?
Shrubshall: Yeah, it's cool. I think all of us would rather play for 10 people who were really into it rather than 1,000 people that don't give a s***. It's just that when you have people in a room that are really into your music, there's just a point where you have to play for yourself as a musician. When there's no one there, you just play for your love as a musician.
DN: What would you say is the goal of Sutphin?
Targos: I think the goal for us — as four people that are really good friends — is that we like this to the utmost extent. It's more about friendship than the long-term goals of being in a band. It's more of the self-exploration we can do as individuals because we're all really curious about our instruments and generally about music. It's always a long-term goal, to be friends and make music that we are all interested in collectively.