When Hector Gonzalez opened his business in June, there was no ribbon to cut or any front doors to unlock. It had no set location or physical structure, but for Gonzalez, who had long hoped to own a restaurant, it would do.
Porkccentric is a pop-up food stand found at farmers markets and local events that offers homemade carnitas served on tacos or sandwiches.
"It's been a long time in the making, but finally I just had to jump in and do it," Gonzalez said.
Gonzalez said he first thought about starting his own food business after seeing different food vendors at Lincoln's Haymarket Farmers' Market.
"I always thought, 'Huh, that would be something fun to do,' but it was something I pushed to the back of my head and never looked back to," he said.
Opening his own food stand was merely a thought until he decided to attend culinary school at Omaha's Metropolitan Community College Institute for the Culinary Arts in 2012. Gonzalez, a Mexico native, said he wanted to attend culinary school so he could reconnect with his home country.
"I think at some point we all have memories from our childhood, like grandma's cooking, and something where you say, 'I wish I knew how to make that,'" he said. "That's the whole reason I went to school; I wanted to learn how to make those things."
When he first started the business, Gonzalez set up a tent at the farmers market every Saturday morning during the summer. Although business was slow due to heavy competition at the farmers market, he said it was nice to see recurring customers.
"Every week, it seemed like I gained a new repeating customer," he said. "I think the momentum is gaining strength."
As for the menu at Porkccentric, Gonzalez prepares his pork with a Mexican twist by making carnitas, which he serves on a sandwich, or carnitas torta. Customers can also order the carnitas on tacos, both of which are topped with salsa, onions and a dab of avocado.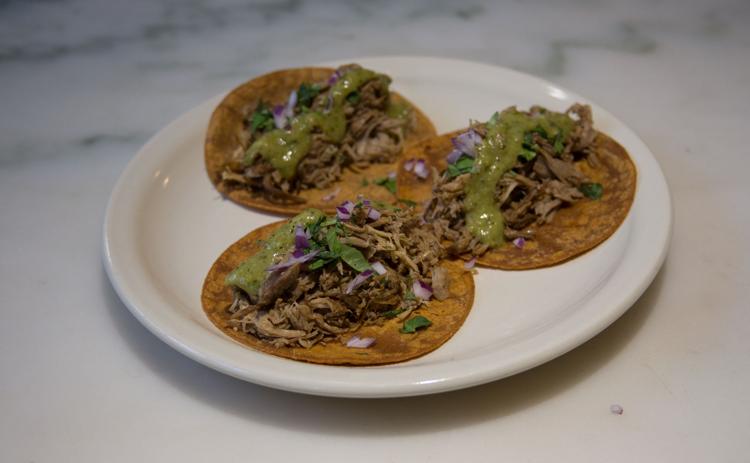 When he is trying out new menu items for Porkccentric, Gonzalez, who is also an employee at The Mill, has his co-workers try out the dishes to see how they taste.
Tabby Tomaselli, one of Gonzalez's taste testers at The Mill, said the food at Porkccentric is some of her favorite, and she constantly asks Gonzalez to cook for her.
"He's really great at pairing really spicy peppers. They kind of go unnoticed at first, but then you get the spice at the end," she said. "It's fresh, but it has this homey feel to it that just really feels like home."
Since Gonzalez opened Porkccentric, Tomaselli said she has seen the growth in his passion for food, cooking and sharing his creations with customers.
"He's got this love of just feeding people," she said. "He just wants to feed everybody and share his food with everybody."
Now that it's winter, Gonzalez said he has started catering different events on the weekend instead of setting up at the farmers market. He has catered events at a vineyard, breweries and local bars like The Happy Raven.
"If anyone had told me a year ago I'd be doing all these events, I wouldn't believe them," he said. "But here I am."
Gonzalez, who is also the sole employee at Porkccentric, said he liked to compare himself to a train — specifically, the one his food stand sat in front of in the Haymarket during the summer farmers market.
"One day I was at my stand, and I looked at the engine and said, 'Huh, that's kind of ironic,'" he said. "I was the little engine that could, but now I'm the little engine that can. You know, something so small that, little by little, is gaining strength."
Right now, Gonzalez said he does not have any plans to open his own restaurant, but he has thought about moving on from a pop-up stand to a food trailer so he can serve a bigger audience and continue making the food he loves.
"I'm living my dream," he said. "For me, the goal is to share with people something I enjoy doing and make them happy. Watching other people be happy with the food I make them is what makes me happy."
Find more information on Porkccentric here.