Since his childhood, Wes Johnson has always been drawn to baseball cards. While he doesn't remember the exact age he first laid eyes on the rectangular collectibles, he said his infatuation started when a friend showed him a pack of 1975 Topps cards. Combining his love of sports with aesthetically pleasing designs, the bundle instantly caught his eye. 
"I went up to [what] was called the Giant Food Store, and I got a dollar allowance, and I'd go and buy five packs of cards and just started opening them up," Johnson said. "I loved looking at the cards, and reading the stats was a big thing."
Johnson, a Lincoln native, never wavered in his fascination with baseball cards. In a marketing class at Lincoln East High School, Johnson had to start a mock business for an assignment, which he chose to be a baseball card store. That decision turned out to be prophetic, as his childhood passion became his livelihood when he opened Wes' Baseball Cards in 1990 on South 70th Street — a shop he's owned and mostly self-operated since.
While he always knew that his dream was to own a baseball card shop, Johnson said he needed a little push from his father to help convince himself it was a viable career option. 
"I was like, 'I don't know. I just don't know if I can do it,'" he said. "And [my dad was] like, 'Well, hey, try it. See what happens. If it works, great. If not, you tried. You can always try and do something else in life.' So I went ahead and tried, and it will be 29 years here this month that I've been doing it."
Johnson's shop sells more than just baseball cards — cards from other major sports, athlete action figures and memorabilia such as autographed jerseys and helmets are among his many wares. The proprietor of these goods, however, is most passionate about the cards.
Johnson said the baseball card industry has significantly evolved from when he first started, largely due to the internet. Johnson has been forced to adapt to survive, as other baseball card shops in Lincoln slowly began to die out as the internet decreased the need to buy, sell and trade cards in person. 
While the internet may have negatively impacted many baseball card shops, Johnson said he tried to embrace the increasingly digital marketplace instead of resisting it. 
"The one thing is that the internet has helped things for collectors because it can also make it easier for people to get stuff," he said. "So, on the one hand, it hurt us shop owners, but on the other hand, we've also been able to get stuff like Alex Gordon cards or something like that that I can buy off the internet cheaper and sell here in my store for more money."
Johnson described the baseball card industry as a hobby, an investment and a gamble all wrapped into one small piece of cardboard. For some, baseball cards are just fun items to collect, especially for sports fans and kids. But for others, baseball cards mean big business.
Many collectors will try to buy as many cards of a specific player as possible if the athlete has a high likelihood of a successful career, which generates more value for their cards. Others pay hundreds of dollars for card packs that have the chance of containing a card that would go for thousands. In this way, Johnson said the industry has become increasingly gambling-centric.
"Back then, it used to be … you just open a pack, you got just the cards," he said. "Now, there's so many special inserts, parallels, autographs and jersey cards that they randomly put in the packs that people go after."
Another niche of the baseball card industry is the grading process. Customers will bring their older cards into Johnson's store for an assessment of their hypothetical value. Johnson will then send it off to a company such as Beckett Grading, who assigns a value from one to 10 to the centering, edges, corners and surface of the card. The scores are then averaged for the card's final grade; the higher the grade, the more valuable the card.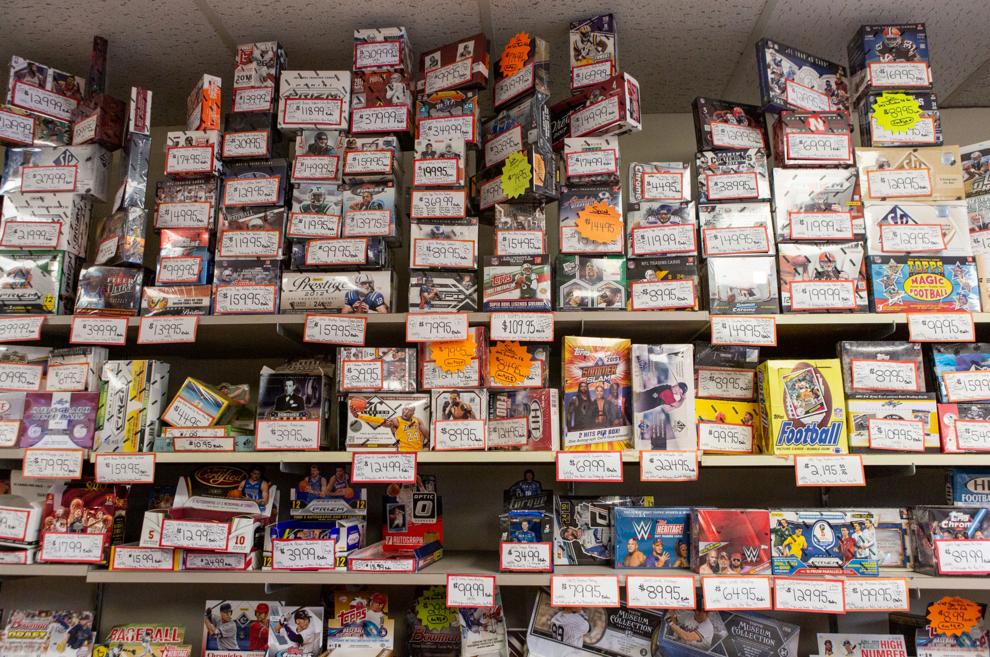 Through the many evolutions of the industry over the last 29 years, Wes' Baseball Cards has endured as a hidden Lincoln establishment. Gregg Culver, a fourth-grade teacher in Eagle, has known Johnson since Johnson worked at the now-defunct Merle's Baseball Cards in the late 1980s. Culver has watched Johnson's store grow from its beginning, outlasting its competitors and accumulating inventory that has outgrown the shop's space and now crowds its shelves and aisles. 
"It's hard to get around in there now," Culver said. "It's to the point now where he probably doesn't have anywhere left at home to put anything."
Culver worked for Johnson briefly during the store's early days, sorting cards and making signs as a source of extra income. The pair have remained friends ever since. 
Baseball cards are still present in Culver's life, as he sets them out in his classroom as rewards for students when they do well on assignments and tests. Culver said he also tries to stop in the store every Saturday as he continues to help Johnson out from time to time. 
Culver said he thinks Wes' Baseball Cards has weathered the hardships that claimed other stores like it through Johnson's wealth of knowledge and dedication to his customers and craft. 
"Wes is about the most knowledgeable person," Culver said. "You can walk in the store and ask him where something is and if he has it, and he'll know. I think that's why he's survived because he's built relationships with customers. And he's around and people know him, and if he doesn't have [what they need], he can get it, and he'll go out of his way to do things for people."
Twenty-nine years after Wes' Baseball Cards first opened, Johnson's love for baseball cards endures as much as his business has.
"I can't believe I've been living my dream of actually owning a card store," Johnson said. "I mean, doing this and making it work for 29 years ... I've met a lot of great people. There's just a lot of good, honest, hard-working people out there that love collecting cards just like me."