Muggles, wizards, witches and ghouls — keep your clairvoyant eyes peeled for Lincoln's most bewitching method of transportation. Parked in bike docks around campus and downtown Lincoln, broomsticks are sure to get any magical creature from Andersen Hall to Westbrook Music Building faster than they can say, "Wingardium leviosa!" 
For non-magic folk, the brooms are meant to stay earth-bound, providing the experience of a witch's commute to campus without ever needing to lift off.
The Halloween promotional stunt was the brainchild of Jes Slavin: marketing and memberships manager for BikeLNK, Lincoln's bike-share vendor. Three years ago, Slavin thought it would be memorable if her company offered a spookier version of bicycles the week of Halloween.
"I'm always thinking about wild ideas," Slavin said. "And I just thought how cool it would be if we were able to dock brooms."
Slavin said the idea sprang from a love of Harry Potter and years spent in undergrad on a broomstick. While Slavin attended Emerson College in Boston, Massachusetts, she played as a chaser on her school's quidditch team. When she brought the idea to her colleague — lead technician Brody Steffen — he was enchanted and agreed to give it a try.
Slavin said Steffen was able to turn regular cleaning brooms into buyable vehicles by adding seats and radio frequency chips like those seen in BikeLNK's bicycles. After Steffen's modifications, the brooms were then able to be docked and checked out in bike-share kiosk stations. The campaign was named "BroomLNK" and prepared for takeoff.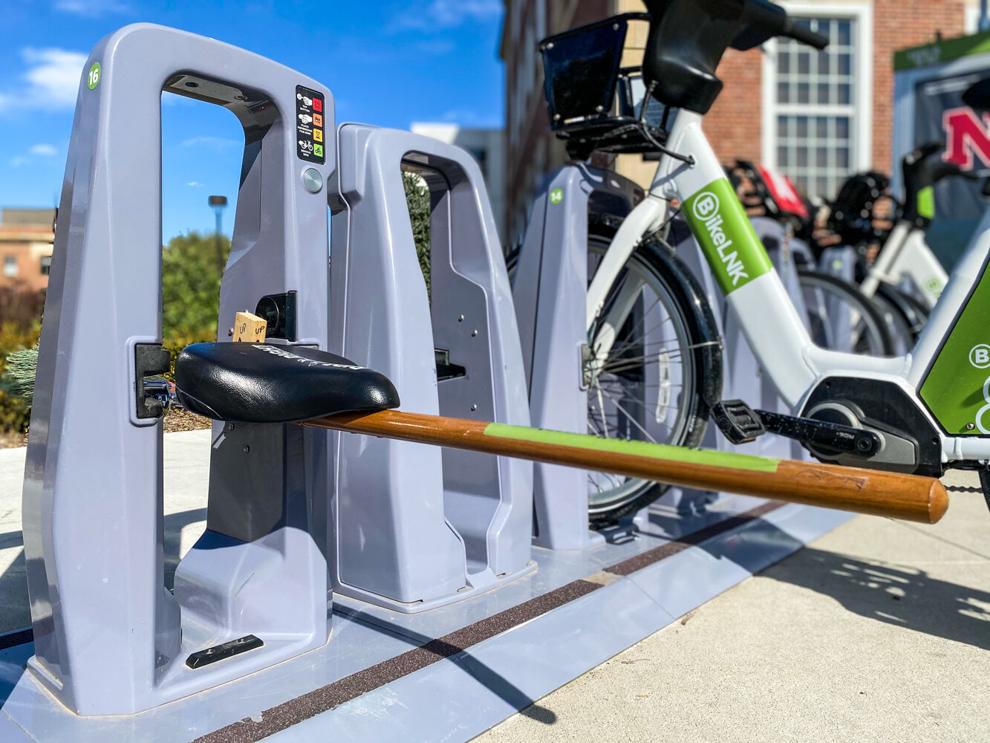 "The coolest thing about them is that you can check them out," Slavin said. "That's its own kind of magic that we were able to make happen."
These Nimbus 2000 lookalikes — as well as one mop for "Hocus Pocus" fans — are moved by BikeLNK employees each morning to ensure frequenters of each bike-share dock have equal opportunity to experience the broom-share magic. 
There are 21 BikeLNK kiosks around Lincoln, many of which are on the University of Nebraska-Lincoln's campuses. Slavin said the company's employees try to keep the brooms in docks close to UNL because she knows how important it is for students to explore their imagination during their young adulthood.
"I think being in college is a time when you like to have some fun … it's the merging of childhood with something a little more practical," Slavin said. "So you can do some make-believing with the broom-share."
For city manager of BikeLNK Jamie Granquist, BroomLNK gives Lincoln a more whimsical spirit during a time of sickness and political unrest. Plus, Granquist said, the company's employees are happy to provide a method of transportation for all their sorcerer friends during Halloween week.
"There's that fall fun in the air, so we just wanted to give a nice, lighthearted spin on things that are going on right now," Granquist said. "This time of year, you never know when you're gonna need a broomstick."
Granquist said she enjoys seeing broom flyers share their posts on social media. Some broom-share fans have taken photographs in their costumes or ones of themselves jumping in the air with the broomsticks to create the illusion of flight. Slavin herself took promotional photos with the brooms, dressed in a witchy hat and mismatched clothing, the get-up of a Harry Potter wizard doing their best impersonation of a muggle.
Granquist said those who share social media photos of themselves on brooms and tag BikeLNK will be entered in a raffle to receive a special Halloween treat. Students are also eligible for a discounted $10 per year BikeLNK membership, guaranteeing unlimited one-hour bike or broom rides for a year.
Though Granquist said she doesn't think any other communities have done anything like BroomLNK, she believes it would be a spellbinding addition to any city's transportation system. Until then, it's simply a reminder to Lincolnites that there is something magical about living in the capital city.
"This was a fun way to let people know there's fun things to do in Lincoln at all times of year, but especially this time of year when socially-distanced things are definitely what we want to make sure people are aware of," Granquist said.
But for those still wondering whether or not their BroomLNK brooms will ever take the skies, Granquist said the answer is conditional.
"I guess that just depends on whether or not you're a witch," Granquist said.