"We know where we want to go, right?" 
"Do we?"
"Yeah."
This comfortable uncertainty defines Mental Disturbance, a group new to Nebraska's underground music scene. Kenanile Bigba and Meryl Ohireka Sahouet formed the group three years ago back home in the Ivory Coast. They didn't label their sound then, and they don't use labels now.
In many ways, Mental Disturbance doesn't make sense — its musical style can't be easily defined.  
The two started the band as a means of expressing their emotions without labels or restrictions, Sahouet said. Additionally, Mental Disturbance gave Bigba and Sahouet a way to be together both romantically and creatively.  
Bigba, who is non-binary and uses she/her pronouns, and Sahouet, who is transgender and uses he/him pronouns, have been dating for three years. In the Ivory Coast, the couple's queerness was not encouraged.
"To accept a queer relationship in Ivory Coast is almost like trying to accept a Republican [becoming a] Democrat," Sahouet said. 
When Sahouet, whose artist name is Ohireka, moved to attend the University of Nebraska-Lincoln, Bigba quickly followed suit.
The five months they were separated were tough, Sahouet said. The culture shock he experienced coming to Nebraska was difficult, and the five hour time difference complicated communication. 
There were nights when Sahouet would call Bigba at 3 a.m. to talk on WhatsApp until he fell asleep. Bigba said she would often have to call him again to wake him up to get to class on time. 
At the band's inception, they said they both suffered creatively from personality conflicts. Sahouet tried to focus on his agronomy major and Bigba directed her attention to visual arts and graphic design, all while they combined their collected interest in music. They struggled to find out what they wanted their music to sound like. 
"Recently, we've been talking about the fact that Mental Disturbance was also a way for us to express emotions and feelings," Bigba said. "At the beginning, it was difficult for us to express ourselves." 
Mental Disturbance allowed them both to express different parts of their creativity, Sahouet with his instruments and Bigba with her art skills. After Sahouet puts together a song, the two collaborate to finalize it with cover art before releasing it. 
That quickness speaks to their laissez-faire attitude toward their artistic expression. Sahouet said one of his most recent songs only took 30 minutes to create. 
"To be honest, I really love computing my own music, creating my own music," he said. "That's something I can do, I would say, effortlessly." 
Although music provided artistic expression, Bigba said it's not a straightforward path toward exorcising her creative demon. 
"You want to be a free person, you know, even if it's difficult," she said. "It's like, today I want to draw, today I want to sing, today I want to express this and today, I will choose to be in peace."
She and Sahouet described Mental Disturbance's musical influence by creating a playlist of artists whose sounds inspire their project's musical tones, such as psychedelic rock band Tame Impala and Canadian instrumental funk group BADBADNOTGOOD. 
Remaining underground allows the duo to fully express themselves.
"When you're underground at this stage of your life, it's all about 'This is my goddamn self right now,'" Sahouet said. "But when you are a little bit mainstream … the point is like, 'Is it really about music at this moment?'"
One of their tracks and their only release on Spotify, "Esseu je sais?," is a multifaceted soundscape, a conglomeration of layered beats.  
For now, the two are focused on staying in a place where they can be true to their interests, however convoluted or hard to describe they may be. 
In February, the group performed at Lincoln Exposed, a four-night concert series highlighting Nebraska-based artists. Bigba expressed her trepidation upon being invited to the event, saying she was nervous to perform in front of people.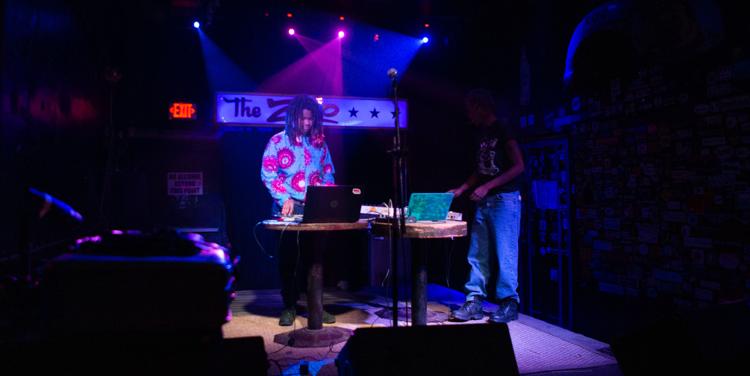 Performing doesn't really help with her anxiety, she said, but that's just part of the whole performer experience. 
"As long as you love what you're doing," she said, "potentially you won't feel that much anxiety." 
She compared Mental Disturbance to other bands performing, pointing out that some groups had four or five members, while she and Sahouet were the only ones on stage. 
"What are we supposed to perform — our music? Do we even [perform]?" Bigba said. "It's so confusing, but we're just going to try to adapt ourselves a lot and really enjoy this moment because I think that behind all of the performance side is we like the excitement of the event itself." 
Sahouet said the invitation to perform at Lincoln Exposed speaks volumes about the city's broadening of musical sounds and acceptance of diverse groups. 
"I appreciate the fact that we've been included in the Lincoln sphere, to be honest," he said. "Lincoln [Exposed] to me [is] proof of the way Lincoln is getting to be a little more progressive and diversify." 
The two will graduate in December 2020, Sahouet with a Bachelor of Science in Agronomy and Horticulture and Bigba with a Bachelor of Science in Psychology. Post-graduation, Bigba said they don't really have a long-term plan. 
Maybe the future will include sold-out shows in London. Maybe it will include staying true to their sound now, remaining rooted in their queer African identities.  
"At the end of the day, we're performing what we're supposed to perform," Sahouet said, "and we're really happy about it."
This article is part of a series on diversity. For the complete list, read the introduction.