During World War II, U.S. citizens were busily contributing to war efforts however they could. Those in the thick of battle left loved ones at home to build victory gardens to replace food rations and knit scarves and mittens for shivering soldiers during the coldest months.
Today, Karen Faripour said she feels like she's back on the patriotic homefront that built her earliest childhood memories. This time, she's going to war with her sewing needle in hand, fighting a microscopic foe.
When Karen and her daughter, Mandy Faripour, first began to sew protective face masks, the idea of providing war relief didn't cross their minds. Nor did they think a couple of cloth masks would spur a network of amateur sewers across Lincoln to unbox their sewing kits and pitch in spare time and fabric.
"It grew from a tiny idea and a single phone call into something," Karen said.
Karen owns her own sewing business, selling quilts and other handmade items through Etsy. As COVID-19 crept its way across the country, Karen slowly began receiving more requests for masks.
With the need for face masks increasing, a sense of urgency was impressed upon Karen and Mandy. They created the Facebook group 2Strings for Lincoln to connect other sewers to their efforts. Together, the band of stay-at-home soldiers collects and distributes masks made by volunteers and provides mask-assembly kits to other sewers.
The first donation made by the Faripours and their team included 240 handmade masks, all of which went to local medical staff. The idea, Mandy said, is to keep medical-grade N95 masks available to high-exposure health care workers by providing an alternative for workers at a lower risk.
To Karen, the donation seems small when considering the number of masks needed in hospitals. But like the faded memories of relatives pitching in to help a war-torn world, Karen said COVID-19 efforts require a nation of support.
"We are at war," Karen said. "We are not on the front lines, but we're supporting as we can."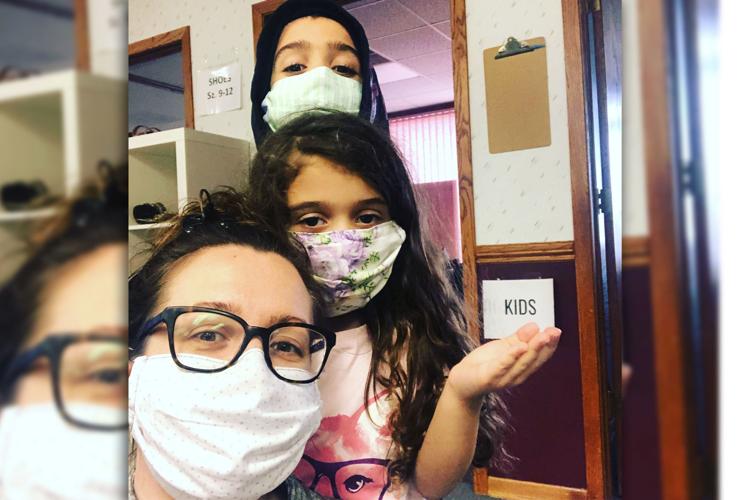 Jaclyn Tejeda, co-owner of a Lincoln buy-sell-trade store called Black Market Glamhouse, has also joined the battle by turning her business' focus to creating handmade masks.
These masks are going to ordinary residents, not necessarily health workers, who want to go to the grocery store with a covered face. Tejeda accepts orders on the Black Market Glamhouse's Instagram and Facebook pages, firmly believing her work is making a difference.
"Just with breathing and talking we can infect people," Tejeda said. "So I know as a [sewer] I can make these masks and I can make sure as many people as I can stop this spread."
So, Tejeda set to work and began sewing alongside her business partners and family members. Tejeda has even enlisted help from her children, who trim fabric with safety scissors under her close supervision.
Tejeda said working from home and grappling with the reality of canceled events at her shop is difficult, but she said she finds comfort knowing her suffering is shared with her community. 
Just like everyone else, Tejeda said, she's just contributing wherever she can.
"[We're] just doing our part. It's weird how we find our part. It lands in our laps," Tejeda said.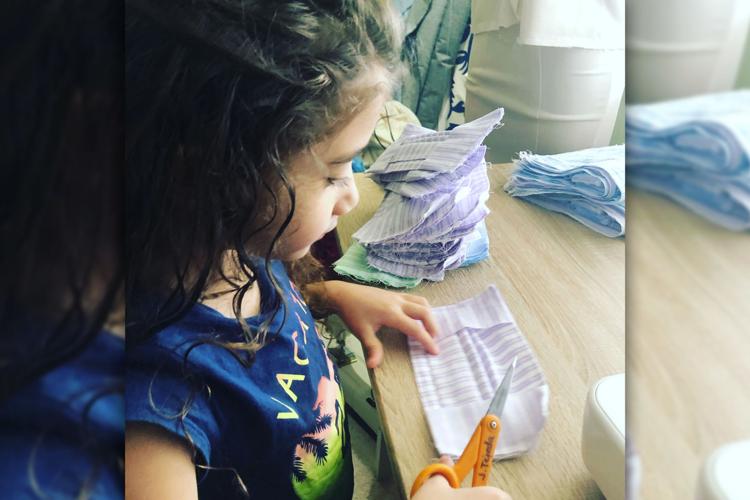 When Nolan Miska steps into battle, however, he leaves his sewing needles at home. Instead, he comes wielded with a 3D printer and a model he found online of a self-cleaning N95 mask made of copper-infused plastic.
His mission is to send his masks right to the firing line — health care professionals interacting with COVID-19 patients who need protection the most.
Miska's journey began with an article online about 3D printed ventilator pieces in Italy. After he read that, his mind drifted to a 3D printer he owned, completely unused and unopened.
Miska felt compelled to help. If the contribution he had in the fight against COVID-19 was owning a 3D printer, Miska was going to make the most of it.
"I saw a need for help and felt obligated to do what I could," Miska said.
So, Miska began printing test samples with regular plastic, saving the antimicrobial plastic for his donations. Miska said the antimicrobial masks will last longer because the copper-infused plastic removes all fungi and microorganisms that accumulate on the masks.
To ensure extra protection, Miska printed pieces for face shields, which are worn over the masks and act as a windshield for cough debris.
Through a GoFundMe effort on Facebook, Miska obtained three more advanced printers, which can pump out 16 pieces at a time. It's an improvement from his first printer, which could only print one item per print. 
The increase in printers is needed, Miska said, because his page has attracted attention and requests from hospitals in Lincoln, Omaha, Kansas City and even Colorado. This attention has required Miska to quickly become an expert in an unknown field.
"Two weeks ago I'd never 3D printed anything," Miska said. "Now I'm running a network of printers."
Through Miska, Karen, Mandy and Tejeda's devotion to spending their days creating face masks, Lincoln residents are better armored for battle.
Entire communities dropping everything to serve their country is a scenario that might seem crazy if you hadn't lived it before, but Karen has.
Born months after Pearl Harbor, Karen can still recall foggy memories of tanks rolling by the train station near her home. She remembers her father going to war and her mother and aunts left at home, filled with patriotism and a desire to contribute to the war efforts from home.
Karen said she believes someday this too will be like the fuzzy image of tanks for some other little girl.
"We don't realize until we're quite a bit older that, my gosh, we are living through a period of history that someone will be reading, studying, writing novels about at some future point," Karen said. "This is going to be one for the ages."