Life for up and coming musicians in the Midwest does not guarantee sold-out shows each weekend and big name record labels knocking at the door. This forces aspiring artists to find more conventional means to make ends meet if they want to continue pursuing their career in music.
Lincoln-based rapper HAKIM tackles this issue head-on by merging each of his business ventures, music, barbering and apparel, into one building. The new, three-pronged career emporium, Corn Coast Cuts, is located at 300 Speedway Circle and officially opened on Oct. 11.
After resigning as a barber from his family's business in Lincoln, Muhammad's Barber Shop, back in February, HAKIM knew he had to make a financial plan for himself if he was going to be serious about making his own way. HAKIM acknowledged that differences of opinion caused the split but didn't want to dwell on that.
"[Leaving] wasn't on good terms, to sum it up," he said.
Having to rely solely on hair cutting house calls for work, HAKIM began to notice he was burning himself out by running all over Lincoln. 
"I feel like that was the first point in my life that I really just had to struggle and figure everything out," HAKIM said, "just to make ends meet."
A few months into doing house calls, he took a step back and realized there must be a more efficient approach to solving his problem.
First, he understood that, economically, it makes more sense for clients to come to him, rather than running around all over Lincoln and driving until his car is on its last leg. Next, he thought bringing his Corn Coast Co. apparel from Etsy to a physical display would help improve sales. But a barbershop and clothing store combo was simply not enough for HAKIM. He also elected to add in space for a music recording studio, allowing him to save his music crew, Our Society, money in the long run by eliminating the need to rent out studio time — a decision he said helped gain their full support of his dream.
Claiming to be 50-60% through renovations only a month prior to the grand opening, HAKIM and friends still faced a long road ahead of them, as the renovations and expenses they incurred weren't showing any signs of slowing down. 
"I'm 24 and never really had to put my big boy pants on," HAKIM said. "[I] never thought I'd be doing all this construction, managing and business insurance deals."
Even in the last 45 minutes leading up to the soft opening, which was solely for close acquaintances, HAKIM and his associates were still scrambling to get everything ready. From placing down the last of the carpet and nailing down the trim along the walls, to tidying up the merch shop and applying finishing touches to the barbers station, Corn Coast Cuts was finally coming together, seemingly all at once.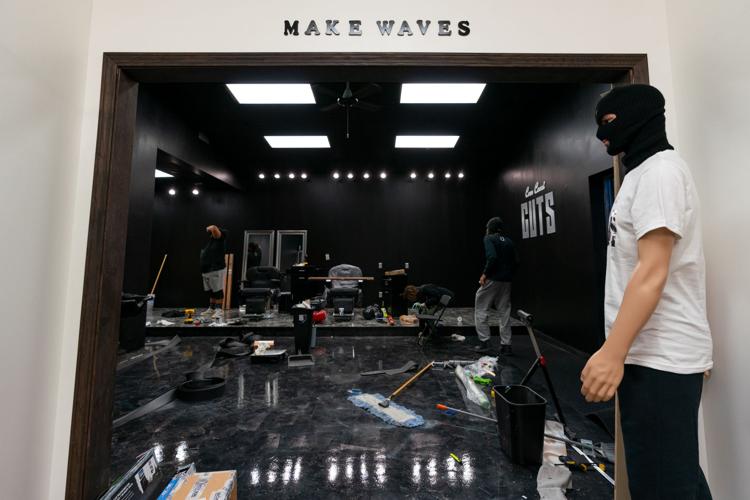 However, there was no time for sighs of relief. Just as the OK sign was given, the main door swung open and the multi-purpose shop filled with close friends, each offering congratulations and best wishes to HAKIM. Returning each compliment with appreciation, HAKIM appeared just as enthralled by each guest as they were with him.
The finished barbershop has a sleek appearance. Chairs laid out between the merch room and the barber's platform makes the space feel welcoming, and the open layout encourages conversation between awaiting customers. The black and white styling paired with silver accents provide a modern feel to the classic concept of a barbershop.
HAKIM made sure to stress that the completion of Corn Coast Cuts is just the start of the journey — a journey where he is excited to truly be his own navigator, free from the direction of anyone but himself.
Don Washington, HAKIM's manager and longtime friend, attests that HAKIM's persistent mindset is what makes him so productive. Whether he's working on one of his 19 released musical projects such as his album/movie "El Morado" from earlier this year, or Corn Coast Cuts, HAKIM takes care of business.
"He doesn't give up and accept no for an answer," Washington said. "When the vision is there, he will do everything in his power to accomplish what he sets out to do."
Washington mentions that the time leading up to the opening of Corn Coast Cuts is the most focused and driven he's ever seen HAKIM.
"He's been able to focus on just the facility this last month or so with no distractions," Washington said.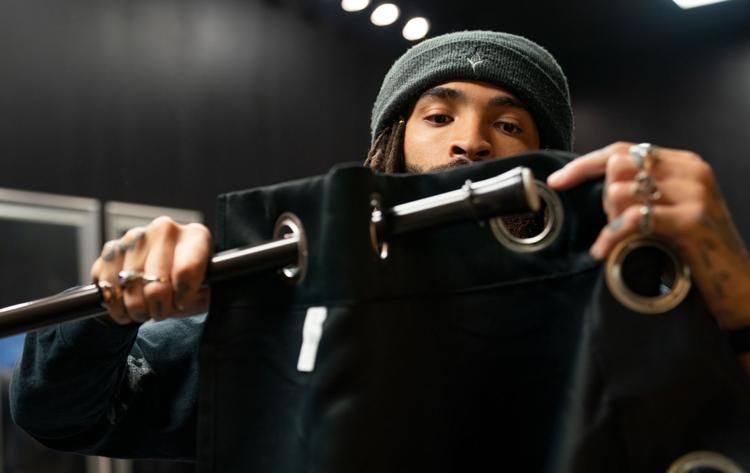 By envisioning Corn Coast Cuts and seeing it all the way through completion, HAKIM proves he isn't discouraged by the grind and is determined to carve his own path, no matter the ups or downs. One thing HAKIM says helped him throughout this journey is acknowledging that you are never fully in control and just focusing on what you do have control over. 
"You're never really in control, whether you believe in God or some other entity or whatever, you are never in control," HAKIM said. "Somebody else always has a hand on the wheel, whether its forces helping you or going against you. I'm learning to take each thing just as it is."