Art pervades every aspect of our lives whether we notice it or not. On the daily, our Spotify playlists, the clothes we wear and the signs we walk by reflect art. For most, art is something seen and consumed rather than created and explored. For Izzy Sheesley, the opposite is true.
Sheesley is a 17-year-old Lincoln High senior with exceptional creative talent, especially within the realm of comic book art. Recently, she has been making strides in cultivating her artistic talents and improving her existing skills.
Sheesley began creating art when she was as young as 2 years old partly because of early struggles with strabismus, a condition where her eyes struggled to focus, so she was required to do close-up work such as drawing and detailed sketching.
"I had to draw, so I just got super into it," Sheesley said.
Her mother, Cinnamon Dokken, the owner of A Novel Idea bookstore, watched Sheesley's talent blossom. She said she was taken aback by the maturity and skill level seen in her daughter's youthful doodles.
"Little kids always draw people with the arms sticking right out of the head at first, but I remember when [Izzy] was four … she drew a really detailed picture of a woman … it was very elaborate and showed a lot of physical control," said Dokken. "The point where she began doing things I couldn't do was when she was about 8."
Sheesley's interest in comic art began roughly 10 years ago when she would read books in that art style. In fourth grade, she experimented by making small comic strips. She read lots of comic books and graphic novels in seventh and eighth grade, and her interest only grew.  
"I like storytelling a lot, so it's a really good way to put those things together," said Sheesley. "I really like drawing small, so it's fun to do comics because I can work smaller."
From there, Sheesley's skills progressed as she continued making art and practicing different mediums. This past summer, she got the chance to study at the Art Institute of Chicago as part of a two-week summer residency program consisting of about 150 students. Students got to pick one class as their area in which to focus during the program, and Sheesley chose the Alternative Comics and Graphic Novels course.
The workload consisted of classes from 9 a.m. to 4 p.m., which included time to spend working on assigned projects. Sheesley's first project was a four-page graphic novel, and then she continued expanding that shorter version into a finalized comic titled "Boundless Land," a short grayscale graphic novel written and illustrated by Sheesley.
Sheesley's biggest takeaway from this program was improved time management and the ability to quickly decide on and commit to an idea in order to finish projects. Additionally, the lessons on composition and sightlines proved valuable.
"In my class, we learned about visual composition, so the way the readers' eyes move across the page and how you can manipulate that through different styles, shapes, lines and movements," Sheesley said.
The inspiration for "Boundless Land" comes in part from a book called "Anya's Ghost" by Vera Brosgol. According to Sheesley, Brosgol's art style and elements in that graphic novel played into the creation of "Boundless Land."
"['Anya's Ghost'] is also in gray tones and black and white, and I really liked that," Sheesley said.
After returning from Chicago, Sheesley and Dokken saw an opportunity to further Sheesley's art career. They sent Sheesley's completed project to Goldenrod printing company, who printed and bound all 305 copies, putting together the final product that has become "Boundless Land."
Following this, Dokken hosted a book signing for Sheesley at A Novel Idea with a table selling her comic books for $5, and customers had the opportunity to get their copy signed. "Boundless Land" is still available for purchase at the bookstore, and it has also been sold at events like the Lincoln Arts Festival and Lincoln Calling.
Sales went better than expected, and the project is now on its third printing. Their initial order was 150 comics, then a short second run of 55 and, most recently, a third round of 100 more copies. Despite the success of this business-oriented collaboration, Dokken insists it is Sheesley alone bringing in the talent.
"I can't draw; I can't do that comic stuff; that's all her. I just looked at it and thought, 'Oh, this is really great,'" Dokken said.
She explained that it isn't just because of her and Sheesley's relationship that she wanted to support her daughter's work —- it was because of Sheesley's natural aptitude.
"If some other kid had come to me with the same comic, I also would've said, 'Let's do a signing' … because I believe in the work, not because [Sheeseley]'s related to me," said Dokken.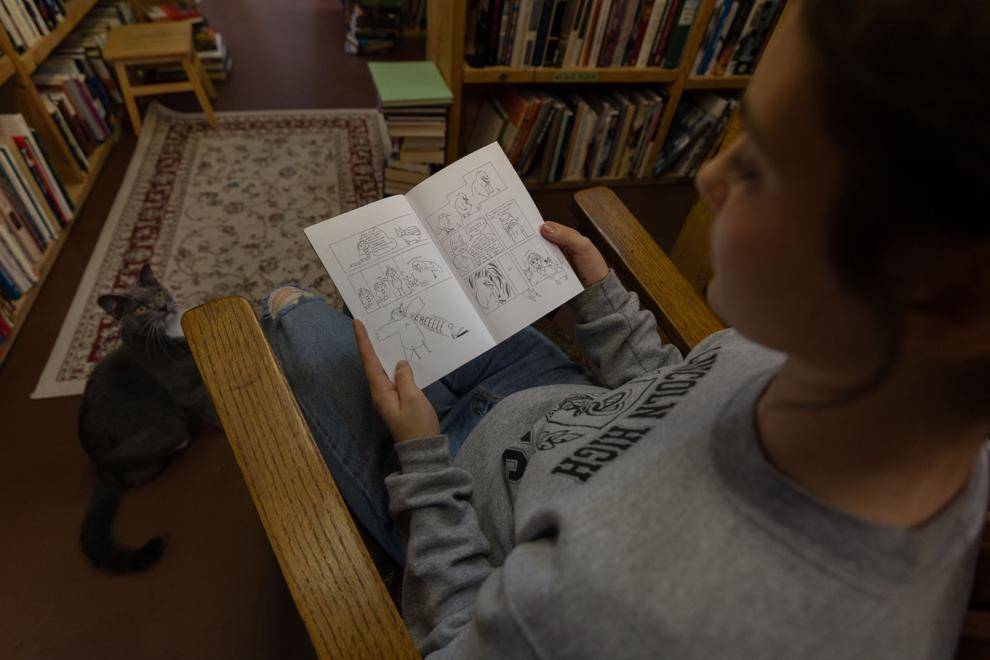 The printing and selling of the comic has garnered an overwhelmingly positive response, which both Dokken and Sheesley are pleasantly surprised about. In addition to the success of Sheesley's first book signing event, local artists have supported her work. Artists such as Chris Wares, Paul Tisdale and Scott Stewart have all gifted Sheesley various mementos, such as copies of their own works.
"I was worried that we were going to make it into too big of a deal or to the point that it wouldn't be fun anymore," Sheesley said. "But it's been fine so far, and I'm having fun — everything's good."
Now that school has started up again, Sheesley still tries to maintain art as a primary aspect of her life by making sure to create time for it in order to practice her skills.
"I make it more of a priority. It's not just something that I do if I have time — it's something that I make time for," Sheesley said. "I don't try to force it, but I try to draw or doodle or whatever every day to keep my creative juices flowing."
Sheesley dabbles in all sorts of media, not just comic art. She has done school projects involving sculpture, painting and more. She is taking an International Baccalaureate art class this year in school, which gives her a lot of freedom in which projects she gets to do. In IB art, a topic or theme is given, but students are able to choose their own specific project that fulfills that requirement.
Shawn Stokes, Sheesley's high school art teacher, has served as a role model and mentor for her art as well.
"[Stokes] is really supportive of whatever I do outside of school and, for class, she cares about what we're making, not just for a grade or anything like that," Sheesley said.
While Sheesley has a passion for comics, she's not sure if she desires that as her actual career. Recently, she has been considering studying art and business marketing in college. This degree would possibly help her find a  future career as an art director for a company or for the film industry. Sheesley also has some ideas brewing for a Christmas comic book that could possibly come out at the end of this year.
In her growth from toddler-esque pictures to book signings and profits, Sheesley has solidified her position as a creator. She loves the work, and she truly possesses a passion for her art projects. Whether she works as an artist or as some other profession, Sheesley has exhibited the skills and talent necessary to cement her reputation as a legitimate illustrator.  
No matter what she does, Sheesley will continue creating art for the rest of her life.
"When I'm waiting for something, I'll just doodle. When I need to calm down, I'll just draw," Sheesley said. "It's what I enjoy doing and what I seem to always want to do, so even if I didn't have that as an actual career, I would definitely still be doing it as a big hobby."