As September nears its end, the streets of downtown Lincoln are lined with posters and advertisements for the Lincoln Calling music festival. With four days of over 80 music acts, Lincoln Calling has become one of the most anticipated music festivals Lincoln has ever known. In the past, Lincoln Calling has hosted headliners like Charli XCX and Lion Babe, and this year, the fest brings in Lee Fields & The Expressions, Soccer Mommy, Cautious Clay and A Tribe Called Red. 
Lincoln Calling has transformed from a non-profit music festival to a non-profit innovation festival with music, art and education. The event takes place across eight venues — Bourbon Theater, Duffy's Backlot, Duffy's Indoor, Zoo Bar, Bodega's Alley,1867 Bar, Tugboat Gallery and the Night Market Stage. 
As the festival has grown over the last 16 years, different elements have been added to make the event what it is today. Originally just a small local music festival, Lincoln Calling has grown into a weekend that highlights all facets of art. Munson said Lincoln Calling strives to showcase the artistic diversity in Lincoln and is able to do so in a collaborative manner. 
"It's a lot of fun because we have a lot of really great venues that are within a block of each other, and so the idea is kind of bringing all those venues together and collaborating and having a really diverse lineup of artists," Munson said. 
With a combination of local, regional and national music showcased at Lincoln Calling each year, Munson explained the need to discover talent before musicians are too big because bigger acts come with a higher expected price tag.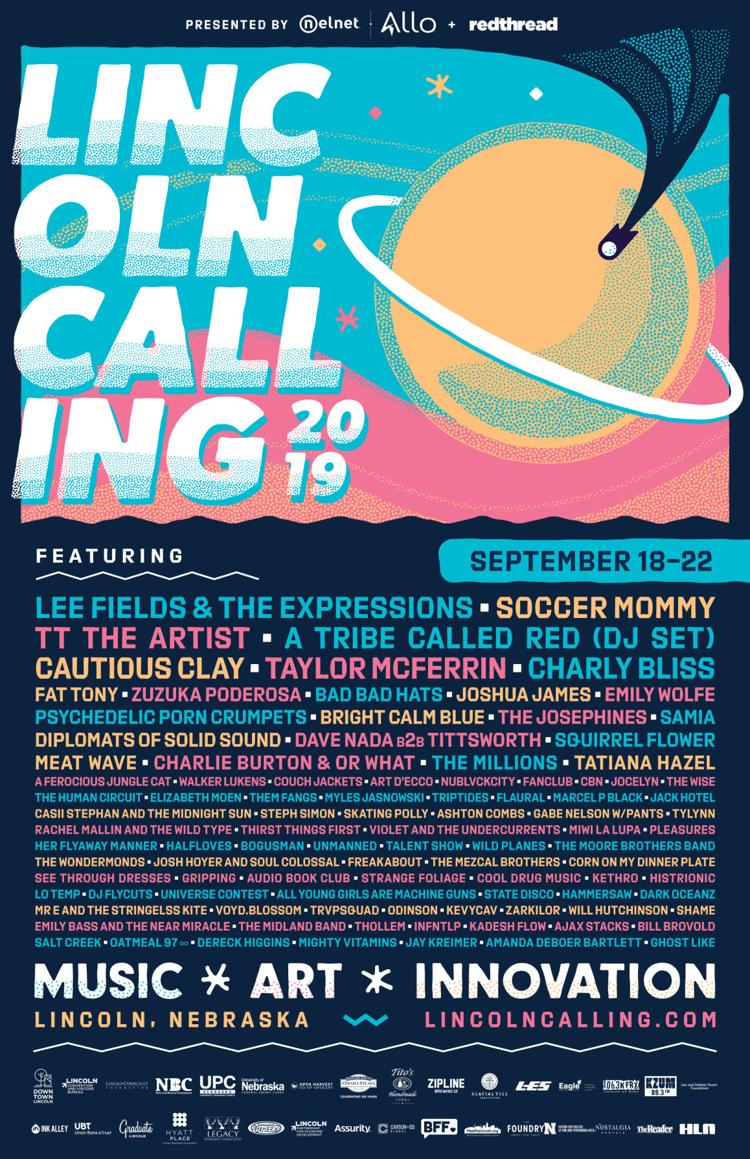 "When artists get particularly big, they get pretty expensive, so we like to grab a bunch of inexpensive artists that are gonna get big," Munson said. 
Once Lincoln Calling is over, the staff is constantly recruiting and looking to events like South by Southwest, a festival in Texas, to find the next headliners. Not only does this create exciting lineups, but it keeps the costs down for the staff who have a limited budget for all of their acts. 
This year's lineup showcases big acts like R&B artist Cautious Clay, soul singer Lee Fields and the Expressions and Nashville indie act Soccer Mommy. Lincoln Calling is able to seek out these acts mainly through their agents. As a team, Munson's staff comes up with a list of names they desire for the festival and then contact the agents of those acts. 
The second way Lincoln Calling finds artists is based on who is currently touring. If the artist or band is already on the road, then Munson can save money on getting them to Lincoln. Most of the acts seen at Lincoln Calling will be smaller, less known bands, but according to Munson, those are the bands the people will fall in love with. 
"We are putting our best bands in Lincoln, the best bands in the Midwest and what we think are national up-and-coming artists that will sell tickets," Munson said. 
Other than touring acts, Lincoln Calling makes a point to hire local musicians. This year's lineup includes Lincoln talent  like FREAKABOUT, Salt Creek, Histrionic, and Myles Jasnowski. 
This year, Munson hopes to showcase different art elements and has added Alex Jochim, the executive director of Benson First Friday and Munson's long-time friend, to the Lincoln Calling team. Munson contacted Jochim when Lincoln Calling was looking to add more visual art aspects to the festival. Jochim explained the collaboration came down to timing, friendship and logic.
"The music scenes in Omaha and Lincoln have long been appreciated and supported, and now, that excitement is happening for other forms of art," Jochim said. "Plus, what's a true festival without the inclusion of visual arts, beautification and community engagement? That's what we provide."
For students, Lincoln Calling is easier than ever to attend, as anyone who has a valid N-Card will receive a discount. Tickets are currently $25 per day, but if students go through the University Program Council, they can spend $20 for the whole weekend. Those interested just have to go to the UPC office located in the Nebraska Union and show their N-Card to purchase their Lincoln Calling ticket.
"We want as many students to really enjoy the festival, and $20 for music is insane," Munson said.