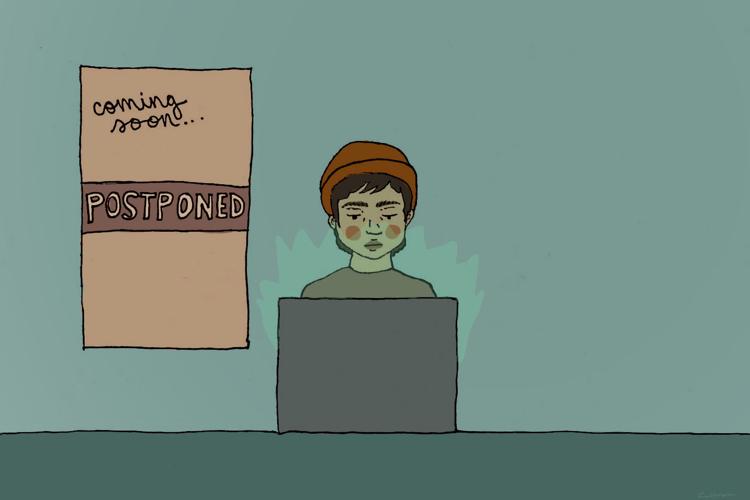 Before jumping into this, it's important to note that there are significantly more important things going on in the world right now other than movies. The coronavirus pandemic has had dramatic effects on just about everything, and it's important that we all take it seriously and do what we can to help slow its spread.
With that being said, I'm a big movie guy. 
In addition to journalism, I'm also majoring in film studies. I've been reviewing movies in one form or another for over five years now — the latter half of which has been with The Daily Nebraskan. Movies and movie news make up a solid amount of what I talk about. I absolutely love going to the movies and talking about them endlessly — especially on the DN's "Cinebraskans" podcast.
So, naturally, I feel the need to talk about what is happening with the film industry as a result of the coronavirus, because there is a lot to talk about.
First and foremost, I want to discuss the most immediate change in the industry: movie release dates. 
As one would expect, numerous films slated for release in the coming weeks have been rescheduled or postponed to an unannounced date. Both major blockbusters and smaller independent films have had to reshuffle their launches as a result of the pandemic. A few major films that have been pushed include "A Quiet Place Part II," which was supposed to open this Friday, the latest James Bond film "No Time to Die," Disney's live-action adaptation of "Mulan," the ninth entry in the "Fast & Furious" franchise and "Black Widow," the latest film from Marvel Studios.
Of this lot, only two films have nailed down a new release date. "No Time to Die" will now open Nov. 25, and "Fast & Furious 9" has been pushed a full year to April 2, 2021. 
It might be a while before audiences get to see the rest of those movies. If you're someone who, for example, was really excited to see "A Quiet Place Part II" this weekend, you might have to wait until around August to actually experience the movie in theaters since the summer movie season is already so packed.
The movie release schedule is notoriously crowded. Studios often secure release dates for their movies multiple years in advance, sometimes even before announcing what the movie is. Consequently, there isn't a lot of open space in 2020 for all of these movies to be rescheduled to, and there will undoubtedly be more reshuffling of release dates for the rest of the year. Studios will likely push back some of their smaller movies set for this summer and fall to 2021, in order to make room for their juggernauts like "Black Widow" and "Mulan." 
Studios such as Disney and Warner Bros. decided to postpone and reschedule their films for numerous reasons. Most obviously, in order to avoid further spread of the virus, they don't want crowds of people tightly gathering in a small theater. Secondly, box office revenue is going down, and it will likely continue to decline over the next couple of months. This past weekend, with new releases such as "The Hunt," "Bloodshot" and "I Still Believe," the box office numbers were the lowest they've been in 20 years, generating a total of roughly $55 million. In a landscape like that, it is likely that no major studio is willing to release their big-budget movies, some of which cost well over $100 million in production alone.
In addition, major theater chains such as AMC, Marcus and Regal have closed nationwide. Meanwhile, others are implementing a social distancing policy that halves the number of seats available. Even if a studio released a movie right now, many potential moviegoers wouldn't be able to see it if they wanted to. 
However, this delay of blockbuster films isn't a problem just for 2020. 
Movies aren't just being pulled from release dates, film shoots and productions are also being delayed or shut down across the board. Marvel Studios has already halted production on "Shang-Chi and the Legend of the Ten Rings," which is slated to open in February 2021. Also, three of Marvel's Disney+ shows — "The Falcon and the Winter Soldier," "WandaVision" and "Loki" —  have also had production suspended. Other films that have halted production include "The Batman," "Mission: Impossible 7," "Jurassic World: Dominion," "Fantastic Beasts 3", "The Matrix 4" and James Cameron's numerous "Avatar" sequels. 
While all of these films are still slated for their intended release dates, this delay in production will most likely result in a delay of release. Depending on how much production is left and how many visual effects still need to be done, I wouldn't be surprised if some of these movies get pushed back a year.
Keeping all of this in mind, there is one wildcard in this landscape: online streaming services such as Netflix and Disney+. With millions of people self-isolating in their homes, streaming services like these are certainly going to see a boost in use. Many people are throwing around the idea that studios could just release their films directly to a streaming service so audiences can enjoy the movies in the safety of their homes. There haven't really been any studios willing to give it a shot purely because there is such a steep decrease in revenue from releasing a movie in theaters to putting it online for streaming or rental.
However, that mindset is beginning to change, as studios are beginning to consider the idea of making their films available to stream significantly earlier than usual. There is typically a 90-day period between a movie's theatrical release and when it is made available via Blu-Ray and digital purchase. The wait for a movie to be put on a streaming service is even longer. However, the first change to this model was seen when Disney decided to release its animated hit "Frozen II" on Disney+ three months earlier than planned. 
Following the move by Disney, studios such as Warner Bros. and Universal are making their recent releases available to digitally rent starting Friday. New movies such as "Birds of Prey," "The Invisible Man," "The Hunt" and "Emma." will all be available to rent for $19.99 for a 48-hour period. 
In an even more unprecedented move, Universal will release "Trolls World Tour" for rent on digital movie services such as Vudu, on April 10, the same day it opens in theaters. That means families who planned on seeing the movie opening weekend will now be able to safely watch it from home. 
As of now, there aren't any announced plans to release any movies other than "Trolls World Tour" like this, but the precedent that it sets cannot be ignored. I believe this will continue to happen. It might not occur with giant blockbusters like "Black Widow" or "Mulan," but it's certainly a possibility for smaller films like "The New Mutants," "Antlers" or "Peter Rabbit 2: The Runaway." There is a lot of speculation from those in the industry that, if the release of "Trolls World Tour" is successful, releasing smaller films in this fashion could become the new norm in Hollywood, and cineplexes would host almost solely massive blockbuster movies.
The only constant in the world of movies right now is that nobody really knows what happens next. 
As far as the film industry goes, it's in uncharted territory. As a result of the coronavirus pandemic, film releases and productions are being delayed in mass numbers, and moviegoers and studios are beginning to look to streaming services as a more viable option moving forward. There's no telling what the long-term result of all of this is going to be, but one thing is for certain: there will be change. It could be small changes, or it could be a fundamental restructuring of Hollywood release strategies. Like many industries, Hollywood is adapting to survive right now. The effect these changes will have long-term is uncertain — only time will tell. 
In the meantime, I will be watching plenty of movies at home.