Pumpkin-carved gas cans, vintage maroon trucks filled with pumpkins, a portrait of the singer Willy Nelson painted on the front of a metal barn filled the atmosphere of Sycamore Farms in Waterloo Oct. 4 through Oct. 6. 
Attendees strolled down hay paths that wove through funky vendors of various antique shops, sign companies, leather goods and more that were set up at Junkstock Harvest Edition. 
This event began as a small dream for Sara Alexander who attended the University of Nebraska-Lincoln in 2001 before transferring to the University of Missouri to finish her volleyball career. 
The Papillion native operates Junkstock, a three-day vintage market that combines music and food four times a year.
The festival occurs once each season, with one in the spring, winter, summer and fall. Junkstock showcases creations of more than 180 vendors and artisans from all over the United States.
Alexander said she fell in love with junking —  a form of shopping for antiques, vintage goods and bargains —  after attending junk shows as a hobby. 
Alexander then began selling vintage treasures out of an old Elkhorn dairy farm in 2011. After achieving successful sales, Alexander opened her own store, The Junque Factory, in Papillion the following year. 
She said she wanted to bring something bigger and better to the Omaha community, putting her own twist on things, leading her to create Junkstock in the spring of 2012. The event featured 29 vendors and was held at the dairy farm. 
Alexander said she started Junkstock because she always had a dream of bringing something fun and funky to the Omaha community. 
The Harvest Edition that happened this past weekend presented 180 vendors, 19 food trucks and nine live bands. 
This combination consists of themes present in Alexander's two most-loved things —  Woodstock and junk. Alexanders love for the 1969 music festival and junking ultimately led to her to name her festival Junkstock.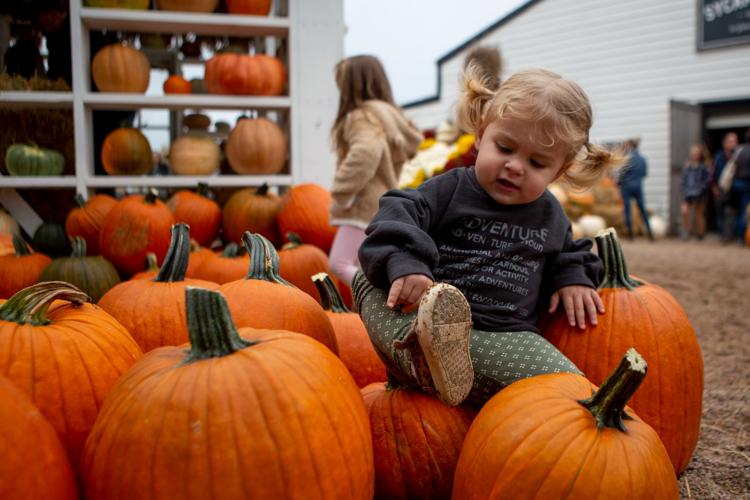 "I love everything about the peace, love, music vibe of Woodstock," Alexander said.
Cammie Metheny is the owner of vintage home goods store 106 Vintage Co., and has been working with Alexander for more than eight years — dating back to the days of The Junque Factory. 
Metheny first met Alexander at Whistle Stop Country Store in Elkhorn. When Alexander mentioned her idea for starting a junk sale, Methany said she thought Omaha was the perfect place. 
Metheny said she does several events around the Midwest, but nothing is comparable to Junkstock because it fosters connections and support from the junkers who attend.
 "This is why I love this business, it's something that tugs at your heartstrings through the people you meet, your fellow Junkers, and the appreciation you get from others who love it as much as you do," Metheny said.
 UNL alumna Shannon Hanna, who graduated with a degree in graphic design in 1990, co-owns HomeGrown Junk with her husband Brian. After leaving their city jobs in Omaha to start their vintage store in 2011, the couple found their love for vintage junk. 
HomeGrown Junk has been a vendor at Junkstock since 2012 after Hanna called Alexander from seeing an article in the paper about Junkstock. 
After being a part of the festival since its inception, Hanna said nothing in the Midwest is comparable to Junkstock. 
"There might be something comparable to Junkstock somewhere out there but not in this area of the Midwest," Hanna said.
After working with Alexander these past eight years, the Hannas have seen firsthand her creativity and dedication to giving back to small local businesses.
"Sara is over-the-top creative and has a huge heart which shows through her passion and hard work," Hanna said. "We have the same humor so we think a lot alike and her giving us this opportunity to be a vendor at Junkstock has helped us create ever-lasting relationships and networks with vendors and customers."
Ultimately, Alexander's dream has blossomed into fruition, giving opportunities to locally-owned companies like Alexander's own small business. 
Alexander said she was a local dreamer who had a small idea that turned into something bigger than she ever hoped for. 
"[Junkstock] started off the same way, as a small vendor which is why we love to do this event that supports small business and dreamers," Alexander said.
Alexander highlighted that striving entrepreneurs should never give up on dreams whether they are small or big because like hers, they come true with hard work and a strong support system of friends and family.
"Work hard and don't give up on your dreams," Alexander said. "Get some people beside you that support your craziest ideas, and just go for it."