A year after a viral tweet, the glorious Josh Fight finally took place in Lincoln. 
It all began on April 24, 2020, when Josh Swain, 22, created a group message on Facebook Messenger with 10 randomly selected people also named Josh Swain. Out of ultimate pandemic boredom, the Arizona college student called upon each Josh Swain to battle for their names in exactly one year at noon.
After selecting random coordinates, Swain challenged the group members to an epic fight where the losers must surrender their name. The original location landed in a field on the outskirts of Lincoln. After only receiving a few responses, Swain shared the photo on Twitter, where it now has over 63,000 likes and 22,000 retweets.
On Wednesday, Swain announced on Reddit that he changed the location to accommodate the crowd without reigning terror on Lincoln residents.
On Saturday, April 24, at Air Park Green Area, the long awaited clash of the Joshes commenced. The tournament consisted of three battles, beginning with an intense rock-paper-scissors game between the group chat's founder and a Josh Swain of Omaha. After the showdown, the crowd watched a Josh-only pool noodle fight, then joined an open battle to anyone with pool noodles.
Omaha Josh Swain said he was part of the original group chat, but initially had no interest in coming to Lincoln.
"I thought it was pretty stupid if I'm going to be honest. It was just ridiculous," he said. "It came in my inbox where you have to approve it, and I just kind of left it there."
After persuasion from friends, the Nebraskan decided to make his trek to the park to defend his name. Although he lost the battle to the group chat's founder, he said he still thinks it was worth the trip.
"It was a good battle. We threw the first three exactly the same which was pretty funny," Omaha Josh Swain said. "That's what it is. It was honorable."
He said he was glad he came out for the battle and that he came to support what has transpired from a meme into a good cause.
Prior to the big event, the organizer Josh Swain asked for participants to wear masks and bring non-perishable items to donate to the Food Bank of Lincoln. In addition, Swain arranged an online fund to be donated to the Children's Hospital & Medical Center Foundation in Omaha. More than $10,000 has been raised, and it's still open for more donations.
The second battle to occur included dozens of Joshes from across the country armed with pool noodles, ready to defend their own name. After a quick practice round, the original Josh Swain announced those who are hit by a pool noodle must sit down until only one Josh remained.
The legendary brawl lasted only a minute or so with the crowd chanting "Josh" while forming an arena around the warriors. Pool noodles of all colors cut through the air and slapped skin as man after man fell to the ground in defeat. Some fought with regular pool noodles, while others designed theirs to enhance their fighting weapon.
The battle eventually ended, crowning 4-year-old Joshua Vinson Jr. as the "Ultimate Josh" of the day. Nicknamed Little Josh throughout the day, he single handedly slayed through the crowd of Joshes with his bright red pool noodle while his dad, Joshua Vinson Sr., cheered him on from the sideline.
Joshua Helm from Wichita, Kansas, fell victim to Little Josh in the battle. Helm came dressed as Spider-Man, ready to slay his opponents.
"I think I did pretty good. I was kind of trying to protect my buddy, my other Spider-Man Josh after he died, but I gave it my best," Helm said. "Little Josh was the one to take me out and the one to win, so can't be mad there."
Helm originally heard about the battle nearly a year ago as the meme began to spread on Facebook and more people tagged him. He said he had to come to defend his name, and knew that he had to dress as an Avenger after seeing Josh Fight Avenger memes.
"I'll definitely be coming back every year hopefully to redo this," Helm said.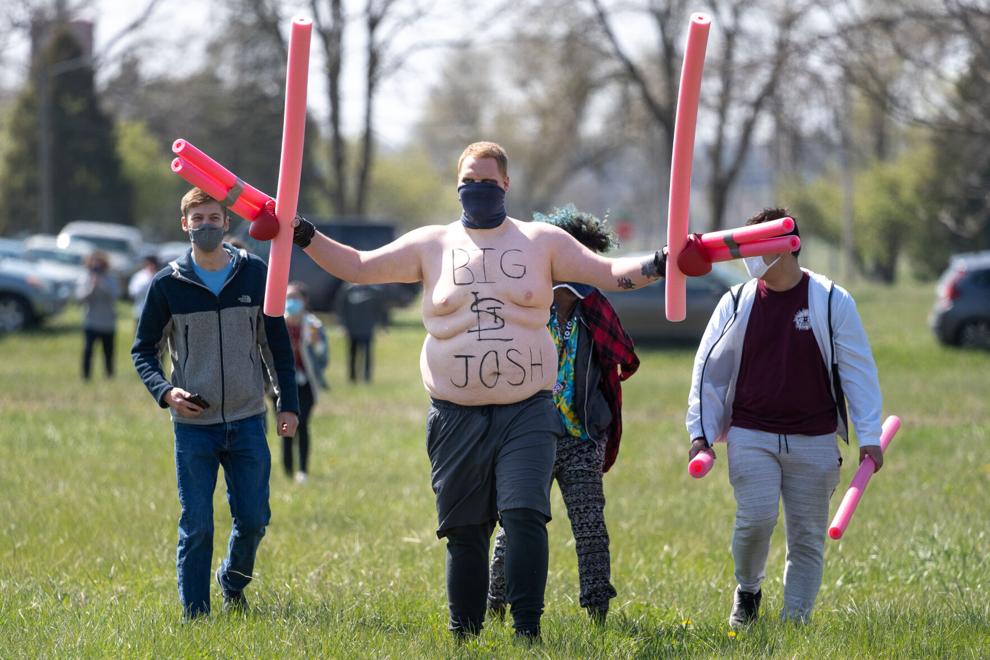 Another Josh, Joshua Kelsey, nicknamed himself Big Josh for the day's battles. Kelsey came from St. Louis to win the Josh Fight. He said he heard about the fight when the meme originated and searched the coordinates a few months ago out of boredom only to find that it was located close to his friends' college. While Josh Swain's original message told the Joshes to take a year to prepare for battle, Kelsey said he didn't need to.
"There's no question that I'm actually going to win this entire tournament. My power is unmatched," Kelsey said before the battle. "The preparations that people have put in all year are going to be put to waste — unfortunately for them."
Kelsey said even if no one showed up for the fight, he would have hung out with his friends for the weekend. Luckily, Big Josh and his five friends found quite the arena to compete in.
Josh Higginbottom from Des Moines, Iowa, came to the battle dressed as a Jedi. He came in ready for the force to lead him to victory, only to fall to the powerful 4-year-old.
"I didn't win, but we all knew that Little Josh was going to take it, so there was no point in trying," Higginbottom said.
Through his great defeat, Higginbottom was still elated.
"This is a blast. I'm glad that we can get people together just for the power of memes. That's all it takes," Higginbottom said.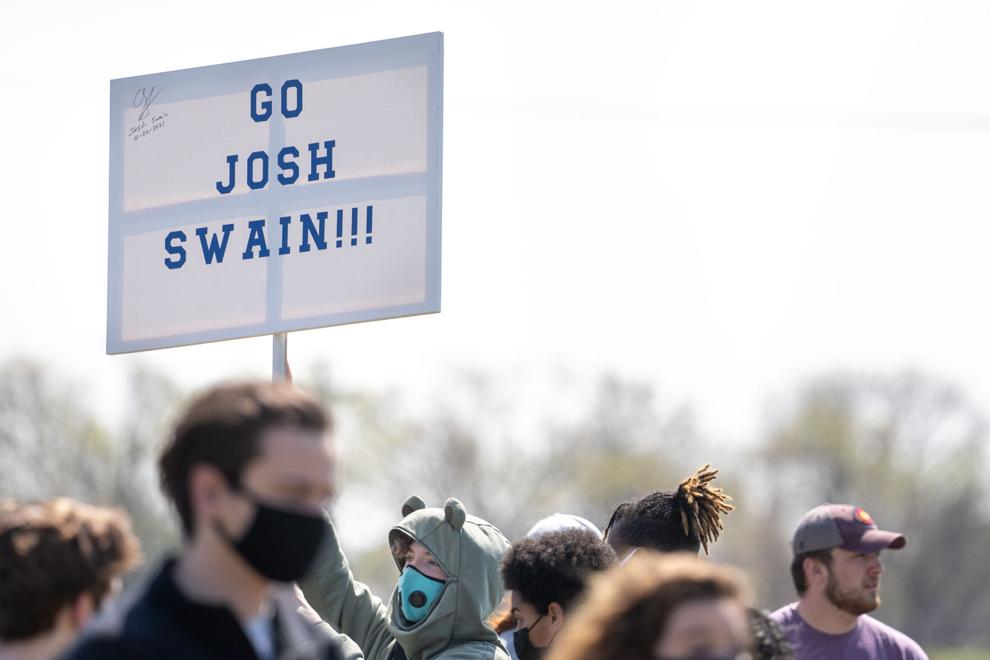 The crowd was filled with homemade signs and T-shirts to cheer on the variety of Joshes. Three men from Omaha came with carefully designed Josh Swain shirts made at Retro Shirtz.
Sam Fritz from Indianapolis was among the crowd. After driving eight hours last night, he watched the fight he waited a year for. Fritz said he was living in Philadelphia when he saw the original meme on Reddit.
"[In] pandemic times, the internet was the majority of my day. I scrolled upon it and I promised myself that in a year, I would be here, and I followed through on it," Fritz said.
Throughout the year, Fritz saw the meme continue to grow and said he knew he was still going to attend no matter what happened.
"I honestly wasn't sure what to expect. I'm glad that it turned into something playful. I didn't think an actual fight was going to occur," Fritz said. "The fact that they turned it into a playful event, the pool noodles, and managed to make it fun for everyone was actually surprising."
Overall, the event went as well as the original Josh Swain said he could've hoped for. Another Josh Fight, or a similar event, could be awaiting in the future.
"I don't want to say anything right now, but if we raise enough money, we might have to make it an annual thing," the original Josh Swain said.