A little over a year ago, I jumped up and down chanting "Go Big Red," as thundering claps pounded in the stands above. Excited fans of all ages bustled around us, trying to get to their seats before kickoff. I could feel each thud of my heart as we waited for the drum tap-off on the football field. I reviewed the flag work in my head. 
My rank leader smiled and nodded with encouragement as we got into line. We picked up our left feet, then our right feet, over and over to the beat of the drumline. Over the speakers, the voice of the University of Nebraska-Lincoln Cornhusker Marching Band Nolan Schmit introduced our pregame show.
"It's showtime as the Cornhusker Marching Band takes the field for another pregame spectacular!" called Schmit.
Chills ran up and down my spine as I entered Memorial Stadium and into a sea of red for the first time. I gripped my flag in anticipation, not wanting to make a single mistake.
Although I've lived in Lincoln my entire life, I never experienced a Husker football game until my freshman year of college as a flagline member of the marching band, and it was easily my favorite part of the school year. 
This is my second year spinning flags in the Cornhusker Marching Band, and my sixth year spinning overall. As a flagline member, we provide a majority of the visual aspects to the marching band. This difficult and unpredictable season ended last Friday, but we managed to pull through and make the most of it. 
Nebraska football has the greatest fan base I have ever seen, and the support to the marching band is unwavering. From the moment we warm up in front of Kimball Recital Hall to our final march from the stadium, fans cheer us on in exuberance.
Shortly after the university moved online in March this year, we received emails from our band directors detailing that marching band wasn't going to look the same in the fall. I anxiously opened each email and newspaper article waiting to find out the fate of the Cornhusker Marching Band.
First we received the crushing news that auditions would be held online. We learned marching basics and a mini routine via videos to later record our own.
Then we heard the high school marching band camp in July was cancelled. After attending for two years as a camper, I was looking forward to the possibility of returning as a counselor. Our summer in-person practices to learn the pregame choreography were also canceled, but we continued to meet the other auditionees through Zoom calls.
August was just around the corner, and the marching band nervously crossed our fingers, hoping there was a possibility of marching this semester. Our normal band camp week was canceled, as well as second-round auditions. There seemed to be no hope for us. I yearned to spin my flag with my second family again.
Eventually, the band directors decided to let color guard meet up once a day for a week for a makeshift band camp. We weren't allowed inside Memorial Stadium, so we spread out on the east side of the stadium with masks on and 10 feet between each of us.
We began our new normal the following week, meeting in smaller groups to practice pregame music along with some other show songs. Each mini band was composed of members from each instrument's section to form a small group that can spread out within Cook Pavillion on different days.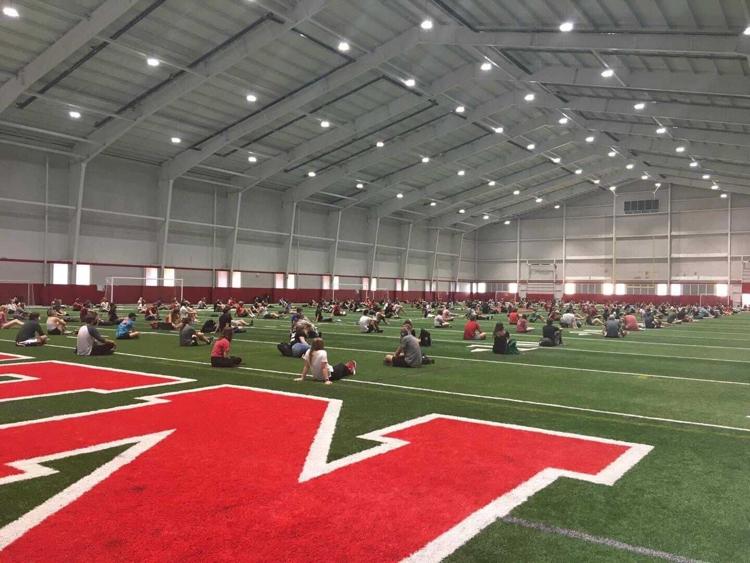 My second year in the marching band wasn't nearly as exhilarating as my freshman year. I struggled to connect with band members because we never had the opportunity to get to know each other. Although marching band gave me a reason to get up in the morning, I often doubted if it was worth it. We were told that we would record videos to share online with family and friends, but that didn't seem worth the countless hours and tiring practices.
The first time we played and spun a pregame show as a mini band sent chills down my spine. Performing in a single spot wasn't the same as marching the historic pregame show, but it gave me a sense of thrill and normalcy. For the first time this school year, I could feel the Husker pride we all shared. It was a feeling I never wanted to let go.
In September, the Big Ten reversed its decision to cancel football and announced a shortened season. Excitement boiled inside of me. The other color guard members and I thought we would finally get our chance to perform in front of the sea of red again.
Our dreams were shot down pretty quickly, however. The marching band, cheer squad and dance team were all told we wouldn't be a part of game day like before. Instead, the band directors told us we would get to be a part of the game virtually through videos we would prerecord.
It was a hard hit for us all. Our band directors tried to stay positive and see the bright side of this new scenario, but I could feel all our hearts sigh after the announcement. I cried inside. There was nothing I wanted more than to march in Memorial Stadium again. 
The months following, we spent countless hours learning drill and choreography to put into single song shows. Eventually, we got the chance to visit Memorial Stadium for a Sunday afternoon recording session. The morning practices leading up to the big recording day were stressful as the flagline struggled to memorize our work, but we had a new sense of optimism in our steps. 
The next week drifted back to the resentment of morning practices. Every day began to feel like the Monday after a Husker loss. The mornings faded into the next as we lost our sense of pride. Although I was thankful to spin my flag again, the days dragged on.
In a normal year, we would have football games and Friday night pep bands to look forward to, but this season, all I had was the dread of waking up early in the morning with a full face of makeup to record a five-minute video to be shared on social media.
We were supposed to see our first video during the Nebraska-Wisconsin game, but due to the game cancellation, we had to wait two more weeks before we had the chance to see any of our efforts pay off.
On Nov. 14, a month after recording our halftime shows, we were finally able to watch ourselves perform. It wasn't met with quite the excitement as last year, but it was our first opportunity to watch ourselves and our hard work in action.
I have managed to find some positives about this football season despite its irregularity. Unlike last year, I was actually able to watch the games with friends from the comfort of our home. I've also been able to focus more time and energy on schoolwork and other priorities in my life. We're also fortunate to be able to share our halftime shows with more than the 90,000 fans in the stadium. Now, with a quick text message or email, I can share our performance with friends and family across the country. 
Marching band has never failed to provide me with the opportunity to get to know some of the kindest people I've ever met. There's something about facing a pandemic together that draws humans closer together. Instead of only seeing each other at practice, football games and other marching band events, I've spent quality time with my fellow flag line members, getting to know each of them and their struggles, drinking coffee or grabbing lunch. We've seen how much COVID-19 has affected one another on a personal level, and we've helped each other back onto our feet. 
Although I await the moments where we can return to our second home on the football field in Memorial Stadium, I'm thankful I took the opportunity to continue with the marching band during a pandemic. Our experiences this semester have drastically changed, but it will continue to be a semester I will never forget. 
No matter how or where we perform, we will always be The Pride of All Nebraska.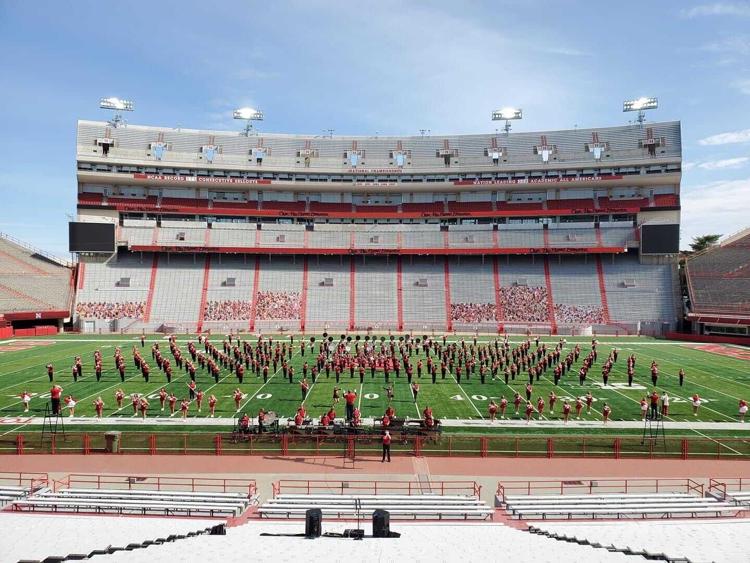 The article was modified at 9:29 a.m. on Nov. 19 to correct the spelling of the photographer's name in the first caption.