I didn't even have time to use the phrase "Winter is coming" this year. It came, and it hit hard.
I'm not talking about the actual season, Game of Thrones or Scott Frost as our new football coach. I'm talking about Jeffree Star's new makeup launch, Liquid Frost, which engulfed me in a full-on blizzard with its icy liquid highlighters.
Ever since the release of his Velour Liquid Lipsticks in 2014, Star has been at the forefront of the makeup industry with his company, Jeffree Star Cosmetics. His brand soon expanded from liquid lipsticks to highlighter and eyeshadow palettes.
I'll admit, spending $30 for two-day shipping is a little excessive considering the highlighter is only $25. But, after seeing Star's Instagram video of all eight swatches, I couldn't wait any longer.
The vegan and cruelty-free collection that launched on Aug. 23 includes shades Canary Bling, Frostbite, Goddess, Crown Jewel, Heat Wave, Frozen Peach, Ice Queen and Chill Zone.
As soon as I put Canary Bling on my arm to swatch it, I immediately fell into a state of absolute glitter euphoria. Its rich, bronze color with an undertone of pink sparkles glistened with each fluorescent dorm room light that hit it.
The formula for each Liquid Frost shade includes a metallic liquid mixed with a different color of glitter, making the pigment extra vivid.
I'm not trying to be dramatic, but I could walk into a room and people would need to put on sunglasses because of how luminous this product is. After testing out the highlighter on my arm, I basically bathed myself in it.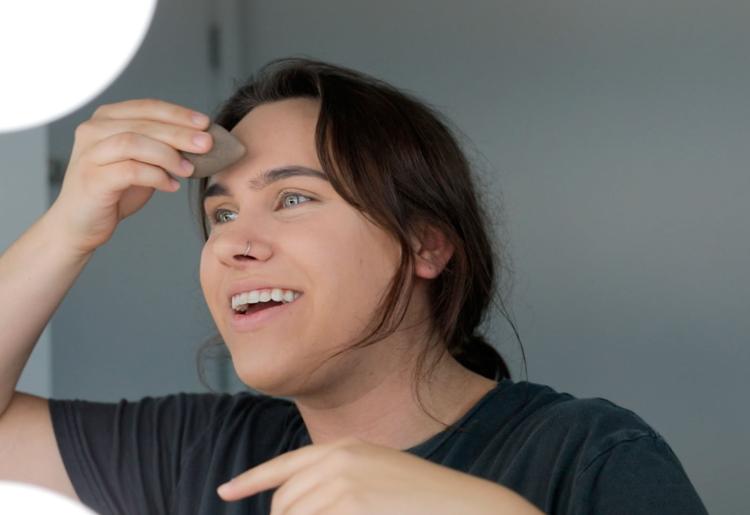 And yes, you can put this product all over your body if you want to. The more you spread the product around on your skin, the more subtle the highlighter will be. So no, you won't be walking around looking like the Tin Man from the Wizard of Oz.
Instead, you will have a nice sparkle tone to your skin, which is perfect for a music festival, night out or game day.
If you don't want your entire body to be shimmering like a silver or gold statue, you can tone it down by applying the highlighter to the high points of your face — cheekbones, tip of your nose and upper lip.
In these places, you can use a beauty blender for easy application. And, if you're worried about the liquid product ruining your concealer and powder, don't fret. The metallic highlighter sits on top of both without creating any smudges or removing product that you already have on.
The product doesn't feel sticky or create clumps like many other liquid highlighters do. It's super light and feels like nothing on your skin. So, you're free to frolic around like the ice prince or princess this highlighter intended you to be.
I can honestly say that in the short amount of time I have owned Liquid Frost, it has become my absolute favorite. I can't wait to see what other products Star releases in the near future. His advertising has always been honest and about making his brand one that customers can count on for a quality product.
Liquid Frost absolutely lived up to its name and changed the game in the makeup world.
All we have to do now is wait and see if our coach does the same in the world of college football.