Mariah Livingston is someone who finds nature a driving force and an inspiration. A senior fine arts major with a minor in psychology who focuses on sculpture and working with clay, Livingston is almost finished with her undergraduate art degree. She graduates in May, and, after recently featuring some of her art at the Tugboat gallery in Lincoln, she took time to share with The Daily Nebraskan her work experiences from childhood to graduating senior. 
Daily Nebraskan: How long have you been doing pottery? 
Mariah Livingston: For pottery in general, I only took one course in high school. But my dad is a high school teacher back home, so I've been working with clay ever since I knew how to walk. I've also done painting and all sorts of mediums. 
DN: Why pottery? What is it about pottery that attracts you? 
ML: So, I personally do more sculptural things with clay. I love the feeling of getting my hands dirty, and I think that having something so hands-on is very satisfying to me. I just love the medium. 
DN: What type of pottery do you specialize in, if any? 
ML: I do sculptural work in ceramics, and I also do mixed media sculpture as well. In ceramics, there's also more — so, a pottery side, and then there's the sculptural ceramics side. For my final semester in my ceramic class, I did a wall hanging with these tree branches. I spray-painted them all black, and then I made ceramic flowers — they're made out of porcelain, and I put a clear glaze on them, so they're still an off-white, creamier color — and I put those with the black branches.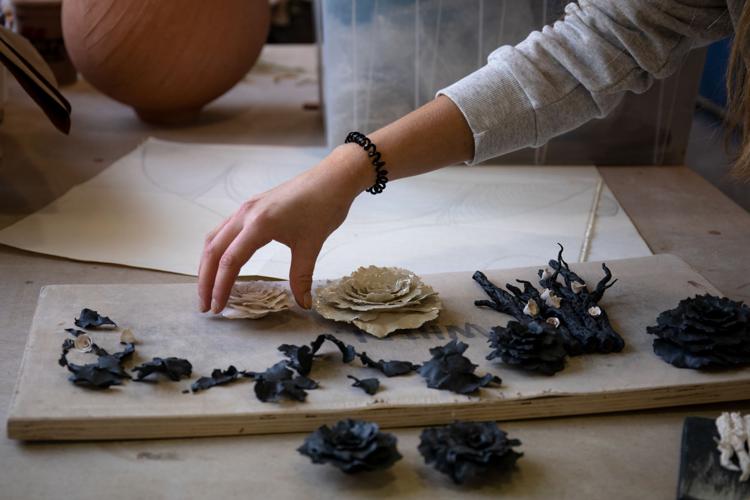 DN: Where do you find your inspiration? 
ML: I find my inspiration through nature, friends and family and other artists — mostly artists that work with nature and their impression from nature. I was always outside as a kid. My dad was a high school art teacher, so he had most summers off, and growing up we were always outside doing activities and playing games. So, I think it's just comforting to me, being outside and working with nature in general and then incorporating that into my art pieces. 
DN: How has your craft changed throughout college? 
ML: Recently, within the past year, I have gotten into sculpture. And that has opened up a lot of possibilities for mediums and ideas, so I'm really just running on that right now. During my first couple years of college, I was a very precise, neat, organized kind of artist, and my work focused on hyperrealism. One semester, I just kind of let myself say, "I need to loosen up a little bit," and it has worked for me so far. It's like a balance of not being a perfectionist and presenting things how I want them to look. 
DN: What do you like about your work? 
ML: I like how raw it is. I'm very process-oriented. So, the process of making my work is really what drives me. And so I'm just loving the processes that I'm doing right now and being open to new ideas. It is what it is. I want people to see the small details in the organic materials that I'm using from nature. When something is in a gallery space, it calls for attention. I feel like people don't stop and enjoy those small details in nature unless I can put it in a gallery space and demand their attention. 
DN: Do you plan on doing something with clay in the future? 
ML: I'm thinking about going into art therapy, but even if I do choose that route, I still always want to keep making my own work and exploring new ideas and mediums. I think that clay will always be a constant in my art-making.