Artifacts humans create can last hundreds of years on Earth. And according to Steven Lang, if one has the creative arrogance to construct artifacts, they better be worth existing. Once something like that is created, it will stick around for a long time. Steven Lang is a senior art major at the University of Nebraska-Lincoln. In the final year of his undergraduate degree, Lang reflects on his art and processes throughout his college experience.
Daily Nebraskan: How long have you been doing pottery? 
Steven Lang: Junior year of high school is when I really got into it. At that point, I got on the wheel, but it wasn't my main focus. I honestly just wanted to take an art class, which were split up into 2D and 3D, and I decided to take 3D. We just happened to be doing wheel throwing. 
DN: Why pottery? What is it about pottery that attracts you? 
SL: I like the process of pottery. It's a very process oriented art form. I'm the kind of person who's all over the place and pottery has an underlying structure I can follow, and so that was really appealing to me. I kept doing pottery in college because I really had no idea what I was doing coming in. And then I went into the bookstore and I saw clay tools and decided "I can't not." It wasn't necessarily a sign, but when I saw those tools it was a reminder, and I got back into pottery from there.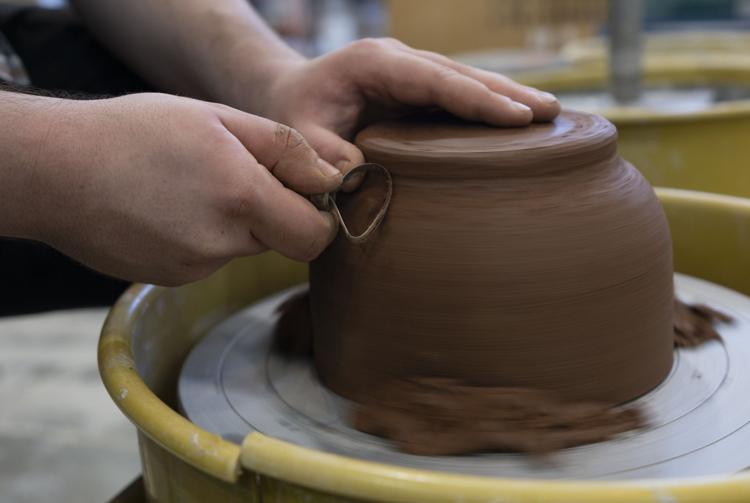 DN: What type of pottery do you specialize in, if any? 
SL: There is this whole pottery versus sculpture thing. Some people say that's the way it's gotta be and I'm really trying to do both. I think a lot of people are, especially contemporary ceramicists, are trying to do both. I do a little bit on the wheel and a little bit with hand-built sculpture, and now I'm kind of moving into non-wheel thrown pots as well. 
DN: Where do you find your inspiration? 
SL: A lot of my inspiration has been things in nature, like walking through the woods or something and finding a cool rock, or a branch that's shaped into a unique way. But more recently it's been kinda of anthropological, with a fantasy twist. I'm going to be creating artifacts from fantasy worlds. Fantasy and nature are the big sources of my inspiration. 
DN: How has your craft changed throughout college? 
SL: It has really taken me this long to find something I want to focus on. For the longest time it's just changed with every semester. I see something like a new technique and I'm like "ooh" and leave the other things behind. It would be a lot to go into.
DN: What do you like about your work? 
SL: I honestly feel like I've finally built some skills on the wheel. So I'm both proud of the precision I'm able to get at this point. I used to be kind of a perfectionist, and now I can get that precision without freaking out about it. I like finding that balance. 
DN: Do you plan on doing something with pottery in the future? 
SL: I would like for pottery to be a big focus of my career. But I'd also be fine working an office job and doing pottery as a hobby. But I definitely, eventually would like to go to grad school a couple years down the road. But in the meantime I'll be looking for residencies, because there's a ton of opportunities both here and globally.