A low roar purrs out of a shoebox-sized iron box lined with heavy-duty ceramic walls as bright orange flames flare inside. A few feet away, sparks fly around Colton Arias's dust-coated black and royal blue helmet. He sports thick gloves as he holds a torch to a rusty railroad nail, welding it to a thin white rod to mark the beginning of his blacksmith process. He places the dark brown nail in a scorching inferno called a forge, where it quickly begins to mimic the glow of the flame, turning neon orange from the heat.
From there, he moves the glowing piece to an anvil rested on a tree stump a few feet from the forge. He then pounds the nail down to the shape of the knife using a hammer and his hulking arms.
He stands in the corner of his parents' detached garage, the home of his shop he has pieced together with different tools over the past six years.
Arias, a freshman management and entrepreneurship major at the University of Nebraska-Lincoln, is a self-taught blacksmith who learned the craft from various books and YouTube videos. With this skill, he has drawn attention from buyers across the nation and from the scouts of the History Channel's reality competition show "Forged in Fire." This skill led the UNL freshman to compete and win the contest in an episode that aired Wednesday night.
"The hardest part about blacksmithing is getting the process down and perfecting each step," Arias said. "I still definitely haven't perfected those processes, but I'm getting better at it."
Utilizing his handcrafted forge and self-taught skills in his self-made studio, Arias has crafted more than 500 pieces, ranging from items as small as key chains to weapons as massive as Viking-inspired swords.
Aside from the enjoyment of creating, Arias' hobby has been handy in his day-to-day life. He has hand crafted the kitchen knives that his family uses and the hunting knives that he and his father, Robert Arias, use.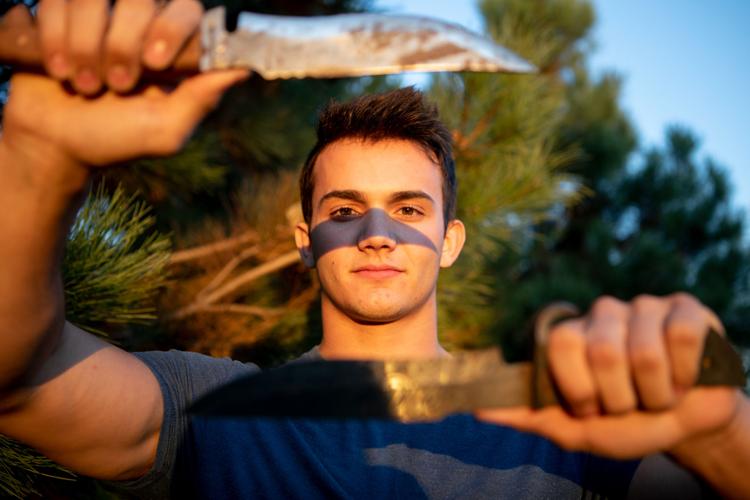 "His knives are the best hunting knives I've ever used," Robert said. "I gutted a deer with his knife last year, and I could not believe how sharp that knife was. It was spectacular."
With this skill, he has been able to make a profit. Colton strives to sell his pieces through online forums and Instagram promotions.
It was through his Instagram account that Colton was scouted out by "Forged in Fire" — a television show on the History Channel which pits blacksmiths with a wide variety of skills against each other.
In late July, he was flown to Stanford, Connecticut. There, he and three other blacksmiths spent four days blasting, bending and banging various materials into weapons, all battling for a chance to win $10,000.
In his episode, which aired on the History Channel Oct. 23, Colton competed against three older blacksmiths who had more years of experience under their belts.
The crew spent four days filming, alternating between blacksmithing and judging. The first day of competition consisted of smithing a competition chopper blade, a long thin rectangular blade. The judges examined the blades and sent one contestant home from the competition.
For the second round of the competition, Colton added a linen micarta handle to the blade. The black fiberglass grip transformed the blade into a competition chopper, which was then tested by the judges in the final day. Another opponent of Colton's was sent home, sending Colton and his final opponent, Craig Miller, to the final round.
Colton and Miller were sent back to their homes with instructions to create a medieval rock-throwing crossbow — which Colton described as a light, minimal-impact weapon meant for children and women to hit and stun small birds and rats, a weapon Colton considered to be "pretty lame."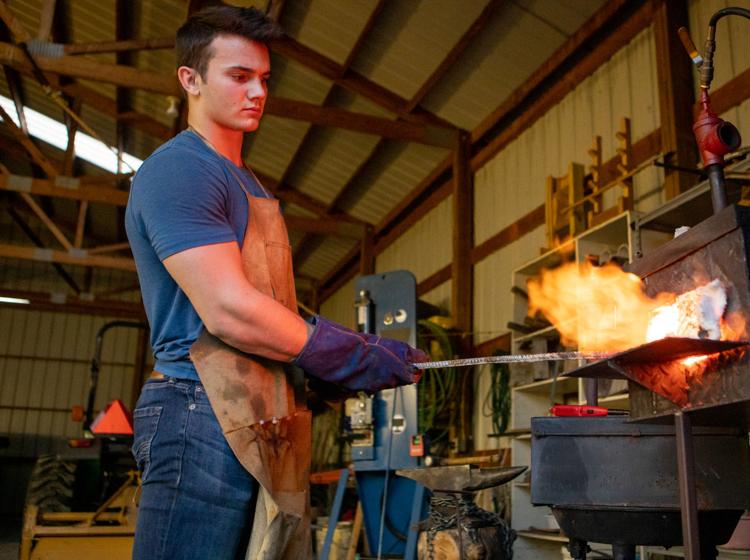 The show allows the contestants to work on their weapon ten hours a day for four days. Unfortunately, Colton worked during some of the hottest days in summer, he said. Despite the heat, Colton was able to work quickly.
"I got [the crossbow] done in the first two days," Colton said. "And the third day, me and the film crew just shot it around and had some fun with it, and then on the fourth day, we went and played some golf."
After a four-week-long anticipation of results, Colton was called back to Stanford, where they tested out his and Miller's crossbows to decide the winner.
The judges began testing by firing the crossbows at a mock heart encased in ballistics gel to see if the weapons had the strength to pierce the heart. After three attempts, Colton's crossbow was not strong enough to pierce the heart, but Miller's third shot broke through to the target.
"After the kill test where mine didn't enter the heart and his did, I thought for sure I was going to lose," Colton said.
Despite missing the mark on the first test, Colton excelled on the impact test, where a judge shot through a sheet of glass to test how much damage the weapon can cause. Miller's rock-throwing crossbow misfired, leading the judges to dismiss him from the competition.
Round by round, Colton burned out his competitors, leaving him to be named champion and to receive the grand prize of $10,000.
"For him to win $10,000 with this and to experience not only the satisfaction of the payback but the actual monetary, material payback on something, portends really wonderful things for him in the future," Robert said.
Right now, Colton said he is torn between spending the money on a power hammer — a tool which would relieve Colton from the task of metal pounding by hand — or stashing money away for college.
While in school, Colton wants to use blacksmithing as a side business, turning his hobby into a profit. After college, he hopes to open up a shop and run it in addition to his uncertain career path.
"It's never about the profit for me," Colton said. "I enjoy doing it as a hobby, so I want to keep doing it."