Listening to music on vinyl records is a pastime that could seem out of date in the internet-driven world of 2019. 
Serving as the primary source of at-home music throughout the 20th century, vinyl saw a sharp decline in the 1980s with the advent of the compact disc. It was considered dead when the 2000s hit because mp3 players became all the rage. However, over the past decade, vinyl has seen a reemergence in the homes of both audiophiles and casual listeners. 
It's a trend that doesn't appear to be slowing down — Rolling Stone reports that, in 2019, vinyl records are on track to outsell CDs for the first time since 1986. Music fans seem to yearn for both the physicality and crisp sound of music on vinyl. 
This trend has resulted in a rebirth of record stores across the country. Here in Lincoln, there are now four record stores competing for business. Freedom Rock Records, located in the Stuart Building on the corner of 13th and P streets, is celebrating its grand opening this Saturday.
Freedom Rock Records is owned and managed by Lincoln-native Rich Tuttle and his wife, Tammy. Tuttle has always had a passion for music, and he said he always liked the idea of opening his own business. It wasn't until he found himself the victim of not one, but two motorcycle accidents that he decided to give it a shot. 
Following the second accident, Tuttle had to have shoulder surgery, which made it very difficult for him to work for the pizzeria that he was employed at.
"I thought, 'Well, nobody is going to hire me now. What the heck am I gonna do?'" Tuttle said. "Well, I had all of this music laying around, so I decided to start a record store — be my own boss. Then, I don't have to worry."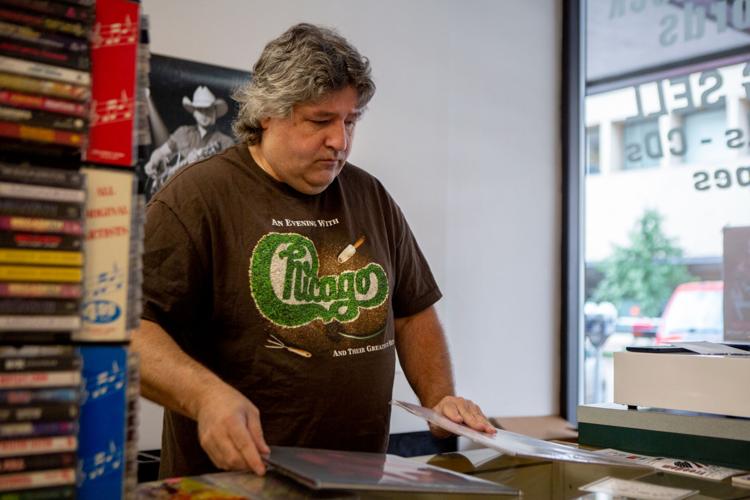 The Tuttles officially opened the doors to Freedom Rock Records on Saturday, Sept. 28, but they had been selling records on Discogs, an online record selling service, for a year prior. 
Tuttle said he didn't enjoy having to sit on a computer all day waiting for a record to sell. So, he decided to gather all of the records he'd been collecting and open a physical store in Lincoln. 
"Now, instead of competing against ten thousand people [on Discogs], I'm only competing against a few here in town, and we're a big enough town that I can do this," Rich Tuttle said. 
Tammy Tuttle said that since its opening in late September, Freedom Rock Records has seen solid business from both city residents and University of Nebraska-Lincoln students. 
The two of them have been surprised by the artists and genres of music that have been purchased from their store. 
"The first person that bought something in this store was a girl in her late teens, maybe 19 or 20 at the most, and she bought a Jim Croce record." Tammy Tuttle said. "A lot of kids probably don't even know that name, so it's just kinda cool that someone from a younger generation is purchasing something like that as opposed to the new stuff that is coming out."
Rich Tuttle was also surprised that their most-sold record since opening was an album from metal band Tomb Mold, whom he had never heard of before. 
There are a variety of records available at Freedom Rock Records, ranging from popular artists such as The Beatles and Blink-182 to smaller artists with a cult-like following like the Australian psychedelic rock band King Gizzard and the Lizard Wizard. The Tuttles also sell a variety of CDs, cassette tapes, movies and video games at the store. 
Rich Tuttle said that some of his favorite records come from KISS and other popular hair metal bands of the 1980s, and he is glad to see that older music still has its place among the popular vinyl records being sold.
"There's stuff coming out now that I'm like 'Oh, wow! I used to have this, and now it's re-released!'" Tuttle said. 
Freedom Rock Records will host a grand opening celebration on Saturday to commemorate the opening of the store. Amongst a variety of different sales, there will be special appearances from local bands Midnight Devils and Hookt. 
"[Music] has always been a passion of mine," Tuttle said. "So opening a record store seemed like the right thing to do. We buy, sell and trade, but we're still buying big time right now. Bring 'em in!"