The process of mixing the ingredients, the rhythm of kneading the dough, the aroma that fills the house — they're all part of why Kevin Shinn loves to bake bread. 
Culinary arts have always been important to the Shinn family. From the fall of 2007 to December of 2017, Kevin and his late wife Karen Shinn, who died from ovarian cancer in November, operated Bread & Cup, a restaurant in downtown Lincoln. 
Claire Shinn, Kevin's 25-year-old daughter who works with Reformed University Fellowship, a campus ministry at Oklahoma State University, recalled childhood memories of cooking with her older brother. 
"That was something that I remember from growing up — always being able to make pizza together," she said. "I think [baking] is a way for families to have something new together and a memory to make." 
Kevin said cooking and baking with his family is one of the ways he made the day count as a dad.
"Even something as simple as making bread will count for something," he said. "It's not just a project or a waste of time. Somehow it affects somebody for good and has a positive ripple effect." 
Because of the coronavirus pandemic, Claire is now home in Lincoln with her dad. The two have an opportunity to create new memories together. This time, instead of making only family memories, they're reaching out to people through a bread-making video series on Claire's Facebook profile. As Kevin teaches, Claire records and edits the videos. They both take part in answering questions from the series' followers. 
"We had a lot more interest than we anticipated — a lot of out-of-state interest, too, like people who couldn't get the starter," she said. "Then we had to go back to square one and teach people how to make the starter, and so it just kind of got rolling from there."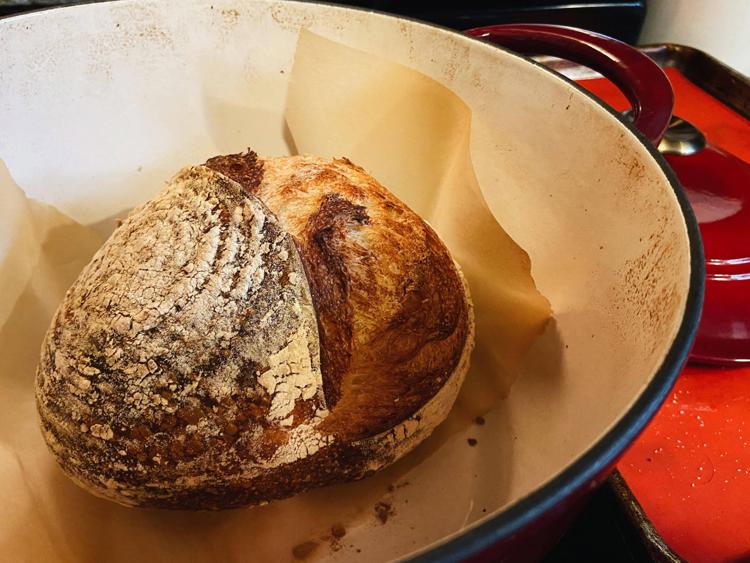 Because Kevin's dough is the result of a more complex recipe, he said he wanted to ensure non-bakers could easily follow his recipes in the videos. He set out dough starters for sourdough in plastic containers on his front porch for viewers to pick up. The sticker on the lid of each starter features a note encouraging the user to continue the tradition of bread-making. Just as bread-making is a tradition for the Shinn family, Kevin said the practice is a good way to create new memories for other families as well. 
So far, the Shinn family has given away 25 starter kits. Through the series, Kevin and Claire have made a simple loaf, pizza crust, English muffins and popovers. 
According to Kevin, the most satisfying step in the teaching process is seeing the students start to understand the process.
"What I always want to accomplish in my teaching is for the lights to come on for people [and] to realize it's not that complicated," he said. "It's not that difficult at all; it's just getting into the mindset of what it is we're doing." 
He argued against an article headline he saw recently that said the pandemic brings out the worst in people and said isolation could do the opposite. He wants to inspire hope in everyone who works with his sourdough starter or watches the videos on Facebook, despite the circumstances.  
"You can complain and gripe and do whatever you want," he said. "But we're going to stand on the side of good, encouragement and hope and let that speak for itself."