It's the time of year when sororities and fraternities at the University of Nebraska-Lincoln have their winter formals, and it seems to sneak up on a lot of girls. In the midst of midterms and holiday breaks, formal season comes and goes faster than you can catch a breath. With formals looming, the most dominant question rises: what do I wear? It is important to have a dress you are obsessed with and feel confident in to make your night unforgettable.
As the excitement that comes with winter formal grows, so too does the stress of getting the perfect dress. Here are this season's trends in formal wear that will make your shopping ventures easier.
Sparkles
Whether it's rhinestones or sequins, sparkles seem to be the number one trend this season. It appears most greek houses got this memo, and sorority girls seem to love it. Try wearing sparkles as a relaxed silhouette, like a shift dress. The juxtaposition between the extravagant material and the loose shape will balance these elements out well and make you look trendy yet classy.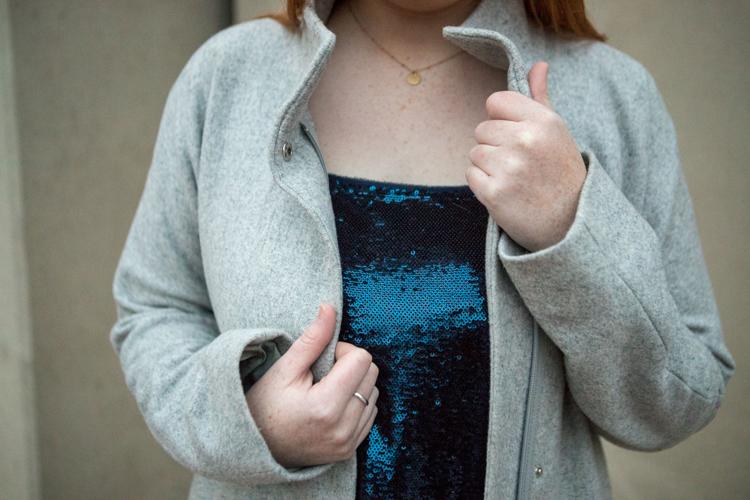 Fringe
This is an easy way to elevate your outfit by incorporating a fun and youthful style. You can wear neutral colors like black and gray, but a dress with some fringe will make it formal-worthy. The most popular ways we see fringe on dresses are on the sleeves, as layers or as an extension of the dress. Make sure to look for those details when shopping for your formal dress. Fringe also elongates your body, so it is a great style to go for when trying to look your best on formal night.
Fur
We see the fur trend more in the accessories departments this formal season. Heels with a furry ankle strap, a fur jacket or jewelry with some furry touches are current trends that can take your look to the next level. My personal favorite is little, fur ball earrings because they give your outfit a fun twist, making for a fashionable and chic look. This trend can be intimidating because fur is a very loud style, but if you wear it with more simple pieces, like a little black dress, it will give your outfit the extra push it needs to be formal ready.
Pink shades
If there was a color just for formal season, pink would be it. There are a variety of shades of pink to choose from, and it seems as though you can get them anywhere. Stores such as Forever 21, Dillards or Anthropologie have a selection of pink dresses in various shades and styles. Find the one you feel most confident in, and you'll have a fun and flirty formal dress that will turn heads and make for the perfect Instagram photo.
When shopping for your ideal dress, don't be afraid to look at some of the more daring styles like fur or fringe. These styles could be the element you were missing to make you look and feel your best. No matter what you wear to formal, make sure you feel comfortable and confident. After all, confidence is the best accessory.