The birds were just beginning to chirp as Ashton Malcom made her way across campus in the dark for marching band practice. With her keys poking through her knuckles, she was ready for any perceived threats. Later that night, Malcom called her mom while holding a can of pepper spray as she walked to her dorm after class. 
When it was warm enough, Malcom opted for her bike to quickly travel between places. She said it gave her an extra sense of security because it's harder to be snatched off a bike than when walking alone.
Malcom is only one of many students whose heart beats a little faster when the sun drops below the horizon.
The Daily Nebraskan extended a questionnaire for University of Nebraska-Lincoln students asking about their personal experiences with safety on campus. There were 161 respondents, 87.6% of whom were female. Overall, 49.1% of respondents said they have felt unsafe on campus at some point.
One respondent said she keeps her phone in hand and only uses walkways that are well-lit. She also alerts people when she is leaving and where she is at so if she doesn't return in a reasonable amount of time, they know something is wrong. 
As precautions, students said they won't listen to music, will carry a knife or rape alarm, will FaceTime or call someone, keep their head up and have caution while walking by men. Respondents also said they tend to feel unsafe specifically on the pedestrian bridge to the North Bottoms, as well as the area around Mabel Lee Fields. One student said they wished there was more lighting between Abel Hall and the University Suites, and another voiced the same complaint about the entirety of East Campus.
Malcom, a senior elementary education major, said she has had her fair share of safety concerns on campus.
Malcom lived on campus her freshman year in Sandoz Hall and near campus in The 50/50 apartments her sophomore year. She was halfway through her freshman year when an attempted kidnapping was reported near Greek row.
"I was in a sorority at the time, and I just felt super unsafe in that area and anywhere on campus that isn't well lit," Malcom said.
After further investigation, the UNL Police Department reported the attempted kidnapping was false. However, Malcom said students still weren't given much support or information by the university, and she did not receive much support or information from her sorority.
"[My sorority] just said to always walk with a buddy. But you know, not all of us are fortunate to be social and have friends like that," Malcom said.
Cpt. Aaron Pembleton has served 16 years at the UNL Police Department and currently works as the administrative services captain. His job entails overseeing investigative units, special events and facility security.
To help with safety on campus, Pembleton said UNLPD provides free safety presentations, including personal safety and alcohol safety, that campus organizations like sororities can request.
"We have limited resources, but we want to take those resources that we do have and we want to utilize them the best we can," Pembleton said. "If we don't know about a problem, it's really hard for us to fix it. Sometimes, education might be the best way to help with it."
Nearly 40% of respondents, including Malcom, said they've been catcalled on campus. Although Malcom has never been approached on campus, she said it isn't uncommon to have strangers call out to her.
"I usually just ignore it," Malcom said. "I was never not on my phone while walking on campus. I'd either have headphones in listening to something or have headphones in pretending to listen to something or calling my mom while I'm walking home up until I had a boyfriend." 
In addition to ensuring someone was a phone call away, Malcom said she also tried her best to avoid dark places on campus.
"I was never one to take a shortcut if it meant I had to walk through a dark area. I would always walk in lit areas," Malcom said. "If something felt a little too dark, I would have my flashlight on."
After growing up in Kearney with less safety threats, Malcom said the attempted kidnapping shocked her and still affects many of the decisions she makes on campus. Malcolm now ensures someone is always aware of her location and that she has a way to protect herself.
"Everywhere you live can be unsafe, but it just felt like I specifically, a college female, was incredibly unsafe because the attempted kidnapping was a college female, so I took extra steps after then," Malcom said.
After four years of college without many safety changes, Malcom said she wants better lighting on campus and for more people to know how to contact UNLPD for help.
Pembleton said UNLPD provides a free resource for students called Husker Safe Walk. This 24/7 service allows students to call the department at 402-472-2222 for extra protection on campus. If a student calls, a community service officer or police officer will meet the student and take them to their desired location as long as both locations reside on campus. While the service is always offered, Pembleton said response time is based on staff availability.
"If it's a Friday night and you studied late and everyone is on a call for service or there's some issue, it could be a little bit before we can get to you," Pembleton said.
The Husker Safe Walk is available to all students regardless of whether they feel they have a safety emergency.
"If you just feel uncomfortable or something has happened and you're like, 'I just don't want to walk to my car,' we will come get you," Pembleton said. "It's not always a ride per se, sometimes they will just walk with you depending on distance and location."
Through the DN questionnaire, 56.5% of respondents said they were aware of UNL's free on-call rides. Malcom said she personally didn't know the number to call and wished more people were aware of this free service.
"I wish that there was always an officer present at the different buildings on campus that are open that late so that there would always be somebody to walk you home," Malcom said.
While there aren't officers located at each building on campus at night, Pembleton said the community service officers mostly work in housing at night. If a student were to call for an officer to walk them home, Pembleton said it would likely be a CSO who walks to meet the student and bring them back to the residence hall.
In addition to Husker Safe Walks, there are still a few blue emergency buttons located around campus. While 76 respondents were aware of these, only 35 students knew how they actually function.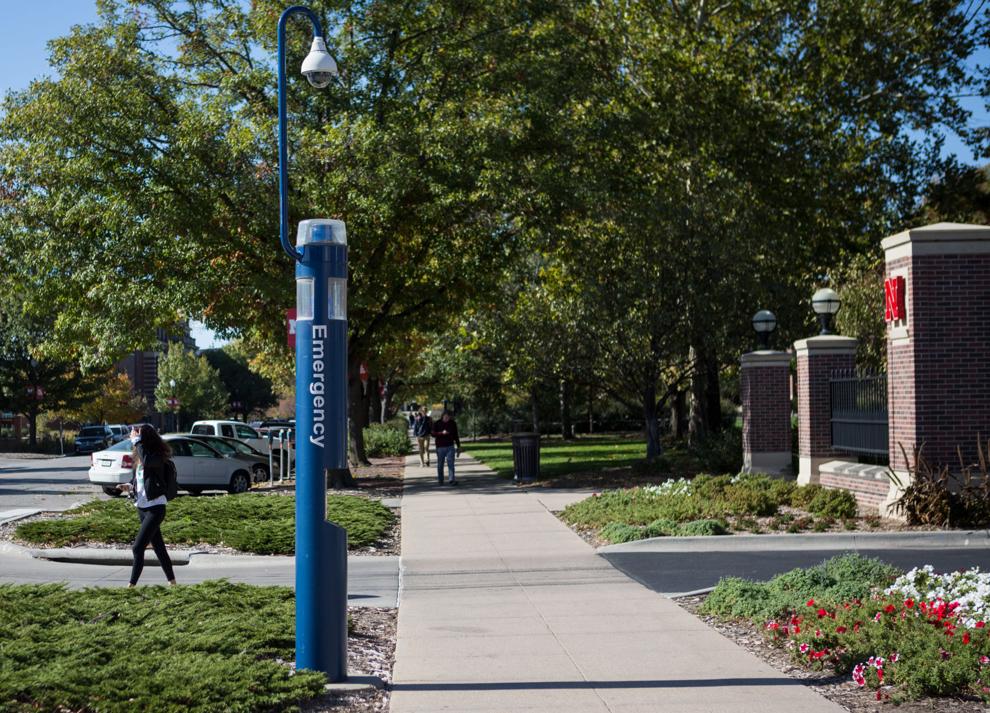 Pembleton said this system is a direct hard-wired phone line connected to the UNLPD dispatch center. If someone pushes the button, dispatchers will begin asking questions so officers can get to the area and deal with the situation.
In 2017, the amount of these emergency buttons on campus decreased from nearly 100 to two. Pembleton said the majority of uses were for non-emergencies such as asking for directions. With the majority of students owning smartphones, Pembleton said the necessity of the emergency button has gone down.
"I think in the 16 years I've been here, there's only been less than a handful of times that there was some form of emergency when they were actually used," Pembleton said.
Although Malcom will be graduating in less than a month, she said she knows there are still thousands of women on campus who clench keys in their fists, scared of what might be lurking around the corner. With the help of UNLPD and the university, Malcom said safety on campus could be improved with better lighting and more education about campus safety resources. She said she would like to see the university give self-defense keychains and classes to anyone who wants them.
"For females specifically, I think there should be a checkpoint on campus. Like you can walk from Love Library to the Union and there'll be lighting there, and you know there'll be a safe place and a safe person to talk to," Malcom said. "I think it would be really cool if there could be a self-defense training class, even if it was just a light thing that they did in New Student Enrollment. I think everyone could benefit from that."