The night of Sept. 30 is a warm evening in the midst of a post-rush hour downtown. At 6 p.m., Brad Sebby unlocks a door across the street from The Railyard and hauls 16 cornhole boards with corresponding bean bags into the open space below the Union Bank big screen. So begins his weekly setup for Lincoln's fall cornhole league, an eight week long endeavor running until Oct. 21.
People gradually appear in The Railyard, relaxing, chatting and grabbing a drink or two underneath the giant screen and booming speakers of this outdoor hotspot. Slowly, more and more participants arrive and begin practicing their tosses as the sun begins to set, and the heavy thumps of bean bags hitting the wooden boards intensify in sound.
This league began four years ago, when The Railyard contacted Sebby to commission and jumpstart Lincoln's cornhole scene, knowing that he is passionate about cornhole and knows lots of people that play. The Railyard staff took over for a while, but Sebby was recently brought back this year to run the league once again, largely because of the surrounding bars' support.
"Eric Marsh, who owns Longwells and Hail Varsity, contacted me to run the league this year too. I know there are teams that want to play competitive cornhole in Lincoln, and I [had] plenty of contacts to get this going," Sebby said.
Sixteen two-person teams are registered in Sebby's league, and the cost to sign up is $40 per team. Levels of competition vary — some people are just there to hang out and have fun, and some practice multiple times per week and have won money in national competitions through the American Cornhole League (ACL). All ages are welcome to register for Lincoln's cornhole league.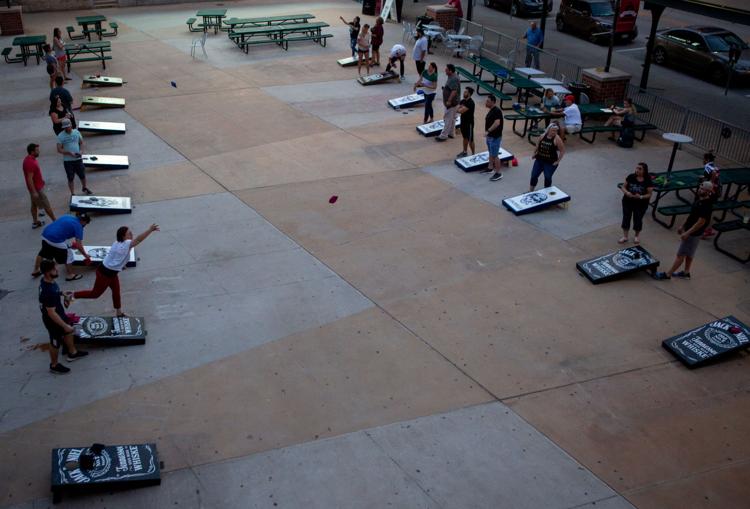 For anyone looking for an added incentive to join the cornhole league, prizes are awarded each week. Those prizes consist of merch, T-shirts and drink tickets for surrounding bars, but bigger prizes are likely in the league's future. At the end of the 2019 fall league, there will be a large cash prize funded from future sponsors Sebby hopes to gain, as well as money from entry fees.
Sebby explained that if more teams register to play cornhole, there will be effects on the prizes.
"The more teams that qualify, the better the cash prizes and other prizes will get," Sebby said.
One Railyard player, Sean Kelly, played cornhole for around five years in Las Vegas before moving to Omaha two months ago. 
He found Lincoln's local cornhole scene through word of mouth from local family members, and has been participating ever since. According to Kelly, the best part of cornhole is the social aspect and welcoming atmosphere.
"Being able to have a drink and talk to everybody … to meet new people and see where we connect, we all have a common interest here," Kelly said. "It just brings people together."
Cornhole is a unique sport in that it doesn't require previous athletic ability, extreme fitness or a packed practice schedule. 
"It's fun for all ages … anyone can play it — all you have to be able to do is throw a beanbag 27 feet," Sebby said. "It's something that's good to do outside, good to do inside, it's fun and it's competitive."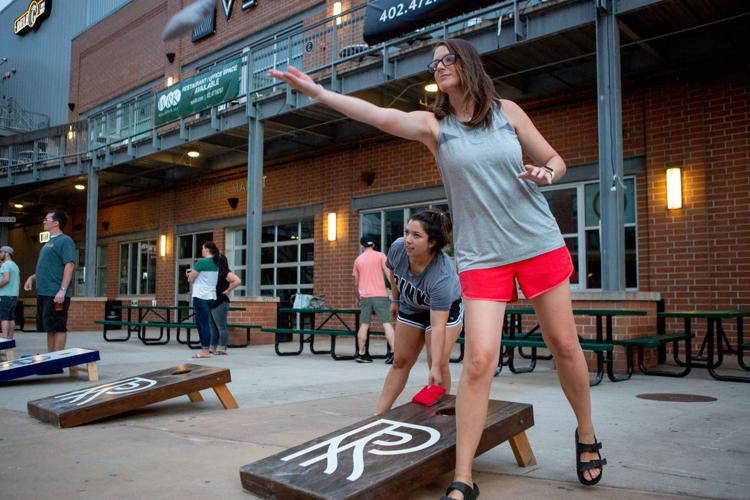 Anyone in Lincoln is encouraged to join, especially college students looking for a new activity. 
"I know a lot of students are looking for things to do on certain nights of the week, Mondays being one of them, so this is definitely a fun source of entertainment," Sebby said.
Sebby said he is optimistic about the league's future, with hopes of expansion in both the number of teams and prizes once interest grows. The fall league is currently Lincoln's only cornhole league, but Sebby states that there is a high possibility of seasonal cornhole opportunities. It's important to him that cornhole is available to play year-round in Lincoln.
"Our goal is to create more leagues when more interest comes, that being a spring league, a summer league and then also just tournaments alone on the weekends, not connected to a league," he said.
Oct. 30 is destined to be a significant night for Sebby. Jackie Sayasone, a district representative of the ACL, will be present at the league. Sebby hopes to sanction Lincoln's local league with the bigger national leagues and tournaments that the ACL puts on. Once sanctioned, Lincoln locals and college students could aspire to play in large-scale tournaments for big payouts. One such possibility is the ACL's yearly scholarship tournament, which has a prize of $25,000 in scholarships to the winning teams. Access to tournaments like this one hinges on whether or not Lincoln's league can be sanctioned with the ACL, and if enough potential new UNL teams are interested in playing. 
"Bringing the ACL here to Lincoln would be a great addition … and I really want to get the university involved in [the ACL's] college tour," Sayasone said. 
Sayasone sees the league as very successful so far, having a great turnout, and having potential to grow further.
Cornhole has a small-yet-thriving community here in Lincoln. With its energizing atmosphere, aspect of healthy competition and social opportunities, there are many reasons to become involved in cornhole. With Sebby's passion for spreading the sport in Lincoln and assistance from the ACL, along with the willing spirit of both beginning and senior players, it will be no surprise if Lincoln cornhole leagues become a local staple in community sports.