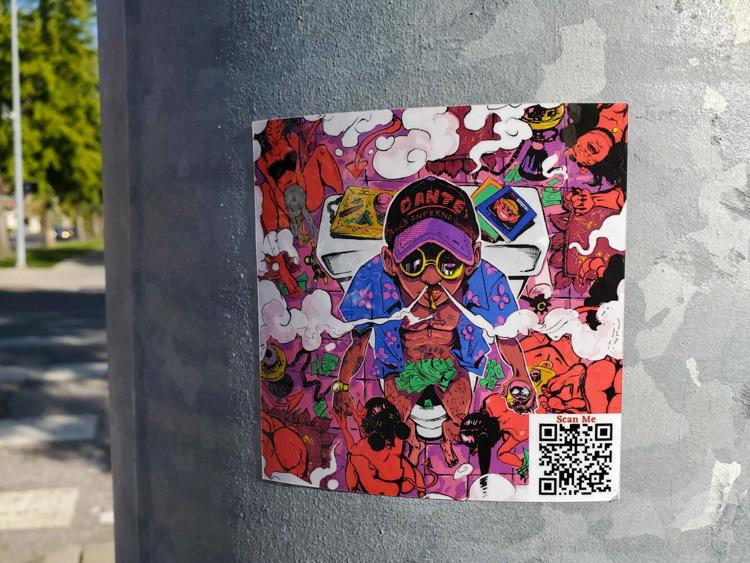 Rapper Dante Banks, based in Orange County, Calif., has teamed up with iCONiC Records in Lincoln to promote his new album, "Dante's Inferno." Banks has been trying to reach a larger audience with his defining blended style. To achieve this, Banks is utilizing QR codes posted around campus, hoping to quickly gain a diverse Midwestern audience.
Ewokiez, a representative of iCONiC Records, believes his long-distance partnership with Banks is rooted in their past.
"Dante and I have been well acquainted for quite some time now," Ewokiez said. "We're both originally from Chicago and have worked on music together for about five years."
Banks said that growing up in Chicago is what led him to promote in the Midwest. 
"We definitely market toward the Midwest more than any other demographic," Banks said. "I spent my high school years in [California], so there's still that West Coast influence, but the Chicago part of me always bleeds through my music, and I think that blend of cultures is what people like."
Marketing towards the Midwest, as well as his connection to Ewokiez and the rest of the staff at iCONiC Records, meant Banks found himself promoting his album here, in Lincoln. On various telephone poles and street lights around campus, one can find stickers promoting "Dante's Inferno." These stickers are meant to catch the eye, using a red and white background to contrast a cartoon Banks in the center. A QR code sits in the bottom-right corner and leads to Banks's Soundcloud and Spotify, as well as his other social media platforms. 
As part of Banks's promotional team, iCONiC Records is responsible for these stickers, and the team decided a QR code was the best way to promote Banks.
"Through a QR code, [connecting to listeners is] more direct," Ewokeiz said. "Instead of having to provide a bunch of information that most people care less to read, we can display something with a dope image and a direct link to what we're trying to get people to see and understand. QR codes ... are easy to post and manage."
The iCONiC Records team also provides management to several other small artists, some of whom — like Banks — are not local. 
"Location-wise they're in Denver, Chicago, Lincoln, Mo., North Carolina, and I do have a few people in Lincoln," Ewokeiz said. 
Ewokiez said he attributes iCONiC Records's ability to work as a team as the reason so many distant artists promote with the company.
"Almost everyone is connected to each other one way or another, and our work ethic is the same on all fronts," Ewokiez said. "And because we know our goals are the same, we're willing to help one another and produce great music that's backed by an amazing team. Everyone has a give-and-take relationship, and we function as a family, so it just makes some of the work easier to manage."
iCONiC Records introduced the QR code idea with "Dante's Inferno," but they plan on trying it out with their other clients after seeing the popularity of Banks's album.
"'Dante's Inferno' was the test subject, and the results we've received from it have been beyond what we were hoping for," Ewokeiz said.
QR codes aren't the only way iCONiC Records staff is promoting their company and their artists. The team is also currently conducting a merch giveaway for the month of October, as well as donating all proceeds from merch sales to the Breast Cancer Research Foundation.
As for Banks, he said he's happy with the job iCONiC Records has done promoting his music, and he's ready to make more.
"I'm always working on music," Banks said. "It's a constant process for me, but I'm glad people are connecting with the album and vibing with it."