The United States is a melting pot of many different people and cultures. The term biracial is commonly used in cases where one's father is of one race and one's mother is of another. The combination of two different races can make for a slightly non-traditional upbringing as two cultures are often present within the household.
One student organization at the University of Nebraska-Lincoln aims to promote Asian and Asian American awareness and advocacy on campus. The Asian Student Union meets every other Tuesday in the Oasis Lounge, located inside the Jackie Gaughan Multicultural Center. The meetings often involve lectures from guest speakers and social events for the members.
Michael Coonce, a sophomore secondary education for English and language arts major, is one member of the Asian Student Union. Coonce attended high school in Omaha and was one of the only Asian students in his class. It wasn't until he left for college and subsequently joined the Asian Student Union that he said he felt involved in a positive Asian community.
Coonce's mother was born in South Korea, and she was adopted by an American family at a young age. Raised in Texas, his mother didn't learn to speak Korean, so Coonce didn't grow up hearing the language at home. Despite this, he said his mother still held several Asian cultural values.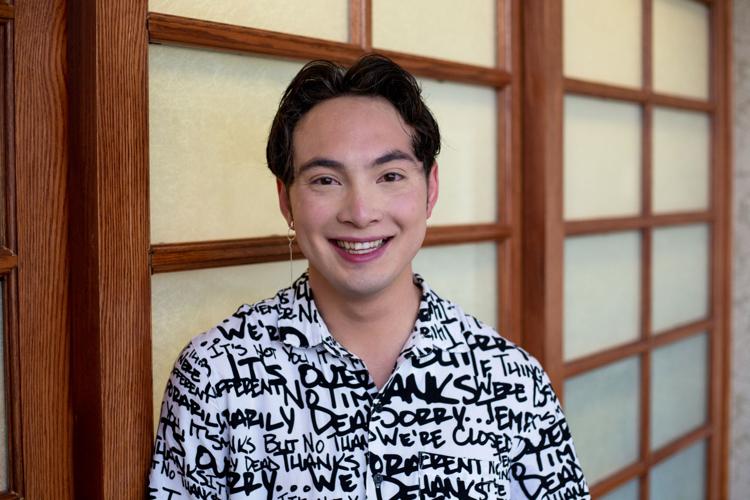 "Since my mom was raised to be so against her culture, I lived in a predominantly white culture household," Coonce said. 
Throughout the years, he's noticed some discrepancies in how he is treated by peers compared to white students. 
"When people talk to my white friends, in the specific example of homework, they ask to work 'together' on homework, but whenever they ask me for help, it's 'Hey, can you do this for me?' It's more of copying rather than working together," Coonce said.
He has been able to find a core group of friends, but said he has still experienced difficulties being biracial. 
"On one hand, with white people I feel too Asian," Coonce said. "But then with other Asian people, I feel like I'm not Asian enough because I'm mixed."
Coonce said there have been times people ask him if he speaks Korean. Though he doesn't, he has been trying to learn the language and more about the culture since coming to college.
"Even though I'm half and half, I feel more white because I can't speak my mom's native language," said Coonce. It's like a race to bring back all the culture before it's gone."
Another member of the Asian Student Union is freshman actuarial science major Ashley Thyes. Thyes grew up in Sheboygan Falls, Wisconsin, a town with a population just shy of 8,000 people. Her mother is Taiwanese and her father is white.
Thyes joined the Asian Student Union to be a part of a group of people with whom she could relate and share similar experiences.
Growing up, Thyes learned both English and Mandarin Chinese from her mother and is fluent in both. 
"I actually learned Chinese before English," Thyes said. "But now my English is a lot better than my Chinese."
One difference she noticed between herself and other friends was the extra homework given to her by her mom. Though the extra studying meant giving up time with her friends, Thyes said she sees it as a benefit in the long run.
Many times, being biracial elicits frequent mistakes on one's race. 
"I feel like here [in the U.S.] people mostly assume I'm white," Thyes said. "But when I'm in Taiwan, people just assume I'm white."
She's had the opportunity to go back back to Taiwan for about a month every other summer because her mom's side of the family still lives there. According to Thyes, being able to visit Taiwan so frequently and be surrounded by family has always given her a sense of pride in her biracial heritage. 
"I think I always felt proud of who I am because I would go back to Taiwan and be around other fully Taiwanese families who lived near us, so we would always hang out with them," Thyes said. "I feel like it was always, 'Oh, it's part of who I am,' there's nothing to be ashamed of."