A red laser from a carbon dioxide cutting machine strikes a wood surface, making precise patterns inspired by music. Standing next to the laser cutter is the artist who goes by the moniker Punionate. She uses this innovative method to create layered and distinct pieces of art that could decorate any wall or window. 
Last month, Punionate's work was featured in the exhibition titled "Melodies in Wood" at The Link on Nebraska Innovation Campus. Punionate decided to remain anonymous for her work because, after over a dozen years of being retired, she is no longer interested in trying to build a name for herself. Instead, she chooses to simply enjoy and share the work she does. 
Punionate's love for fine arts began at a very young age, and with the support from her mother, she was able to study fine arts in a handful of major universities and pursue a career she enjoyed. However, nothing she studied in school focused on visual arts, so when she started at the Innovation Studio in 2017, it was a whole new experience. 
"Making something is like satisfying an itch," Punionate said. "I have this feeling that the tool and materials can make something very cool that no one has realized yet."
There are so many creative and new possibilities still unknown with the carbon dioxide machine that Punionate is eager to discover. It has now been nearly three years since Punionate was trained at Nebraska Innovation Studio to use the carbon dioxide machine. A carbon dioxide machine is a gas laser that uses electricity, mirrors and gas tubing to cut through material like wood. 
After making everything from earrings to light switch covers, Punionate began to grow and develop her skills so they could be applied to larger and larger pieces. When Punionate wanted to continue developing her skills, she began experimenting with wood to make even grander pieces for decorating walls and windows. Her passion for the work grew. Punionate was fascinated with the idea of assembling intricate designs and patterns into works of art that can be appreciated for its every aspect. 
"It's about enjoying pattern. It's about complexity that might not be consciously noticed as complexity," she said. "It's about liking the smell, texture, weight and solidity of wood."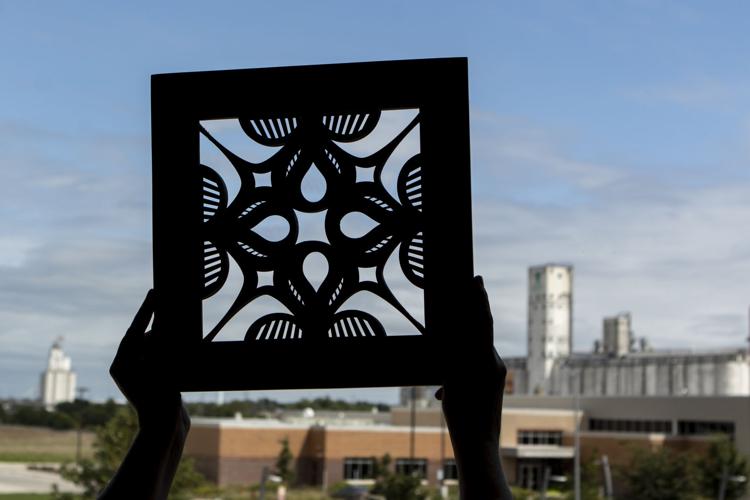 Around the time Punionate began to shift her work toward wood carving, Nebraska Innovation Campus was interested in formulating an exhibition on an artist working in the studio. David Martin, the director of Nebraska Innovation Studio, immediately thought of Punionate's recent work. 
"She is friendly, enthusiastic, detail-oriented, not afraid to experiment and incredibly creative," Martin said. "She works very hard at creating and improving her designs and is always trying new things."
Punionate doesn't miss an opportunity to find more room to grow, so attempting a different style or pattern is something she does often. Inspired by whatever is around her, running out of ideas hardly seems to be an issue for Punionate.
According to Punionate, a lot of her inspiration comes from numbers, biological shapes and music. Punionate takes patterns from math, nature and music and transforms them into a visual piece of art, which inspired the exhibition's name, "Melodies in Wood." 
"Melodies have their own internal logic and often can be heard simultaneously, which parallels structures in the designs of the pieces," she said. "Melodies always imply a home tonality and play with going away then coming back home."
In the same way that music has different layers that harmonize or blend to create a pleasing sound, Punionate's pieces have multiple layers that work together to become a visually pleasing work of art. And just as music has its rhythms or patterns, so do her designs.
According to Martin, Punionate doesn't take the easy route and is constantly looking for new possibilities for her designs. Every piece in the exhibition is different in its own way and draws the eye of any passerby with its distinct two and three-dimensional characteristics. Martin also believes that Punionate is a great asset to have at Nebraska Innovation Studio.
Artist Punionate holds up one of her wood works on Innovation Campus on Friday, Aug. 30, 2019, in Lincoln, Nebraska.
"She shares what she's learned with other members and is enthusiastic about their work," he said. "The goal of a maker space is to have a community of members who share what they know and inspire one another. Punionate has been a great example of that." 
Now in her 50s and retired, Punionate has the opportunity to simply enjoy what she does and inspire others.
 "There is a privilege in not needing to build a resume," she said. "It's so nice to focus on what feels really important. In this case, it's exploring the use of wood in two to three dimensions with the tool of the CO2 laser cutter."