Editor's note: Daffnie Realpe was previously employed by The Daily Nebraskan.
It wasn't until 2016 when Daffnie Realpe began developing symptoms. When they did start showing up, she found it hard to continue schoolwork. But throughout her experience with this disease with no known cure, Realpe never stopped loving art, and she doesn't plan to.
Realpe is a senior painting major at the University of Nebraska-Lincoln, about to finish her college career.
"I have comorbid fibromyalgia with paresthesia," she said. "It affects my entire body with muscle pain and weakens me entirely if I have a flare up. Unfortunately, there's no cure, but I'm trying to adapt as much as possible."
Realpe shared her painting style and the inspiration from her life that fuels her art with The Daily Nebraskan. See more about her personal journey and work on her Instagram page.
The Daily Nebraskan: Where do you find inspiration?
Realpe: I find my inspiration through the people, animals or objects around me because I am not able to move very much. Of course, I research any artist's new work that I admire. Since I was diagnosed, my social circle really closed up, so the people that are closest I have as subjects for portraits. I love them very much, and if I could paint anything else, close family and friends would still be my choice. Each of these people have helped me immensely throughout the process of adapting with fibromyalgia. Same goes for any animals I've painted, such as my service dog, Mischa, and my emotional support cat, Kai.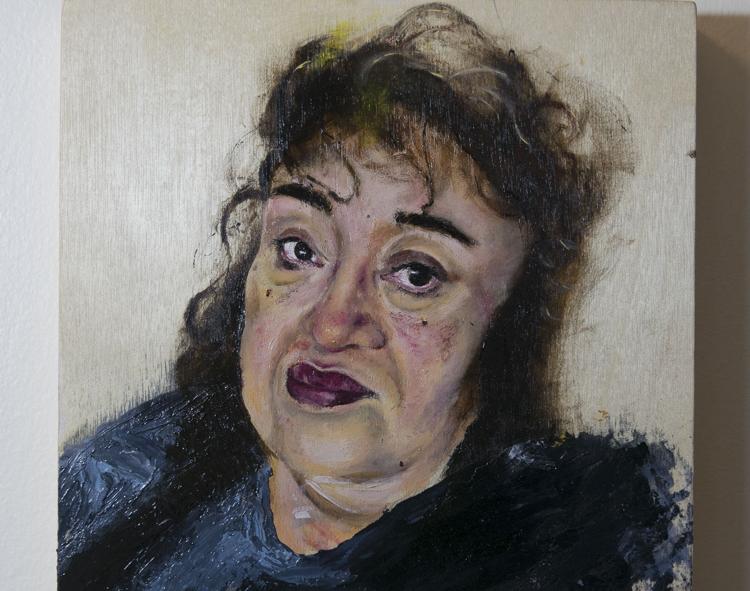 DN: What's your background in art?
DR: I've been working on art all my life, but the only time I was able to take a class before college was when my high school allowed me to join the advanced art class my senior year. I wasn't the most enthusiastic when it came to my high school course. I kind of went through the motions and painted with acrylic.
DN: Why did you choose painting as your main art form?
DR: I've always been drawn to painting the most. When we had to learn oil paint, I just fell in love. The ability to manipulate the paint in so many ways was just amazing, and I've been using it ever since. I don't think oil paint is better than other paint. For my work and how I manipulate it, I personally think it's the best. Oil paint dries at a much slower rate, so it's great for layering tones for skin, fabric, texture, etcetera.
DN: What do you dislike most about your work?
DR: One thing I dislike the most is how many breaks I have to take to complete a small portrait. Before I had a medical issue form sophomore year, I was able to paint 4 by 5 inch paintings in four to five days. But after retraining my body to paint slightly longer, I can paint smaller pieces within a week or two depending on if I'm feeling well.
DN: What do you hope to do in the future?
DR: I want to be able to support myself and my family with creating work. In a few years, I want to go to graduate school, but until then, I'll be working away on pieces or commissions. My plan is to take a few years off of school to work on commission work that I've had to slow down on, and then apply to graduate schools. I want to support myself with my work, and I'm hoping to get a full-ride somewhere or a school with the best benefits, if any are offered.