Editor's Note: In order to protect their identities, the students interviewed by The Daily Nebraskan asked to remain anonymous. Their pseudonyms will be marked by an asterisk on first reference.
All it took was a pandemic, a turtle named Franklin and four creative University of Nebraska-Lincoln students to concoct the UNLMemeUnderground Instagram page.
After obtaining the idea from Colorado Christian University's CCUMemeUnderground, the anonymous UNL students decided to create content for their own Instagram account. The memes cover everything from COVID-19 in Greek housing to Chancellor Ronnie Green — from saucy nugs to the recent power outage.
Two students, John* and Jack*, typically run the account and handle a majority of the workload, including creating memes and responding to followers.
Jack described himself as being very humorous and able to find almost anything that can be made into a joke. John, on the other hand, tends to create more hypothetical memes.
"I really enjoy non sequitur humor and anti-jokes," John said in an email. "A lot of the more abstract posts are my brainchildren."
When creating UNLMemeUnderground's content, they tend to get their ideas from friends and daily life on campus.
"A lot of [the content] comes from us saying, 'How do we put a positive spin on this current event or thing happening on campus in order to make more people happy?'" John said.
The group considers their poorly photoshopped pictures from around campus "avant-garde memes."
One Sunday night in August, John invented Franklin the turtle, a shy turtle who was the subject of posters around campus. The posters asked viewers to stay on the lookout for a lost pet named Franklin who recently learned how to open doors. Last minute, they decided to throw the Instagram tag, @unlmemeunderground, onto the poster.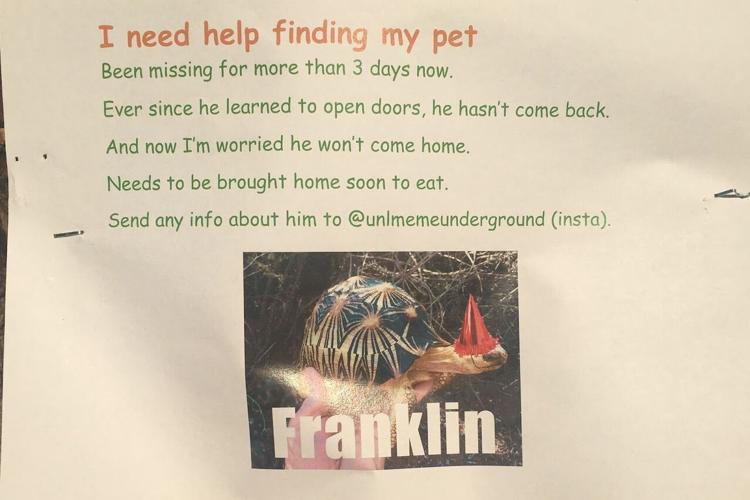 After the poster attracted the attention of passersby, the number of followers tripled. The group decided to hang more posters up and plan to create new ones in the future.
"We like to post memes that make people laugh. And when we have fun ideas for advertising, we go for it, because the more people that follow us, the more people we can make smile," John said.
The UNLMemeUnderground page is growing to present more content than memes. Recently, the page featured Instagram Story polls asking students about their favorite dining halls. Over a course of a week, followers responded by voting for their favorite dining halls. Following the boneless chicken wing debate, the group also polled followers on their opinion on the spicy nugs. 
"We wanted to foster a sense of community around our page," Jack said in an email. "Also, we were having that debate amongst ourselves and thought that the poll would be a fun way to help settle it amongst ourselves."
John plans on continuing polls in their future, in addition to adding content from students around campus. In a recent post, they asked their followers to send in their own memes that can be featured on the page. Although the group has received several memes that they've shared, they said so far no one has wanted to take credit for the work they submitted.
The group hasn't received any major feedback on their posts, but what they have heard has been positive. Their goal is to continue to have fun and spread more smiles around campus.
"We'd like to see our community grow and start to interact more, both with us and each other. Especially in the current times where community can be hard to find since we can't meet people in person as well," Jack said.