Since 2001, the video game Animal Crossing has touched the hearts of players everywhere with its customizability, creative elements and downright cuteness. The newest rendition, Animal Crossing: New Horizons, was released on March 20, nearly perfectly coinciding with the U.S. government's advisory to self-isolate due to the coronavirus. With everyone stuck indoors, the game has surged in popularity as it provides players with a way to pass time, interact with their friends and show off their progress. Many Animal Crossing-playing members of The Daily Nebraskan detailed their thoughts on the game and its merits.
Karissa Schmidt, editor-in-chief
Island Name: Riverview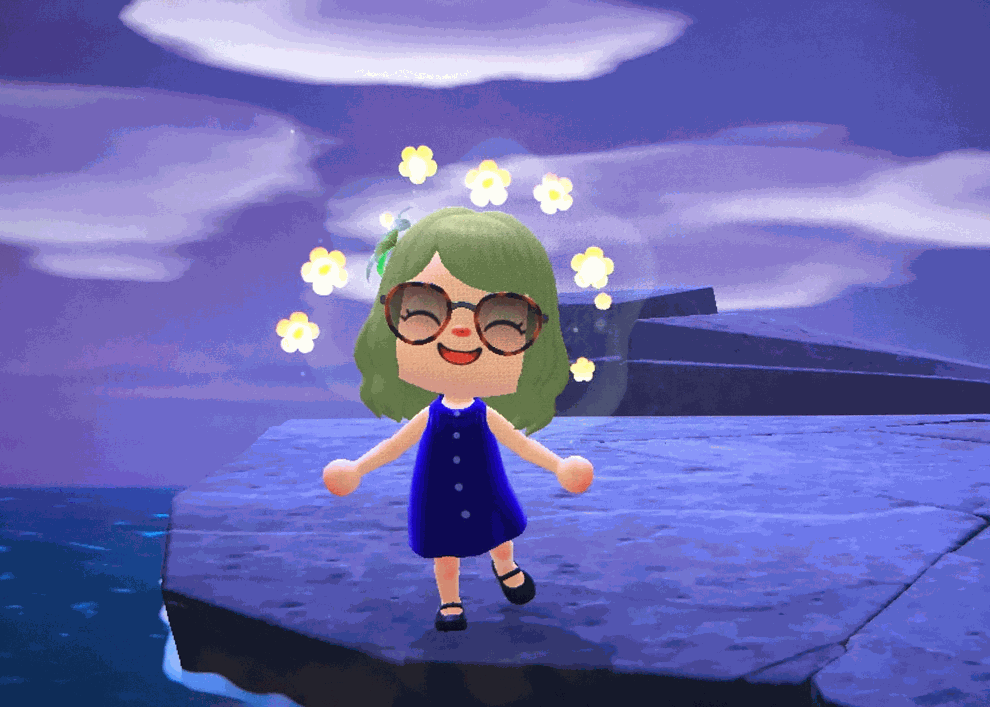 My Animal Crossing story started back when 6-year-old me received a GameCube and the original Animal Crossing game from Santa Claus. At that time, my gameplay mostly consisted of collecting clothes to display in my house, becoming best friends with Mable and Sable and accidentally ruining the work of my mom, who was also an avid player. When I heard the new Animal Crossing: New Horizons game was to be released soon, I was so excited to be able to relive my childhood on a gameplay software far more advanced than I could have dreamed of at that age. 
So far, this game has not disappointed. I am relieved that the wasps are easier to catch, the golden bell trees still exist and that I can still work to become Sable's best friend. Most of all, I am excited to have a group of friends who I can interact with virtually while we are in a time of social distancing. Times are tough right now, but Animal Crossing plays a key part in keeping me sane.
Allie Micaletti, engagement
Island Name: Magnolia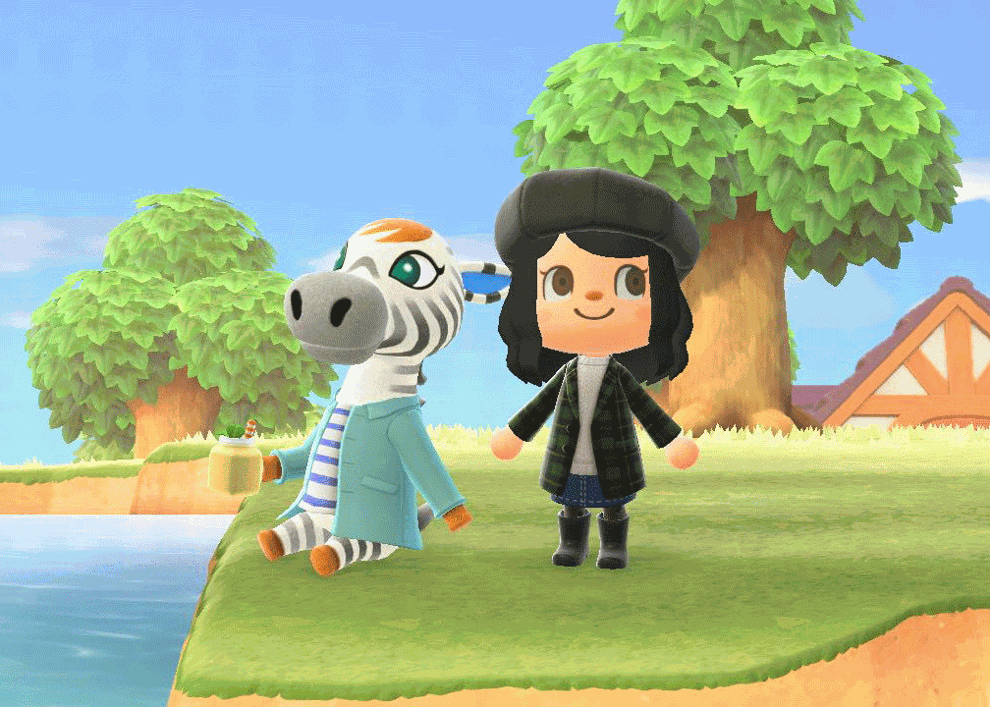 I have played many versions of Animal Crossing throughout my life. While the GameCube version has a special place in my heart, my favorite rendition of the game is the most recent release, Animal Crossing: New Horizons. One of my other favorite parts about this game is the community surrounding it. I follow tons of social media accounts that focus on this game, and it's a pretty positive community. 
It turns out that I have played over 65 hours of the game, which would be concerning if we were not quarantining right now. This game is perfect for a time like this when we are advised to stay in our houses. It allows you to experience nature and visit friends' islands while following social distancing. There is always something new to explore on your island, which is a great motivation to get out of bed in the morning.
Jackson Wilford, photographer and videographer
Island Name: Eversummer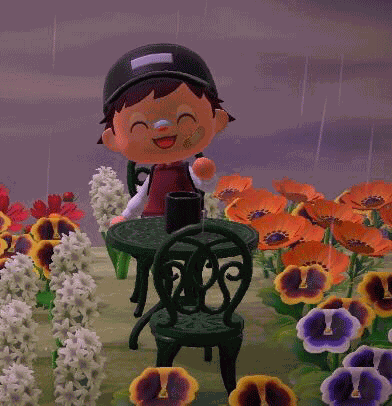 I climbed on the Animal Crossing bandwagon pretty late into the game. I was aware the game has existed since I was a child, but it wasn't until my freshman year of college in a weekly photo budget meeting that I learned the game was coming to smartphones. I decided it was best to hop on the bandwagon and download Animal Crossing: Pocket Camp.
Weeks later, I probably dedicated four hours every day to play the game. The app influenced me to buy a Nintendo 3DS a year later. On this 3DS, I got my first real taste of Animal Crossing with the New Leaf version of the game. I enjoyed playing the game so much that I'd often play until 4 a.m. 
Fast forward to the release of Animal Crossing: New Horizons, and I began my long journey anew to create the perfect village. This time, the game was different. I had friends to play it with, which has made the experience amazing. In a time where we have to practice social distancing, it is always fun to send friends letters with dumb messages and thoughtful gifts. I love hearing my phone buzz with notifications from friends thanking me for the gifts I gave. Animal Crossing: New Horizons has truly allowed me to stay connected with the ones I can't see face-to-face anymore.
Rebecca Holladay, news reporter
Island Name: Steven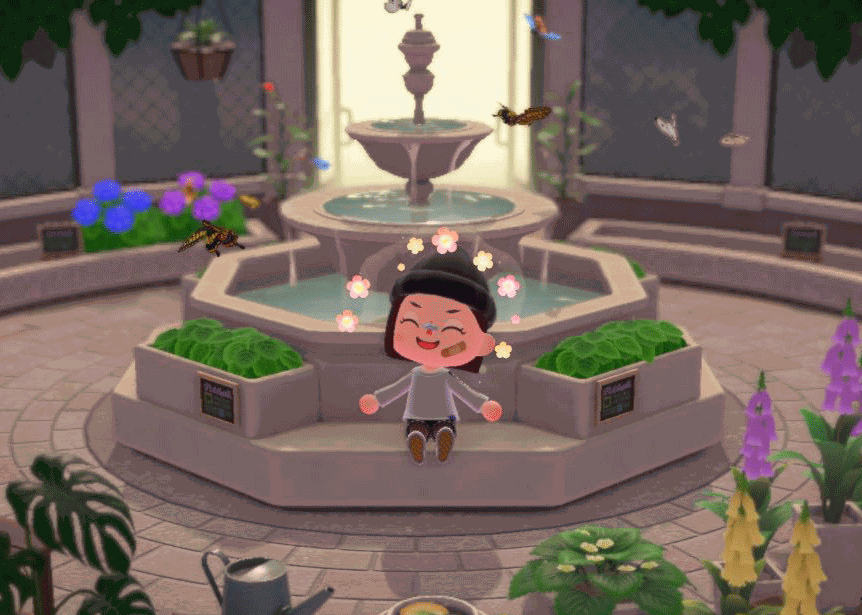 I can run barefoot through the sand collecting seashells and coconuts. I can build, craft and style everything from the floorboards to the fishing poles. I can talk to my neighbors and sing with them in the plaza. I can become an archaeologist, ichthyologist or entomologist, as I take it upon myself to document every species on my island. All of this is, of course, only possible in Animal Crossing: New Horizons. In real life, I live lonesomely. As one of the few students to remain on campus, all of my closest friends have dispersed back to their respective homes leaving me to social-isolate in the truest sense of the word. Animal Crossing is probably the closest thing I have right now to any experience besides Netflix and homework.
If you had told me a year ago that I would be alone on campus for the remainder of the semester, relying on FaceTime, Zoom and Animal Crossing for all interaction, I don't think I would have believed you. But here we are, and here I am.
While video games have a reputation for shutting you off from the world, I am actually much more connected with those I love right now due to Animal Crossing. I play with my brother, my sister-in-law, my cousin, my friends, my co-workers and people I haven't seen since elementary school. Even my parents are considering getting it — to be able to hang out with me in a space besides a phone call. While the world is scary and confusing right now, the simplicity and wholesomeness of being in debt to a tanooki is somehow what is keeping me grounded. Thank you, Nintendo, for this perfectly timed latest installment of Animal Crossing.
Liv Hines, artist
Island Name: Goldblum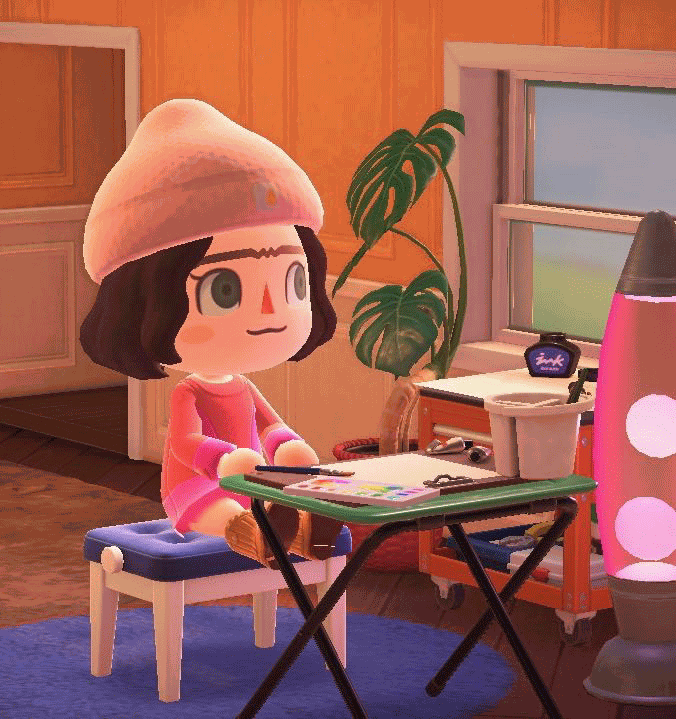 While I didn't start playing this game franchise until Animal Crossing: New Leaf had been out for a few years, it quickly became one of my all-time favorites. As a person with autism spectrum disorder, I have sensory processing issues which make it difficult for me to play fast-paced, combat-centered types of games. Animal Crossing allows me to have a slow and positive video game experience that is still mentally engaging.
Since New Horizons was announced in 2018, I have been excitedly following its development. Now that I have put in over 130 semi-embarrassing hours in the past 11 days, I am pleased to say it is everything I hoped it would be and more. One of the first things I did after accessing the game was draw my character a matching unibrow and Carhartt-style knit hat, and I'm still living out the thrill of the moment.
In contrast, a meaningful part of this experience was my brother choosing to pick up his own copy. Along with his partner and my beautiful cat nephews, he moved to the East Coast this past August. Chatting via FaceTime and spending time together in virtual spaces made me realize just how much I have missed being around him. Through Animal Crossing, I get to catch prehistoric fish with him and exchange inconveniently large gifts of furniture — looking at you, miniature-but-still-very-large model of the Great Pyramid of Giza resting on the southern shores of Goldblum. Although these are not things we do together in real life, they feel familiar and comforting, especially in these strange times.
Will Fleig, Design chief
Island Name: Fjürdburg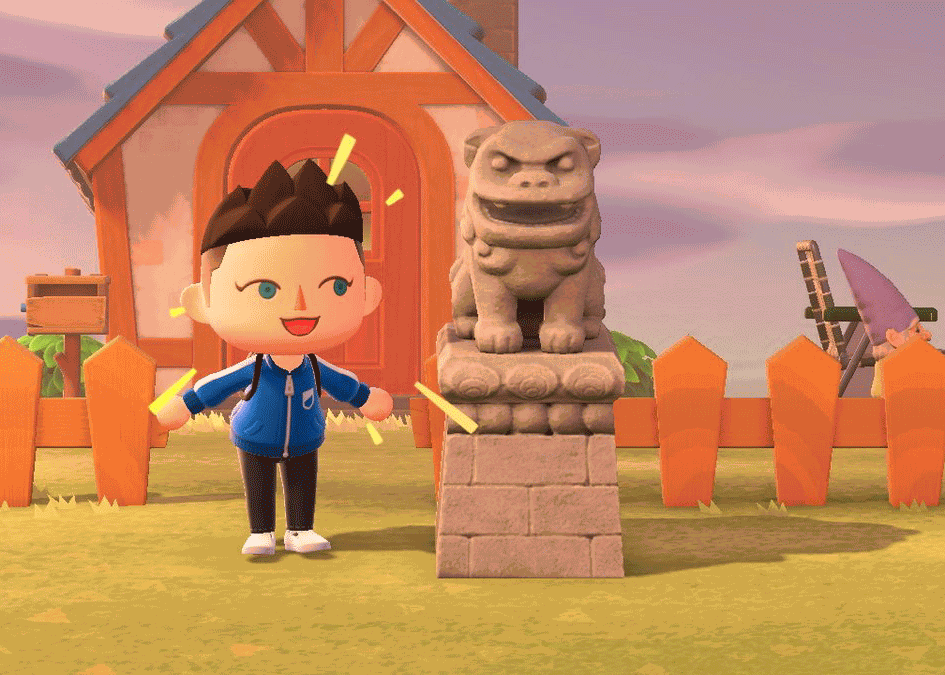 I was introduced to Animal Crossing via the Wild World version on the DS, and it's been a constant nostalgia trip since picking up New Horizons on its release day. Ever since I was a child, my video game interests have typically been in more mechanically deep, gameplay-driven titles such as Team Fortress 2, The Binding of Isaac and Devil May Cry. Animal Crossing has always been my one major exception. While simulation games like The Sims usually bore me after a few hours, there's something about the slow progression of Animal Crossing that keeps me hooked. In a way, filling up Blathers' museum with fish, fossils and bugs drives me forward similarly to filling up the experience bar in a role-playing game like World of Warcraft.
As a graphic designer, I can't get over the visual charm and character that oozes out of every aspect of the game. You know the developers did something right when even the act of navigating the menus is fun. I've had a blast revisiting my childhood memories of fishing for hours on end, chatting up the townsfolk and racking up Bells. The series' mainstays feel as addicting as they did when I was younger, but I'm even more impressed with the new features added in New Horizons. Terraforming my island and showing off my outfit to my friends via online play has kept me coming back for at least a couple hours every day since its release.
I don't see myself putting down the game any time soon. Interacting with the game's huge player base and trying to catch up to my friends' ridiculous levels of progress will see to that. I'm grateful that the game came when it did. We could all use a reminder to slow down, do the things we like and take the time to cherish our friends and community members. To me, that's what Animal Crossing is all about.
Dylan Widger, assistant photo/video editor
Island Name: Sinnoh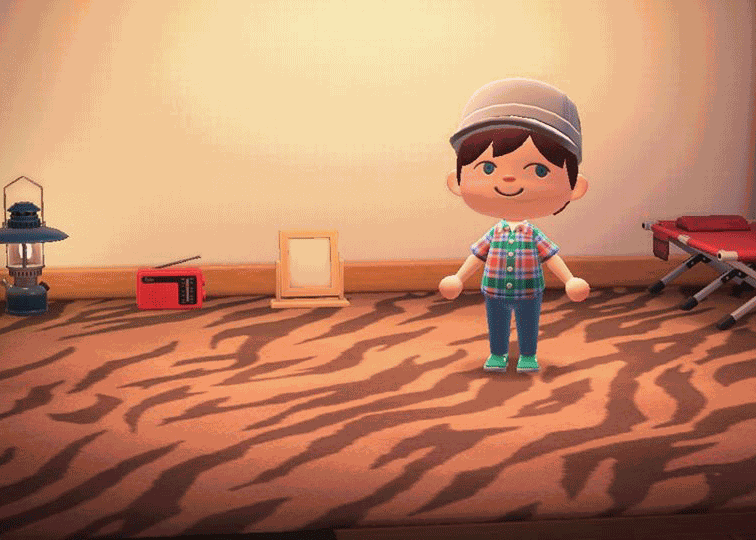 My entry into the world of Animal Crossing is still fresh on my mind, as I hadn't played Animal Crossing until the release of Animal Crossing: New Horizons. Originally, hearing about the game's release didn't have an effect on me. I didn't spend much time playing Nintendo games growing up, and the vast majority of my time was dedicated to whatever Pokémon game I was trying to beat at the time. 
However, once I saw the vast excitement from many of my friends at The Daily Nebraskan, and with social distancing measures being put in place, I felt it would be a fun and exciting way to engage with them. And so, on a whim, I set out on a quest to acquire Animal Crossing: New Horizons and a Nintendo Switch console to play it on. After many unfruitful trips to stores, I finally found a console online that had yet to be hit by major price increases and ordered it. After waiting impatiently while seeing everyone else's progress, I finally received the console on March 30, and immediately sat down and started playing. 
I booted up the game for the first time and made my way to my new island home. I named my island after the Sinnoh region of Pokémon — my entry into the Animal Crossing world with New Horizons was very similar to my entry into the Pokémon world with Pokémon Diamond.
I'm only on my second day, and it has been a bit of a struggle to learn what all to do in the game, but I'm slowly getting the hang of it. I have a house, I've caught a ton of fish, I have been utterly destroyed by tarantulas and wasps and I've found myself in a world of debt to a kingpin raccoon. I'm having fun.
Alright, that's all the time I've got. I have to get back to playing Animal Crossing: New Horizons on my Nintendo Switch.