Making the move to get out of your warm bed and pausing that Netflix show you are binging to go to the gym is a battle, and at that moment, it doesn't even seem worth it. But then you think about just how good you'll feel after you work out, and somehow you manage to get up. Getting ready and dressed for your workout usually seems like the hardest part, but it can also be a motivating and important step in your gym routine.
Personally, I find it more enjoyable and feel more confident going to the gym when I wear cute and fashionable clothes to work out in. Here is a head-to-toe guide that will do just that while making getting dressed for the gym exciting and convenient.
Tops:
When it comes to tops, the most important aspect to think about is how comfortable you are in the garment. If you want to rock that new Nike sports bra you got on Black Friday, then rock it. If you want a little more coverage, like myself, go for flowy tanks or cropped athletic tops to get you in the workout mindset. And because it is freezing outside now, you could also add a light sports jacket to your outfit, like my light gray and black Adidas one. I like even keeping it on during my workout, or at least the warm up because I haven't fully warmed up from the cold temperatures outside.
Pants:
It seems like leggings are a part of almost all women's gym outfits. With that being said, there are also ways to experiment and spice up your gym look, even if you are wearing leggings. Go for different and exciting colors and patterns, like pinks or stripes, as these tend to personally boost my mood and attitude about working out. You can also look into different cuts and designs on your leggings. My favorite leggings to work out in are light green with small calf cut outs. Feeling fashionable while working out is a great confidence booster.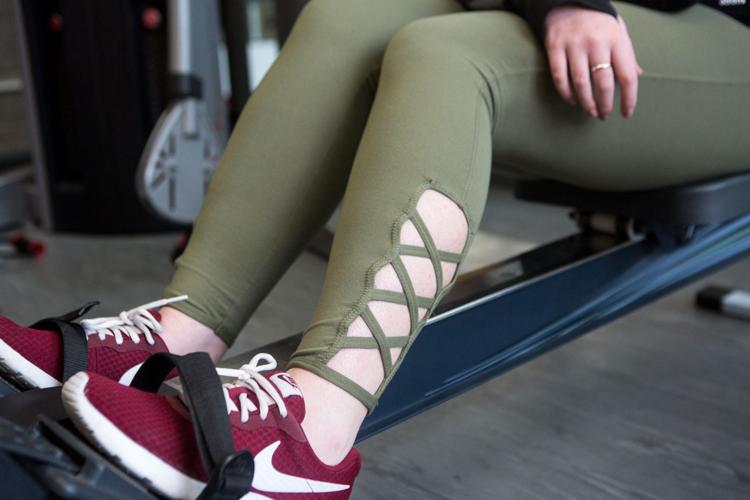 Shoes:
Shoes are my favorite part of my gym look. Whether it be Nike, Adidas or Reebok, there is something about new, fresh shoes that make me excited to go to the gym and show them off. There are tons of styles and colors to pick from nowadays, so don't be afraid to go outside of the box. From classic styles like Nike Frees, to newer styles like Reebok Floatride, there is sure to be a pair of shoes that are perfect for you and your gym routine.
Accessories:
Making sure you are prepared and ready to work out is essential when going to the gym. Accessories should enhance and help your workout, not inhibit it. Think of bringing some minimalistic and functional items that can help you in the long run. Some of my favorite accessories to bring to the gym include a duffle bag and scrunchies. Your duffle bag is a must to keep all your personal items together and safe. I usually keep my bag a simple color, but I make sure it is big enough to keep my keys, wallet and an extra pair of clothes together during a workout. While having long hair is nice for going out with your friends, a hair tie is crucial for your gym look so your hair doesn't get in the way of your workout.  I use scrunchies for a fun and youthful touch to my athletic wear.