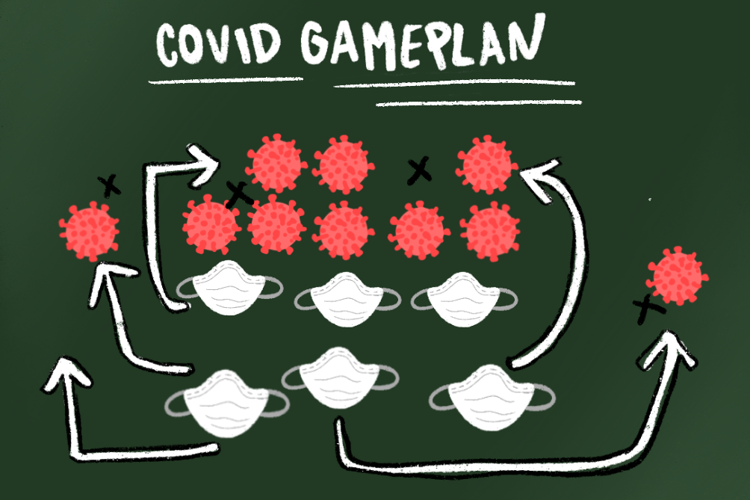 As the COVID-19 pandemic began to affect the University of Nebraska-Lincoln, the federal government provided no exact plan on what to do.
There was no set national testing standard, no step-by-step process for how to return for the fall semester and no specific guidance of best practices for university leaders.
"There was no federal plan that then institutions could tweak and adapt to their unique situations," UNL Chief Communication and Marketing Officer Deb Fiddelke said. "We all just kind of took the CDC guidance and developed whatever worked best for our campus based on our own initiative and working with our own local health units."
This joint effort with the Lincoln-Lancaster County Health Department and University of Nebraska Medical Center, including guidance from the Centers for Disease Control and Prevention, has allowed UNL students to return and remain on campus this semester.
In-person learning has continued amid the coronavirus, while leaders continue to build, strengthen and develop plans to ensure health and safety.
Every higher education institution has very specific needs, and the coronavirus may not be equally prevalent in every community. Fiddelke said each campus must attune their plan to its specific circumstances.
"That said, none of us had a playbook to follow from the federal government that said, 'This is how to do this,'" she said.
This semester Chancellor Ronnie Green said he has looked at and worked with about 25 institutions nationwide, including all 13 other Big Ten universities, to get an understanding on their COVID-19 response measures.
These institutions are comparable in size and scope to UNL, with similar or larger student populations that have a focus on research. Such institutions include the University of Florida, Texas A&M University and University of Colorado Boulder.
Green said many of the institutions have faced similar problems and outcomes, no matter what the institutions did — including that when classes began, cases rose on campus.
"I would say UNL has been reasonably successful in that we've been on the average to below average side of the level of transmission of COVID that we've seen here," Green said.
This collaboration across the Big Ten is typical, Fiddelke said, and many members of UNL's COVID-19 Task Force, which Fiddelke is a member of, have Big Ten counterparts who share information with one another.
"It's been incredibly collaborative and cooperative, and that's been very, very, very helpful I think for all of us," Fiddelke said. "To learn from each other not only in what works and what's been great, but also, you know, this didn't work out as great as we thought it would."
One of UNL's most important partnerships through the pandemic has been with the health department, Fiddelke said, which cares for all residents — including UNL students — in Lincoln and Lancaster County. But, this is a partnership not every university has.
"You look at some of the other universities in the Big Ten, and they are at odds with their public health department, and there's conflict there," Fiddelke said. "We're very fortunate to have an incredible partnership with them."
Without this close working relationship, Fiddelke said the university would not be successful in its COVID-19 response.
University leaders also take into account the health department's COVID-19 Risk Dial as it relates to the UNL community.
"Obviously we take a look at what's happening in the broader community, but vis-a-vis what to do with respect to our campus and most closely with what's happening within our UNL community," Fiddelke said.
On Friday, Oct. 9, the dial moved from mid-orange to elevated orange, indicating a high and increasing risk of transmission of the coronavirus in Lancaster County. This is the highest the dial has been since its introduction on May 11.
The color-coded dial spans from green, representing the lowest risk of transmission, to red, representing the highest risk of transmission. If the dial does move into the red, the health department recommends taking action to minimize contact whenever possible and leaving home only for essential work or for acquiring medical care or food.
If this happens, Fiddelke said the university is prepared.
"We have contingency plans for everything, and if certain things occur, we adapt," she said. "That has been the posture we have taken since the beginning of March."
UNL has not published its contingency plans, but has noted factors that could lead to a change in operating procedure. These factors, however, do not include any metrics.
Fiddelke said this is because there is no one thing that could cause a change in operational status, and a change would occur as a result of a confluence of factors.
"It's not a magic number or a magic lever that suddenly changes things," she said. "It's a confluence of multiple things."
The plans have not been published due to this lack of a cause and effect relationship, though some faculty have expressed concerns with a lack of transparency.
Lincoln Public Schools, for example, has outlined its plans and procedures, including guidance for when the risk dial is in green, yellow or orange and red.
If the dial moves into the red, instruction for LPS will be fully remote, synchronous and all LPS buildings will close.
The district previously had plans to have all high school students, who currently alternate attending school two or three days of the week, return to a regular five-day schedule. However, a recent rise in positive coronavirus cases led to a postponement of the plan.
Fiddelke said the university requires flexibility, and by not making the plans public, leaders are able to better adapt and not be tied to one plan.
"This is a pandemic that has required people to be vigilant, adaptable and responsive," Fiddelke said. "And that's what we've tried to do without setting in stone certain things that might have to change."
Despite not receiving a gameplan from the federal government, university leaders look ahead to a successful completion of the fall semester.
"None of us have experienced this before, it's really hard," Green said. "But people have done it before, and they've been successful doing it before with a lot fewer resources and a lot less know-how than we have today."