On April 6, 1999, Ted Carter led his first mission as a navy pilot to destroy fuel containers that Serbians were using for ethnic cleansing of Albanians in Kosovo.
Extensive planning had taken place, but the team was met with cloud cover and enemy fire from different locations on the ground than anticipated. The strike team, who had decided to go in as stealthily as possible, were scattered as they dodged missiles, with only three of the 12 bombing airplanes making it to the drop zone. 
As Carter neared the target, a missile began tracking his plane, with an estimated seven seconds between when their weapons would hit their target and his plane would be intercepted by the missile. 
Dropping the bomb and avoiding that missile, Carter and his team would fly home unscathed — the first of 55 missions he accomplished — a mission that would earn Carter the Distinguished Flying Cross and teach him the importance of staying calm through unknown circumstances.
"Even in a world of perfect unknowns, many of which, no matter how much we had planned for, we were going to have unknowns, we were able to audible, adjust and get the mission done," Carter said.
After a year of the COVID-19 pandemic and more than a year since Carter stepped into his role as president of the University of Nebraska system, lessons from that mission still hold true and influence his planning today.
"In some ways, this year has been a microcosm of that [mission] on a larger scale, and those types of dynamics happen every day on every campus," he said.
But Carter is one of many in the NU system who was hired shortly before the pandemic and had to assume new roles amid continued adversity and uncertainty. In their first years at the University of Nebraska-Lincoln, Executive Vice Chancellor Elizabeth Spiller, College of Journalism and Mass Communications Dean Shari Veil and Carter are navigating a new state and a new university, while prioritizing students.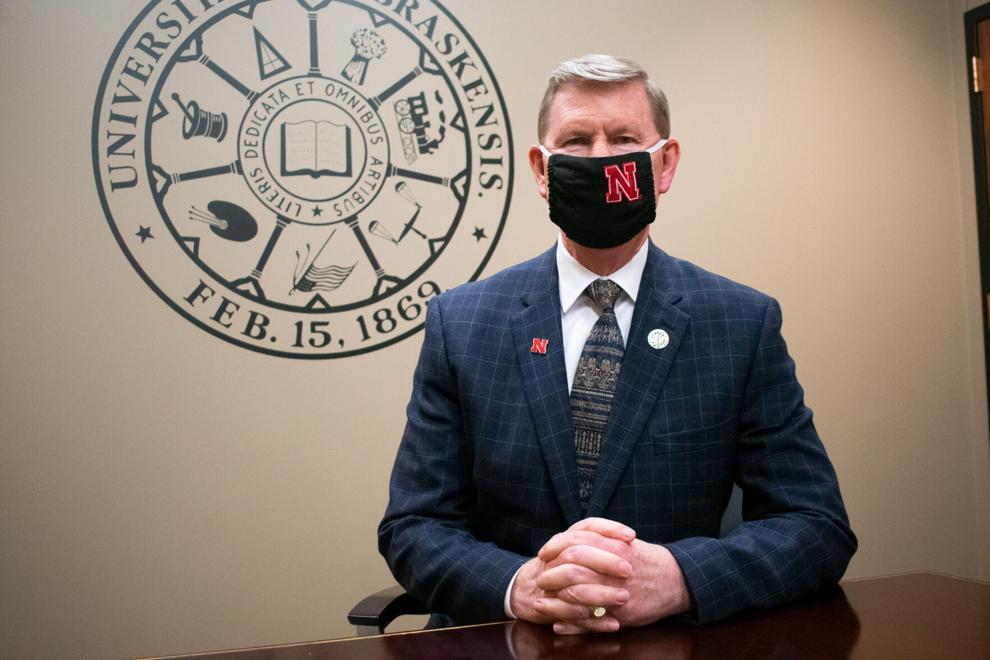 NU President Ted Carter
Carter has referred to the past year as the "fog of war" — a year he said included twists and turns with little going as planned.
"The mindset and the principles of how you deal with the fog of war are something similar, but nothing to this scale, nothing that had this kind of impact at the local community, on a single campus, to a city, communities, counties, a whole state, the country, now the world," he said.
Carter got the opportunity to tour the state in late 2019 when he was named the priority candidate for the NU presidency. He attended UNL athletics games, toured the campus with Chancellor Ronnie Green, met with students and attended forums.
"I got to do some of that, you know, those early touch points to kind of get my finger on the pulse of the campus," Carter said.
But with a little more than two months in office, the pandemic set in and almost everything within the university system transitioned to be done remotely, though his early tour of the state helped him with perspective.
As the pandemic progressed, Carter said the university acted with the best information available, not waiting until all of the facts and details were in place before doing so. This builds upon what Carter has said was the university's "bias for action."
"We weren't going to let perfect information get in the way of us making what I thought were the most important decisions," Carter said.
His focus was on mobilizing the chancellors, faculty and staff at each campus to prepare and get out in front of the coronavirus.
"Understanding how to go through those kind[s] of decision matrices, with everybody bought in to what those challenges are and feeling like they've got a vote, they've got skin in the game, those decisions are not ones that just come from the central administration," Carter said. "They are part of the decision made by everybody collectively. I think that's been part of the key to our success."
Carter highlighted the commitment to being open for the Fall 2020 semester — an announcement made on April 24 before most other universities nationwide — and the university's two-year tuition freeze, online tuition reduction, Nebraska Promise and academic calendar review. 
These were major milestones expedited by the arrival of the pandemic, which were previews into the NU system's five-year strategy that was slated to be revealed in April, but would not be unveiled until August.
"Those would be major decisions on their own in any given academic year, and then you put five of them all condensed and pretty much announced within about a 45-day period," Carter said. 
Through the challenges, Carter said he is proud of everyone's commitment to the seriousness of the pandemic, as people remain the most special part of NU. Because of this, the NU system remains positioned for strength and growth, Carter said.
"The future looks brighter and brighter to me every year," Carter said. "I'm very excited about where we are and where I think we're going."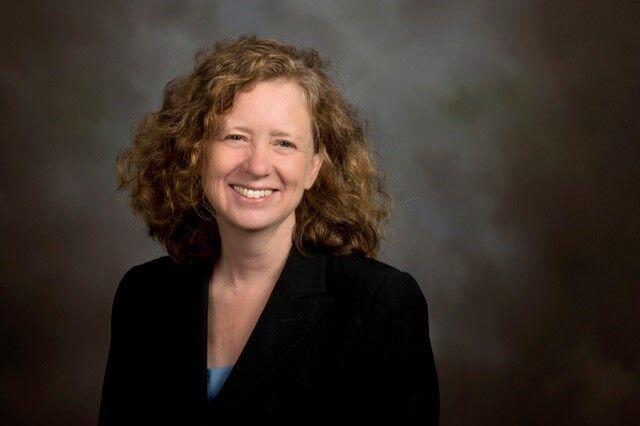 Executive Vice Chancellor Elizabeth Spiller
Spiller, who had been named a finalist for the executive vice chancellor position in 2016, arrived at her office at UNL just three days before most UNL employees would begin working from home — her first day.
Despite people leaving campus with their houseplants and not returning for months, she said "it really was a moment to arrive," as her colleagues felt more present as they stepped up throughout the year.
"Every instinct was consistently across the board by people to solve problems," Spiller said. "To solve problems, to identify them, determine what the boundaries of them were, come up with possibilities for solving them and then doing it."
For the first three months, she said she would call people in California, where she had worked before UNL, and would say, "Can you believe this? We did this today," highlighting the university's innovation each day.
Even in adversity, Spiller said the university found ways to be innovative and focus on supporting students, who are the cornerstone of the university's mission.
"Something of this scope and magnitude involved thousands of changes, and I think we all recognize that faculty and staff, all of us, were impacted," Spiller said. "But the biggest impact really would be on our students."
The N2025 Strategic Plan, with a calling card of "every person and every interaction matters," marked the progress UNL made in the four years since Spiller vied for the executive vice chancellor position. 
Now, she is leading implementation of many parts of that plan and finding ways for students to be as successful as possible.
"We've been trying very hard to imagine how to succeed in a situation that seems to have taken certain options off the table," Spiller said.
Spiller said COVID-19 has been the "epitome of a wicked problem" — something that no single interdisciplinary perspective can solve — but faculty, staff and students truly embodied UNL's motto of grit and glory every day.
"The pandemic will change a generation of our lives," Spiller said. "But I also think that even as we mourn the people we lost and the time, in a way, that we lost, I'm hopeful that everything we brought to the pandemic has been crystallized in ways that we will bring out of the pandemic even stronger."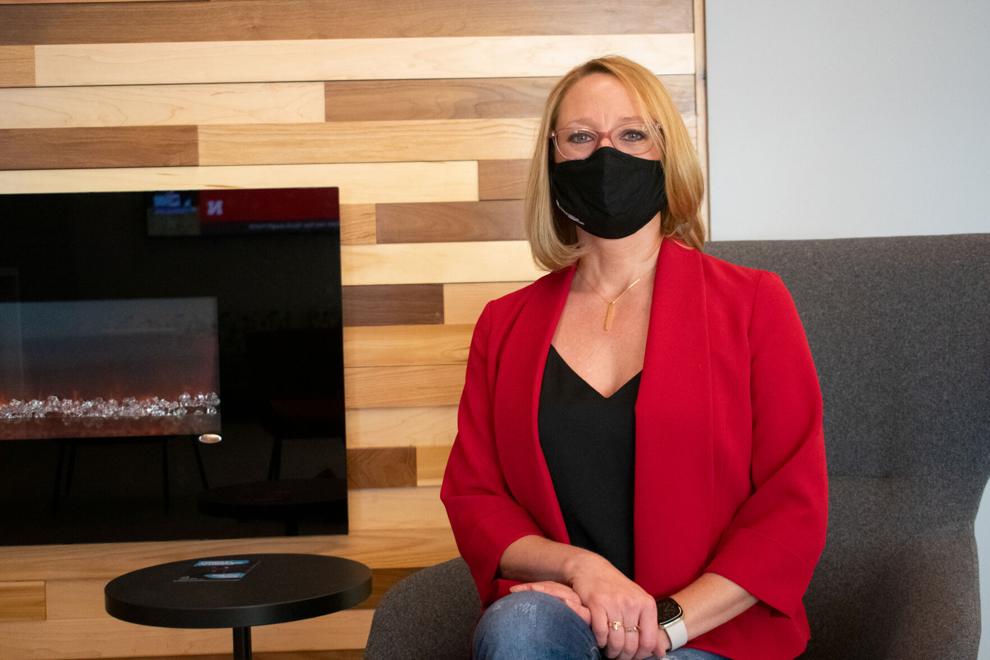 CoJMC Dean Shari Veil
Veil assumed her role as dean on July 1, but she began developing relationships with her CoJMC community months before she took over.
In February, she traveled from Kentucky and met with college leaders to detail the transition. Her husband joined her so the two could preview houses in Lincoln, before going house hunting in April. 
But as the pandemic took root, then-interim Dean Amy Struthers invited Veil to planning meetings, which helped Veil establish rapport and a focus of what needed to be done.
"I think in many ways I came in, oddly, at a great time because I could see the college at its best," Veil said.
Students are why the college exists, Veil said, and though the leadership team was changing — her entrance coincided with the retirement of an associate dean — the college rallied together.
"I think folks have been very supportive, very patient with each other, more so than maybe they would have been because they recognize we're all going through challenging times right now," Veil said. "And the key has been how are we supporting our students."
She leaned into the college's hands-on learning, including Nebraska News Service and Jacht Ad Agency, which drew her to UNL in the first place. But she has had a more hands-off approach to her leadership, wanting to build up faculty and staff in her college so they can be successful no matter who is the dean.
She actively worked and continues to work to build up faculty and staff, wanting them to be the most desired experts across the nation.
"I don't want any of them to leave, but I want everyone else to want them," Veil said.
The media industry is going through a reckoning, she said, as not everyone's story is fairly represented and the line between what is news and opinion is blurred each day. This is also coming in a time of a technological explosion.
Therefore, the college must prepare students not just for their first job, but for their second and third jobs after graduation.
Veil's research area has been crisis communication, so she has gone to communities that have been decimated in the past. Therefore, she knows UNL and her college can weather the storm.
"The pandemic, yes, it's a challenge, but it's something we can get through," she said.
While COVID-19 continues to impact the world, Veil said sitting around and waiting for it to be over is not an option. So, every day the CoJMC community focuses on the future rather than on just getting by.
"My impression is that the faculty and staff here really leaned into that piece of it rather than just waiting," Veil said. "We're all trying to survive in this, but you got to look forward to the future, you can't just be getting by, and I think that's brought some energy here as well."