Husker fans and University of Nebraska-Lincoln students were given the opportunity to come face-to-face with the Dark Knight Saturday afternoon before the football game.
In celebration of Batman Day, a yearly holiday created by DC Comics to celebrate the comic book character's almost 80-year history, the University Bookstore hired Lincoln Batman cosplayer, Zac Barton, an administrative assistant and information technology administrator at Region V Services, to play the character from noon to 1 p.m.
Barton took pictures with Husker fans who were delighted to meet the Caped Crusader as they perused the aisles before the game.
"I thought it was cute," said freshman agribusiness major Melony Fiala. "When I was little and I saw people dressed up as my favorite movie characters, I always thought it was the actual person. So I'm sure some of the kids thought that, too."
Free Batman and Harley Quinn comics were handed out at the event along with free Batman masks. Several other activities were available, such as coloring pages and word searches.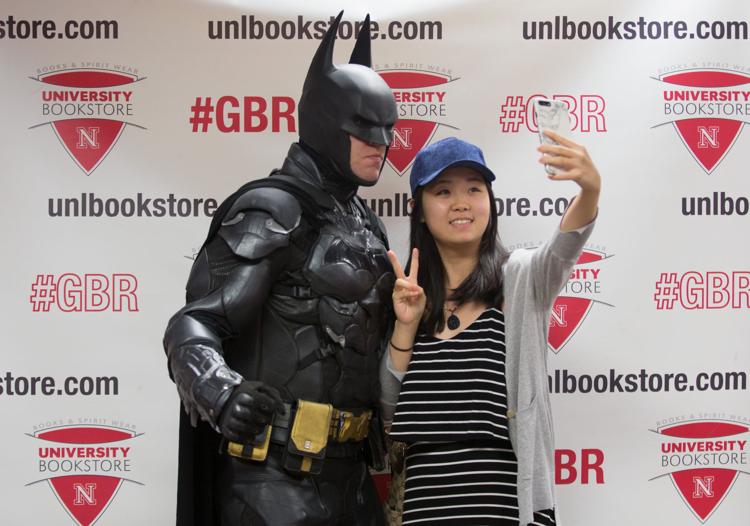 As for Barton's own costume, he made his first Batman costume in 2013 for the video game "Batman: Arkham Origins." He said he wore the outfit to NebrasKon, the annual anime convention in Omaha.
"It was a big hit," Barton said. "Everybody loves Batman."
Barton said the suit he wore for the bookstore event was the most fun to create and easiest to put on. His original costume took four people to help him into and three more to take it off due to the armor sticking to his body.
"You have to have someone contort parts of your body in ways that you can't do yourself in order to get it off," Barton said.
He said Batman is only one of a plethora of characters he cosplays. He's taken the role of many "Star Wars" characters, Beast from "Beauty and the Beast," and he's working on a Thor outfit for the character's upcoming film, "Thor: Ragnarok," which hits theaters later this fall.
Barton said he started by cosplaying for charity events with a "Star Wars" group he was a part of. They participated in events such as the Juvenile Diabetes Research Foundation One Walk, the Cystic Fibrosis Foundation Walk and a yearly Labor Day parade in Omaha. From there, his involvement evolved, eventually leading him to the bookstore on Saturday.
"I've done hundreds of events like that over the last five or so years," Barton said. "I'd gladly come back."