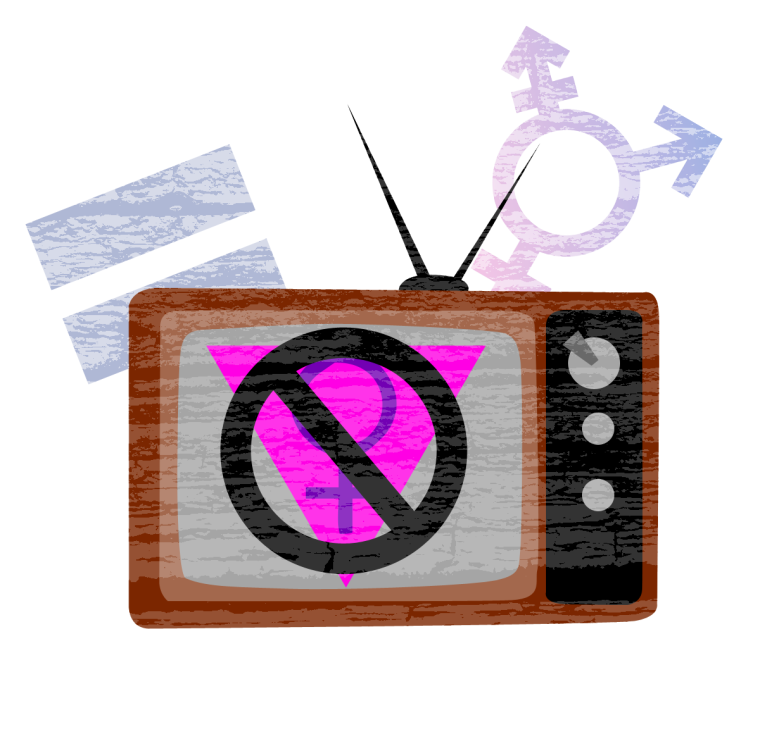 The world in 2012 is full of out gay men, lesbians and transgender individuals.
But just because they're present, doesn't mean they're respected. Homophobia is a common problem within communities and the media, and is fueled in some cases by the conventions of comedy and popular culture.
Kris Gandara, a lecturer of women's and gender studies at the University of Nebraska-Lincoln, has seen examples of homophobia during pop culture presentations in class. Most recently, roommates in "The Real World: San Diego" threatened their homosexual counterparts. Sam, a lesbian on the show, was persecuted for her butch appearance.
"We think that as time progresses, so does social change, but that's not necessarily the case," Gandara said. "We don't really see any masculine women on TV. What we don't see becomes silenced and what's silenced becomes taboo."
Stacey Cleveland, graduate assistant for the LGBTQA Resource Center at UNL, thinks homophobia is more prominent in stand-up comedy. When a comedian attempts to portray a gay or lesbian person, it is usually a stereotypical, shallow and often inaccurate enactment, in Cleveland's opinion.
"Within a community, you do have flamboyant men and masculine females, but there is also a lot of diversity in the community," Cleveland said. "They don't show that in the media or else it wouldn't be funny."    
Local comedian, Richard Reese, thinks people have become oversensitive to these issues in comedy. He thinks homosexuality is fine to talk about, so long as it's done in a tasteful way.
"For the most part, I think it should be displayed in a way where it's humorous and not hurtful towards anyone who might be gay or lesbian," Reese said.
Some comedians however, tell jokes that are simply demeaning attacks on LGBTQ individuals.
"Eddie Murphy saw no problem with saying 'fag' in every other sentence," Reese noted.     
On Jun. 3, 2011, comedian Tracy Morgan made a number of negative comments about homosexuals, claiming that if his son were gay he would 'pull out a knife and stab' him. Despite his apology, Morgan made a lasting negative impression on many.
Cleveland said stand-up comedians can make these kinds of comments because they have different rules to play by. They aren't concerned with ratings or censorship and therefore have more liberty with their jokes.
"They don't have to worry about offending people because when you go to a stand-up comedy routine, you know someone will be picked on," Cleveland said.
According to Reese, audience members should expect judgmental jokes.
"It's not a good show unless one or two people are offended," he said.
However, Reese said his style is edgy, not hurtful. He tells jokes to get a laugh, not to break someone's spirit.
"Comedy's real, it's the truth," Reese said. "But people's feelings are real, as well."
While stand up comedians and movies continue trading in homophobia, Cleveland thinks some network TV is becoming more inclusive.
She mentioned the popular comedy, "Modern Family," an ABC sitcom, which features two gay men, Mitch and Cameron, raising a daughter and interacting with family members in a loving manner.
"Whether that actually portrays what it is like to be a homosexual individual or not, it's at least bringing that issue to light," Cleveland explained. "I think the more these media outlets show LGBTQA couples in a positive light, the more it kind of rubs off. It makes it the norm."
Homophobia is not the only glaring problem in today's run-of-the-mill comedy routines though. Many comedians are misogynistic with their jokes, putting down women and boosting men.
"Sometimes the social situation is laughable and we can joke about it," Gandara said. "But are we really in a climate that we can afford to laugh?"
Jokes about the stereotypical desperate housewives become inaccurate portrayals of the modern woman, Gandara said. These demeaning words do nothing but perpetuate male dominance.
Comedians single out women they see as sluts and whores, a continuing trend that Gandara feels is damaging, considering the statistic that one out of four women is reportedly raped.
"We have that reality and when we sit in an auditorium and laugh at those jokes, it makes light of those very serious situations and that becomes problematic in various ways," Gandara said.
Reese said misogyny has been an issue in popular culture for awhile, citing movie characters like James Bond who make it seem acceptable for a man to use women for sex and comedians, like Dave Chappelle who tell jokes that make women seem worthless or stupid. Gandara said shows like "The Bachelor" are unrealistic and sexist.
But societally subordinate groups, like women and LGBTQ individuals are not the only people affected by homophobic and misogynistic undertones in comedy. Gandara said men aren't granted full humanity because they are forced into a masculine box. Any signs of sensitivity or emotion may result in mockery.
Those questioning their sexual identity are also deprived in Gandara's mind.
"Nobody wants to try on a different kind of gender expression for fear of being labeled gay," she said. "We don't get to actualize who we actually are, We're told who we're supposed to be at the expense of our full humanity."
According to Cleveland, homophobic and misogynistic undertones in comedy can be erased through education. She said learning about a different group of people usually helps dispel hatred and myths.
"It's very hard to discriminate against someone once you see them as a human," Cleveland said.
And in an effort to see all people as more fully human, laughter, especially where it's short-sighted or malicious, is not always the answer.
"I'm not saying there's no place for humor," Gandara said. "But if our only exposure to think about gender stereotypes is through humor, it's a very limited contribution to our own thinking."
carawilwerding@dailynebraskan.com