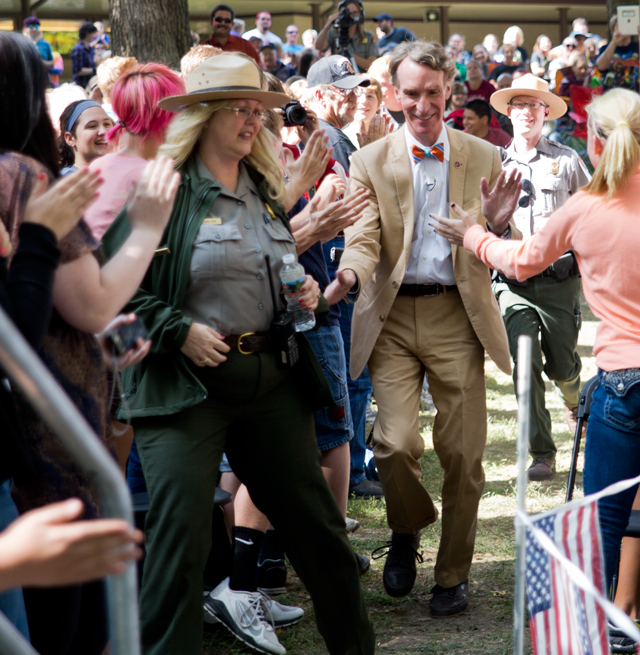 "There are things you see every day, things you know nothing about. There are things you are sure of, and you're wrong. And these things are right under our noses. These subtle things are generally invisible to us. But if you are diligent; if you are careful; if you mess around with it enough, these things are what we like to call in science "susceptible to analysis." And it is with that understanding, my friends, we can – dare I say it – change the world."
And the crowd cheered.
Those were the encouraging words of Bill Nye when he visited the Homestead National Monument of America in Beatrice Sunday. Nye is known to most as Bill Nye the Science Guy from the PBS show of the same name, which he hosted from 1992 to 1998. Nye has been the CEO of the Planetary Society since 2010, a position once held by his famed teacher, Carl Sagan.
Amid the click of cameras and applause from the crowd, Nye straightened his bow tie, adjusted his safety goggles and ran to the back of the counter on stage to begin his experiments. While handling marshmallows frozen with liquid nitrogen – his favorite – the seven-time Emmy award winner explained that people can't tie any one event to the overall climate change that this generation is experiencing. Rather, the culprit is a myriad of harmful events.
"Imagine a future where this summer's drought is just the beginning," Nye said. "Every summer could be just as miserable. Then you could, and quite reasonably, decide to run in circles screaming."
Nye, in a rather animated fashion, then screamed at the top of his lungs and ran around the stage, waving his hands in the air.
"In general, that's ineffective," Nye added, to more laughter from the crowd.
On a more serious and urgent tone, Nye spoke to the young people in the audience, "What we got to do is be much less inefficient. The key to the future is not just doing less. What we need, instead, is to find way to do more with less."
Nye told the crowd that using less fossil fuels is a basic step in saving our planet. He also shared some of the ways he is trying to do more with less. Nye currently uses solar energy to help power his own home and says he hopes to implement geothermal energy in the future, all the while encouraging the audience to consider energy-saving methods as well.
Nye engaged the audience with a speech that ranged from his childhood to making model planes to memories of his father, a sundial expert and enthusiast, and conducted some fun experiments with some kids in the crowd. Most of the event was centered on the question and answer session after the presentation.
Nye took his time with each audience member. Whether he was explaining a complex scientific process to one of the University of Nebraska-Lincoln physics majors in attendance, or simply telling a seven-year-old girl how comets fly through the air, Nye took every question seriously and patiently. He made sure to answer all of them. There were several points when he was told to wrap-up, but he pointed out there were several more kids and students with questions of their own. "Two more" turned into three, and three turned into five.
And no one seemed to mind.
Nye was a big fan of questions about bicycles, what he calls "the most efficient machine for transport man has ever made," and when he was asked repeatedly about alternative energy, he swore to the crowd, in jest, that he didn't plant the questions.
Some big Bill Nye fans didn't get to ask him questions but said they were excited just to be there.
"Hearing the Bill Nye theme song right now is a bit surreal," said Bryan Kubitschek, a junior civil engineering major at UNL. "It's cool; I have followed engineering and science. It's nice to see that after seeing the show in middle school I am actually getting the major."
Sophomore fisheries and wildlife major Eric Marrow said Bill Nye's show inspired him to follow science.
"I do like science a lot," Marrow said. "I watched the show when I was a kid as much as I could. I watched it in middle school and high school too, so to find out he was coming here and I could actually make it was great."
arts@
dailynebraskan.com
After his presentation, Bill Nye took time to answer a few questions from the Daily Nebraskan, as well.
DN: Why should all college students, regardless of their major, think about science?
Nye: When it comes time to vote, we just want you to make scientifically literate and informed choices. That's what I want. You don't have to be a scientist full time. We just have a situation, for example, in this year of 2012: one guy running for president got a laugh at his convention with the notion that the sea level is rising. It was a joke. People laughed at his joke. The other guy says climate change is not a hoax. The choice is stark and clear. I'm not going to tell you what to do, but there is a clear choice. So whether you are a full scientist or not, you can vote.
DN: Any idea why the choice is so stark this year?
Nye: In the case of climate change, the word "conspiracy" is easy to throw around. There is a group of like-minded people who have introduced the idea of doubt, and they are equating that with scientific uncertainty. There has been a group of people that really go back; the same guys go back to introducing doubt in smoking. Remember evidence for smoking causing cancer? It's the same guys. It's very interesting. Cold War people. And the fossil fuel companies have worked to introduce doubt. So I say to voters and taxpayers, be very skeptical of this doubt.
The other aspect of it is, I tell the energy people and the oil companies of the world, "It's fine to be in the oil business now, but you want to get in the energy business. I like solar and wind. I'm open-minded on nuclear, but its fraught with problems. There's energy transmission, and there's energy storage. These are huge problems to be solved. There is more wind in North Dakota; there is five times the energy the U.S. needs in wind in North Dakota, but you can't get it. We don't have it figured out. But these seem like solvable problems, don't they? We've solved other problems.
DN: When you were first making your show, we were kids. What do you expect from our generation now?
Nye: I gave a sheet of paper to everybody who came to work on the show. The goal of the show is to change the world. This is a long-term goal of mine, and I'm not joking you. What I would like your generation to do – along with all the climate change things you're going to come up with – I want you to cure cancer, or most cancers. Now I'm not talking about two years. You know, 25 years. The longest journey begins with a single step.
DN: How much dry ice did you use in an average episode?
Nye: About 10 pounds. In those days, it was about 60 cents a pound. If you buy it in bulk, it's a lot cheaper.