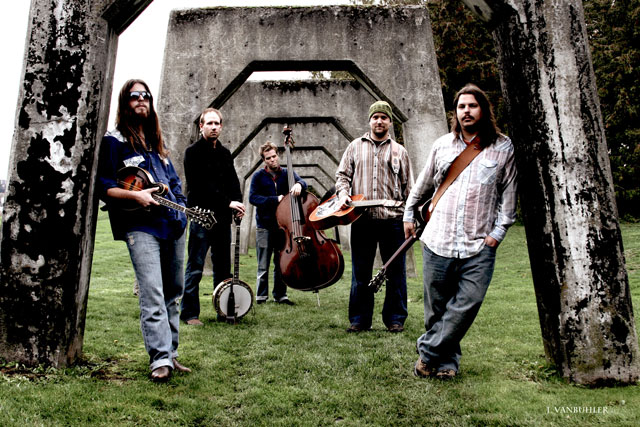 Greensky Bluegrass wants everyone to know that their music isn't as simple as their name might suggest – it's bluegrass, sure, but with a serious twist.
Distortion pedals and party music grooves test the edges of the genre.
The band was founded in 2000 and current members include guitarist and singer Dave Bruzza, Anders Beck (dobro), Mike Bont (banjo), Mike Devol (upright bass) and Paul Hoffman (mandolin).
Touring almost year-round and constantly making music is what Greensky Bluegrass lives for. The band has gained national attention with their unconventional take on the bluegrass. Take a look at the band's Facebook page and you find a winter/spring touring schedule that literally blots out the screen.
But even with their prolific road schedule, Greensky Bluegrass has never performed in Nebraska. That all changes this Saturday at the Bourbon Theatre.
Dobro player Anders Beck took time away from his pre-tour preparation to chat with the DN about the band's album "Handguns" and a new project in the works.
Daily Nebraskan: Are you guys excited for your upcoming tour?
Anders Beck: Yeah, we've been in the studio for the last couple weeks working on the new album and that's been our main focus. So we're all really looking forward to getting back on the road. You know, when you're making an album, you're very much focusing on the perfection of the music and trying to make these definitive versions of the songs. So getting back on tour means getting the energy of a live show where there's an energy transfer between the band and the audience and then back from the audience and the band.
DN: What kind of things can listeners expect from this new album you've been working on?
AB: You know, it's hard to say. We're mostly done recording and now we're mixing it. I think the biggest things are the new songs that people have not heard yet. Beyond that, probably a little more, I don't want to say "poppy" necessarily, but it's a little more accessible to people beyond just bluegrass. I have a feeling that when this album does comes out it will, more so than our other previous albums, it will have a little more of our particular "greengrass" sound than a bluegrass sound.
DN: Interesting.
AB: This is actually the first interview I've done since recording the new album. Usually I have all the answers, so I have to think about all the stuff again. The last time we made an album I talked about it a million times, so now that we have something new, for me, it's kind of exciting to think about this stuff again on a critical thinking level.
DN: No worries, how about your current album? What was your favorite part of "Handguns?"
AB: On that album we tried to embrace a darker sound within the confines of a banjo and mandolin, which aren't necessarily the darkest of instruments. Our goal for "Handguns" was to capture the darker side of bluegrass or artistic music and be an instrumentation of our lyrical nature. I think we did pretty well with that.
That album, in my mind, is a little more "jammy" of an album, which I think represents our live shows more. When we play live we really like to stretch things out and go where the song will take us. We've never been able to do that on an album before, and we have more of that on "Handguns" than the album we just finished recording.
DN: You mentioned earlier that you guys like to say that you don't have a typical bluegrass sound. What makes Greensky Bluegrass different than other bluegrass artists?
AB: I think a lot of it, to me, is sort of this Midwestern thing like Midwestern sort of rustbelt sensibility type of music where it isn't necessarily like bluegrass. It isn't this blue and lonesome thing. It's traditional, older bluegrass music, but then again that's not really us. A lot of the newer scene like Colorado and California have happy and super bouncy side to the music.
Geographically, we sort of fall in between those two places. Musically, I think we fall in between those as well in the lyrical content and the way we approach the music. We're not trying to be like anything else. We're just trying to create this music that we hear in our heads and play it out loud.
DN: The band has been together for a while, what is it about your relationship with each other that keeps you to continually make music?
AB: Yeah, some of the guys have been playing together since 2000 and that goes back to open mic nights and them trying to learn how to play bluegrass together, which I think is one of the reasons why the band has been successful over time. They just really created this band together.
I've been in the band about five years and it's like a brotherhood. That's the best way to describe it. It's getting in a van, RV, tour bus or whatever with your four brothers. Sometimes they're your best friends and sometimes you hate them, but thankfully we all get along well. We're really lucky because we'd go through points where we'd be playing around 200 shows a year. It's unclear to me why some bands call it quits after 5 years or so, maybe personal pride or something. We understand each other's boundaries and whatnot. We all consider the music the most important thing, so that definitely gets us through any of the hard times. Luckily, everything is just going really well for us.
DN: It seems as though you guys are almost always on the road. What is that like?
AB: We've just all realized that this is how we're going to get the music out to everyone. There hasn't been the potential for a big radio hit or MTV. I don't even know if they play music on MTV anymore. So the way we can grow and for people to acknowledge our band is touring. Playing for audiences all over the country is the best way for us to do that. Thankfully, it's working.
DN: Is it difficult?
AB: Being on the road over two-thirds of the year is obviously a pretty unique way to live, but it's something we've just grown accustomed to. When we're off the road and at home I just have to remind myself that I don't know what else I would be doing if I weren't doing this. I consider us lucky that we love what we do and that makes the idea of being gone all the time a little easier.
DN: Do you plan on constantly touring like this?
AB: We're working toward something where we can hopefully play less. It's starting to come together. We're playing like 125-150 shows a year, which is great. It gives us a little more free time, more time to be at home and right music opposed to always being on the go.
DN: Seeing as you've been to many places, how has the fan support been while on tour?
AB: Amazing. Without an incredible network of fans that really believe in the band it wouldn't work. There are parts of the country where we do really well like Colorado and the northwest like Portland and Seattle, as well. It's starting to grow all over the rest of the country in the bigger areas, which is nice. I think because our music can connect with people on a personal level and have meaning they can mean something to people individually. It might mean a different thing to each person, but it means people can know us through the music. We get to meet and talk to people, so for us, to get to know people all over the country is great.
DN: What does the future look like?
AB: The main goal is to succeed in getting our music out there to as many people as possible because we really believe in it. The bottom line is continuing to make new music and getting it out there to people. Then everything else will come along, as well.
arts@dailynebraskan.com
on twitter @dnartsdesk