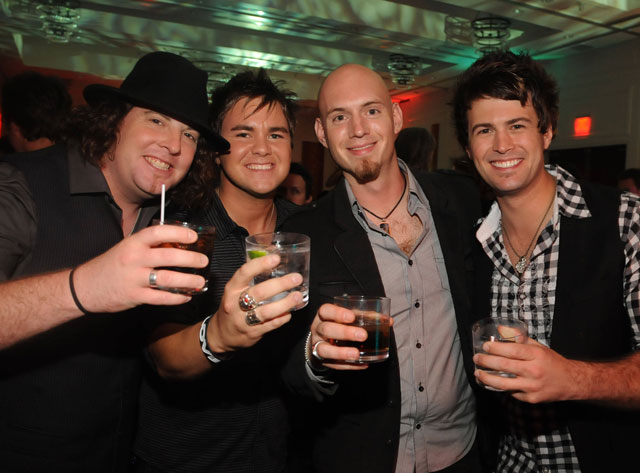 At the end of the day, the Eli Young Band stays true to its country roots while experimenting with new sounds.
The quartet consists of lead vocalist Mike Eli, guitarist James Young, bass guitarist Jon Jones and drummer Chris Thompson. The band is known for hits such as "Crazy Girl," which won an ACM in 2012, and "Even if it Breaks Your Heart." Both went platinum.
The band is constantly working, and a new album is in progress for 2013. The group is touring with country star Kenny Chesney while playing a few headline shows here and there.
The Eli Young Band will be playing at the Bourbon Theatre this Friday. The band's drummer, Chris Thompson, took time to talk with the Daily Nebraskan about the new record and tour.
Daily Nebraskan: How would you describe your band's sound?
Chris Thompson: We are a country roots rock band at our core.
DN: Which one of your songs would you want a new fan to listen to when checking out your band for the first time? Why?
CT: I would want someone who was checking out our band for the first time to listen to songs like "When It Rains" and "Small Town Kid" from our "Level" record because those were some of our first songs to gain popularity before we started having radio success. We have a lot of pride in our long history as a band.
DN: You've opened up for a lot of big names in country music, including Miranda Lambert. How has experiences like that been when building a fan base and getting your music out there?
CT: Any time your band gets to play in front of a huge crowd or to play in front of a crowd that is there to see a headliner that isn't you is a great opportunity to grow your fan base. We enjoy playing in front of people who don't know who we are and winning them over.
DN: How's the tour with Kenny Chesney going? What makes it different from past tours?
CT: The Chesney tour is the biggest and craziest tour we have ever been on. Kenny has given us the opportunity to play in stadiums in front of thousands of people every night. He is one of the most gracious people we have met in this industry. The Chesney tour is different for us from other tours because of the level of production involved. This is our first time touring with our own lights and stage sets.
DN: What can fans expect from this tour?
CT: Fans can expect to be completely blown away by this tour. The lineup is incredible and, musically, everyone has a different and cool thing going on. Kenny's show is world class.
DN: How has the audience and fan reaction been on this current tour?
CT: Fan reaction to us on the Chesney tour has been wonderful. People are coming out early and singing along to our songs. It has been a blast.
DN: The past few years have been crazy for you guys with ACM nominations and wins. What has that experience been like for you?
CT: We have been a band for a long time and have had very steady and gradual growth. Over the past two to three years, things have accelerated quite a bit but because of our long history, we know to enjoy the success as it comes.
DN: You guys are working on a new album for 2013, how will this one differ from past records?
CT: We began working on a new record at the beginning of 2013. We are working with a new producer for the first time in two records. We are expecting to have a new and exciting sound on this album. I think our fans will be surprised.
DN: Any songs on the new album stick out to you? Why?
CT: We have started playing a song called "Drunk Last Night" off of the new unreleased album live. We love the song because it is about having one too many and questioning why you then reached out to someone from the past. I think we have all been there. When we recorded the song we were very excited, because it felt like the kind of track that we could walk out of the studio and play live that night. Audiences have been really digging it.
DN: What do you hope fans will get out of upcoming, new music?
CT: The new album is feeling really upbeat and, as always with EYB, there are a lot of songs about love. The past few years have brought us new families and success that we are very grateful for, and I think those themes resonate in our writing. Still, though, there are a few tracks that explore some darker subjects like regret and cheating. We always try to round out our albums so they take the listener through many emotions.
DN: What other plans do you have for 2013?
CT: In 2013 we will finish our new album and release a new single to country radio. We are crisscrossing the country with Kenny Chesney and adding in our own headlining shows on off days. Next fall we will go out on another headlining tour of our own.
arts@dailynebraskan.com
on twitter @dnartsdesk