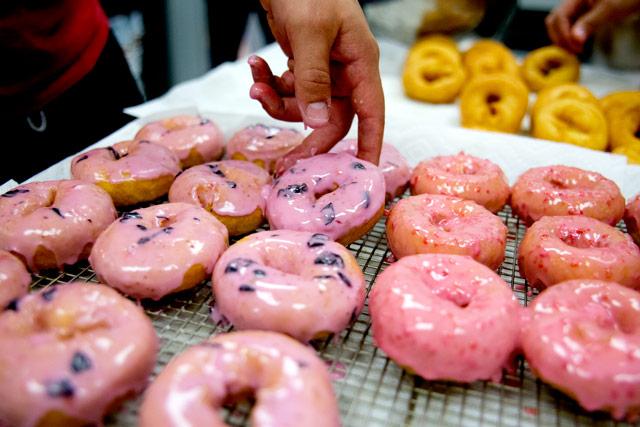 Nate and Lucas Gingery are nuts for doughnuts. Gourmet doughnuts, specifically.
The two brothers, and former models, are nearly ready for the opening of their new gourmet doughnut and coffee store, The Doughnut Hole. A store that they feel will be the first of its kind for both Lincoln and the greater Nebraska area.
After living in and traveling to larger cities where gourmet bakeries and coffee shops are more prominent, the duo found their inspiration to begin baking.
"I moved to New York a few years ago for modeling, and I was living in Brooklyn, but work was tough to come by," Nate said. "So I ended up coming home. While I was there, I kind of fell in love with the coffee culture, bakery culture up there and wanted to do something here."
Though The Doughnut Hole store in Lincoln's new shopping area, The Railyard, is brand new, the brothers have been selling their baked goods at Lincoln's farmers' markets for some time.
"I didn't really know how to go about doing it, so I started at the farmers market, and that went really well," Nate said. "The farmers market has been awesome for us. Then we started looking for a location, and ultimately we were approached about this space, and everything just kind of fell into place."
Despite loving the culture of gourmet baked goods, the brothers entered the doughnut business with no previous culinary experience. The two started off with a single small fryer at home and began testing recipes to see what worked, Lucas said.
"There was a lot of trial and error," Nate said. "There were a lot of bad doughnuts made, but eventually, just like anything else, if you practice it enough, you're going to know what's wrong and just fine tune the product. We practiced for about a year before moving to farmers markets."
The Gingery brothers said they also plan on using as many local ingredients as possible for their doughnuts and want to use the best ingredients.
"Bottom line: we're using the best quality stuff we can get our hands on," Lucas said.
The Doughnut Hole wants to make a name for itself in terms of coffee as well.
John Ferguson, the former owner of Cultiva, has traveled around the world to work with and try various types of coffee. Ferguson, who moved back to Lincoln after living and working with coffee in Minneapolis for over a year, will be taking over the coffee side of The Doughnut Hole.
"Honestly, at this point, I think our coffee product is more unique than our doughnuts," Nate said. "We're working with John, and he's got an idea on what we should do with coffee. We're not taking any shortcuts."
For The Doughnut Hole, not taking shortcuts for their coffee includes using top-of-the-line equipment and rotating coffee roasters. They hope to constantly get the best batch of coffee from various roasters, something that they will conduct through blind-taste tests.
"I felt that (The Doughnut Hole) could really be a way to emphasize that third-wave of coffee culture," Ferguson said. "As far as the rotating roasters go, it's going to be a new concept for Nebraska pretty much. I think, basically, what we're trying to do is offer the best from the best roasters we can find. I think it engages the community as well because it's always something fresh and something new."
It was after a message exchange on Facebook that Ferguson decided to join The Doughnut Hole's team. The brothers' drive was clear and he saw an opportunity to try something unique in Lincoln, Lucas said.
"I think that's why I'm doing it, because the mindset is there," Ferguson said. "It's obvious. Their food background and the whole doughnut thing, put those two together. I just know that I tried one of their doughnuts and it was the best doughnut I've ever had. So I thought it would be great to pair that with some of the best coffee I've ever tasted."
Lucas said in addition to serving gourmet product, he hopes The Doughnut Hole will also create a comforting vibe for its customers. One that may remind them of J.R.R. Tolkien's Middle-Earth.
"A lot of people love our logo," Lucas said. "It was inspired by 'Lord of the Rings,' kind of The Shire. That was kind of our main inspiration. I mean, The Shire, there's no better place than that."
arts@dailynebraskan.com